Britain's heaviest freshwater fish weighs in at 145 pounds
The unofficial British catfish record was beaten with this 145 lb giant during a pike trip.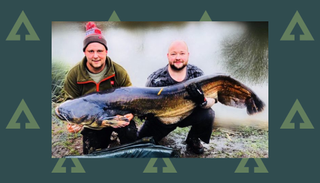 (Image credit: Angler's Mail)
Welcome to Advnture, the new home of AnglersMail.co.uk
Thought to be Britain's heaviest freshwater fish, it came from the same Essex complex that produced the previous best of 144 lb in 2012 to chef James Jones.
But the British Record Fish Committee don't have a catfish category any more so Matthew can't put in an official record bid.
The 33-year-old driver, from Biggleswade, Bedfordshire, encountered Britain's heaviest freshwater fish during a session at Oak Lakes, near Southminster.
He said: "It took around 55 minutes to land and fought like a demon on the Predator Lake.
"I was using a 3 lb test curve rod with 20 lb line and a single barbless treble with a legered livebait.
"It grabbed my bait on the way in and set off on a colossal journey that took me up and down the lake.
"I basically had to let it run when it wanted to and get line back when she let me.
"After getting it up on the bank we realised that this catfish was a bit special and, after bottoming my 120 lb scales, we reweighed it using bigger scales and it turned them round to 145 lb.
"My biggest fish before this was a 75 lb cat I caught in February last year and have caught numerous 50 lb fish, which is not bad considering I've only been targeting cats just over 18 months.
"My mate Gareth Jakes was a big help netting and getting in the water to help land her so I'd like to say thanks to him," concluded Matthew.
All the latest inspiration, tips and guides to help you plan your next Advnture!
Running from 1964 until 2020, Angler's Mail was the UK's leading weekly magazine devoted to coarse fishing, telling readers everything they needed to know about which fish to catch, where to catch them, and what kit they needed to do it. Now, loads of the magazine's expert advice can be found on Advnture.com, as a helpful resource for angling newcomers and experts alike.