Freak Arctic outbreak in Texas stuns thousands of turtles
More than 5,000 'cold-stunned' green sea turtles have been rescued in Texas since February 12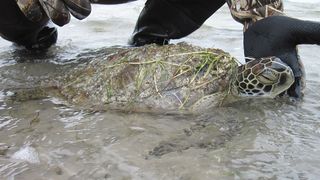 (Image credit: National Park Service)
The uncharacteristically cold weather and snowy conditions blanketing Texas this week are posing a risk to more than its human residents. They're threatening the lives of endangered green sea turtles.
Some parts of Texas experienced temperatures of 0℉ (-18℃) last weekend, and the freakish conditions continue. The snow storm that has created the "Arctic outbreak" originated just above the US-Canada border, according to the US National Weather Service (opens in new tab), and for the first time ever, all 254 counties in the state are now under a winter storm warning.
Turtles are cold-blooded and unable to regulate their body temperatures – so when water temperatures dip below 50℉ (10℃), they become hypothermic and unable to swim or eat, in a phenomenon known as 'cold-stunning', according to the National Park Service (opens in new tab).
Their bodies either float up to the water's surface, where they become vulnerable to boat strikes, or they wash ashore and get stranded. Either way, many often die of shock, predation or trauma if they're not rescued.
Volunteers in coastal Texas have rescued an estimated 5,000 sea turtles from frigid waters and shores during the historic winter storm and are working creatively to house them as much of the region remains without power. Many have been rescued in and around the Padre Island National Seashore (opens in new tab).
Sea Turtle, Inc. (opens in new tab), a nonprofit education, rehabilitation and conservation organization in South Padre Island, Texas, has taken in nearly 4,500 sea turtles since February 12, according to executive director Wendy Knight.
"You could put a cold-stunned turtle in a half an inch of water and they'd drown," Knight told the New York Times (opens in new tab).
Knight said that local volunteers have been retrieving the turtles by boat and on foot and that the organization has been able to accommodate them with assistance from the community, including from the local government and SpaceX, which has a launch site (opens in new tab) nearby.
"The love and support of people who just want to help things that can't help themselves is overwhelming," Knight explained.
As of 18 February, Knight said, the floor of Sea Turtle, Inc's facility was covered in bins containing some 500 rescues. The city's Convention and Visitors Bureau donated the use of the South Padre Island Convention Centre (opens in new tab), which Knight said is currently housing the other approximately 4,000 in a combination of tarps, kiddie pools and boxes "lined up tip to toe.""This is by far the largest cold-stunning event that we've documented in Texas," Dr Donna Shaver, Texas Coordinator of the Sea Turtle Stranding and Salvage Network, told People Magazine (opens in new tab). "It's a big deal."
Shaver says the epicenter of the current cold-stunning problem is the Laguna Madre, as well as Corpus Christi Bay, Matagorda Bay and Galveston Bay in southeast Texas.
She estimates that there have been more than 5,000 cold-stunned green turtles counted since the wintry storm hit, but is unsure just how many will survive.
"We're trying to find them alive as quickly as we can, but it's very challenging," she says.
As people began rescuing more and more turtles, local facilities dedicated to rehabbing the animals filled up, Shaver says.
Still, rescues have proven difficult, as many of the turtles live on long stretches of uninhabited coastline, which must be reached by boat, a process made all the more difficult by the inclement weather.
As experts with Texas Parks and Wildlife and the National Park Service step up, so, too, do volunteers, like the mother of a Twitter user named Lara, who estimated her mom had saved about 1,000 – many of which she loaded into the trunk of her Subaru.
Lara later shared a photo from the convention center, showing that its entire floor was covered with turtles.
"When I first started, I read about how the green turtle numbers were decimated in Texas due to over harvest and freezes during the late 1800s," Shaver says. "Luckily, as opposed to the 1800s… back then, nobody saved them. So we've done what we could to save as many as we can."
After turtles heal from hypothermia, they're released back into the wild, according to the NPS. Green sea turtles are protected as a threatened species by both the state of Texas and the federal government.
All the latest inspiration, tips and guides to help you plan your next Advnture!
Brian is an award-winning journalist, photographer and podcaster who has written for Runner's World, The Times, Outside, Men's Journal, Trail Runner, Triathlete and Red Bulletin. He's also the author of several books, including Kicksology: The Hype, Science, Culture and Cool of Running Shoes. He lives in Boulder, Colorado, and loves to run, bike, hike, camp, ski and climb mountains. He has wear-tested more than 1,500 pairs of running shoes, completed four Ironman triathlons, as well as numerous marathons and ultra-distance running races.