All-Black climbing team aims to make history on the summit of Everest
By Julia Clarke
The first all-Black expedition to the summit of Everest sets off to make history in the spring of 2022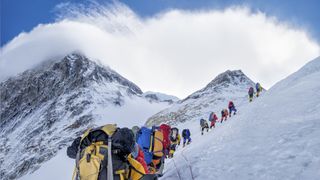 (Image credit: Westend61)
A group of climbers is aiming to make history as the first all-Black team to attempt to summit Mount Everest.
The Full Circle Everest Team is a group of nine Black climbers led by Colorado-based Phil Henderson, a veteran Himalayan mountaineer. Henderson, who has 30 years of experience in the outdoor industry, has previously been on an expedition to Everest and now hopes to join the ranks of climbers like Edmund Hillary and Tenzing Norgay who broke records to reach the summit.
Henderson became one of few African Americans to summit Denali in 2013 and led an all-African American ascent of Mt Kilimanjaro in 2018. On his Instagram account, he said he has been training on some of Colorado's 14ers, such as the gruelling El Diente, and that the goal is to set off from base camp in the spring of 2022.
"Mt Everest was not something I dreamed about. Mt Everest was never a goal for me, but an opportunity," wrote Henderson, who has been working closely with members of the Sherpa community and other indigenous peoples of Nepal at the Khumbu Climbing Center.
"Full Circle Everest Expedition is yet another opportunity. It is an opportunity to build the community of Black climbers that can speak from experience about climbing Mt Everest, the Sherpa culture and other indigenous people of Nepal."
The first American expedition reached the summit of Everest in 1963, the same year that Dr Martin Luther King delivered his historic "I Have A Dream" speech, however it would take more than 40 years for the first Black climber to reach the world's highest peak. That happened in 2006, when Sophia Danenberg became the first African American woman and first Black woman to summit Everest. No Black American man has made it to the summit yet.
The Full Circle Everest Team aims not only to showcase the tenacity and strength of the climbers, but to highlight the barriers that continue to exist for Black communities in accessing the outdoors.
Julia Clarke is a staff writer for Adventure.com. She is an author, mountain enthusiast and yoga teacher who loves heading uphill on foot, ski, bike and belay. She recently returned to her hometown of Glasgow, Scotland after 20 years living in the USA, 11 of which were spent in the rocky mountains of Vail, Colorado where she owned a boutique yoga studio and explored the west's famous peaks and rivers. She is a champion for enjoying the outdoors sustainably as well as maintaining balance through rest and meditation, which she explores in her book Restorative Yoga for Beginners, a beginner's path to healing with deep relaxation. She enjoys writing about the outdoors, yoga, wellness and travel. In her previous lives, she has also been a radio presenter, music promoter, university teacher and winemaker.
All the latest inspiration, tips and guides to help you plan your next Advnture!
Thank you for signing up to Advnture. You will receive a verification email shortly.
There was a problem. Please refresh the page and try again.