Is this giant Britain's record carp-in-waiting?
Bernard Sisson is confident this 64 lb 8 oz mirror will go over the current 68 lb 1 oz British record.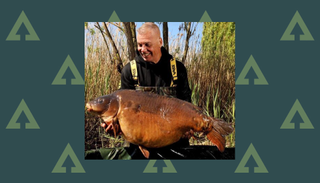 (Image credit: Angler's Mail)
Welcome to Advnture, the new home of AnglersMail.co.uk
Bernard, 67, took the PB giant – called Green 124 – in a great haul at Cambridgeshire's Grenville Lake.
Bernard told Angler's said: "I think this fish will smash the record and there are two others that will also beat it.
"The fishery is unique because there are photos of every fish that's been stocked and they are all colour-coded with the year of the stocking.
"Grenville will go down in history like Redmire. I joined when the carp where small compared to today because I knew it would produce a record carp
"I fished my longest session on Grenville in over ten years at 96 hours. I added a 30 lb-plus mirror, 35 lb common and a 44 lb mirror.
"Bait used was Nutrabaits Trigga GLM fished with a Liver Supreme pop-up on a size 4 Drennan Continental boilie hook fished at 90 yards over 5 kg of freebies.
"I was on the front cover of Angler's Mail in the late 1980s, a common carp of 29 lb 14 oz.
"I wanted to catch a 30 lb common and I had the big one down in weight at Oxfordshire's Dorchester Lagoon," revealed Nottingham-based Bernard.
Grenville Lake has an astonishing 98 40 lb-plus carp in its 72 acres, and has another back-up fish of 61 lb 13 oz plus seven 50s.
It was first stocked in 2003 with 100 Fishers Pond carp averaging 10 lb. Today's Grenville Lake has an estimated 1,000 carp .
The British record carp weight, is still listed at 68 lb 1 oz on the official records chart.
A couple of fish have beaten that weight, but were not accepted. And it was obliterated with the shock catch 83 lb from a Kent syndicate in 2017.
That colossal mirror was landed from Kent's Wingham Fisheries, and put on a startling 30 lb after being caught at 52 lb a year and half earlier.
At over 83 lb, it was suffering from a medical condition so was full of spawn and water, and has since sadly died. Wingham has more healthy giant carp on the way up, though.
It leaves the Berkshire giant of 68 lb 1 oz, Parrot, as the carp to beat. That fish is also no longer alive.
All the latest inspiration, tips and guides to help you plan your next Advnture!
Running from 1964 until 2020, Angler's Mail was the UK's leading weekly magazine devoted to coarse fishing, telling readers everything they needed to know about which fish to catch, where to catch them, and what kit they needed to do it. Now, loads of the magazine's expert advice can be found on Advnture.com, as a helpful resource for angling newcomers and experts alike.