Hiker sets new Wainwright's Record
Peak-bagger James Forrest has hiked into the record books with a fantastic fell-walking record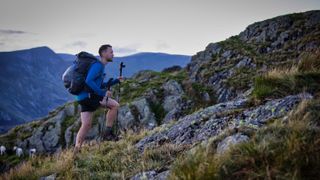 (Image credit: Dave MacFarlane)
Extreme walker and outdoor writer James Forrest has set a high bar in the peak-bagging world, by doing a self-supported continuous hike of the 214 Lake District fells known as the Wainwright's in a new record time of 14 days and 11 hours.
The peaks – which are located in the Lake District National Park in Cumbria, and all stand over 1,000 feet (304.8 metres) in height, except one (Castle Crag) – are famously described in Alfred Wainwright's seven-volume Pictorial Guide to the Lakeland Fells (1955–66).
James, 37, who is an inov-8 ambassador and an Advnture contributor, walked 525km (328 miles) to complete the feat, beating the previous record of 25 days, set by Jack Roberts in 2017, by nine days.
The journalist and adventurer, who hails from Cockermouth in Cumbria, ascended 36,000 metres (the equivalent of scaling Mount Everest four times) and wild camped for 14 consecutive nights during his hill-hiking odyssey.
Trekking for an average of 13 hours a day, James carried all his own kit and camping equipment in a large rucksack, and walked alone, with no support crew or pre-arranged help. He occasionally re-supplied along the way with food and gas that he had earlier stashed in secret locations along the route.
During the escapade, James had to contend with some extreme weather, and he wild camped out amid the remote fells. Over the 13 nights he spent out on his quest, his impromptu bedrooms included a cave, a barn and a church.
James was nicknamed 'Mountain Man' after he embarked on a three-year mission to climb 1,001 mountains across the UK and Ireland (including all 446 'Nuttalls' in England and Wales, the 273 Irish 'Vandeleur-Lynams', and Scotland's 282 'Munros') – an adventure partly recounted in the book Mountain Man: 446 Mountains. Six Months. One record-breaking adventure.
Hike, Forrest, Hike!
"I am ecstatic with the time I've set and so relieved to have finished," said James after setting the Wainwright's record.
"The atrocious weather transformed the journey into a rather gruelling and traumatic experience – I've never felt so utterly miserable and unhappy on a mountain before. I thought the torrential rain and strong winds would never stop.
"But I'm so happy that I found the strength and resilience to keep going and make it to the finish line – it was really emotional arriving into Keswick, cheered on by friends and family. That moment will stay with me forever.
"It has been the challenge of a lifetime. I love the Lake District and – if I can somehow forget the thrashings I took from the weather gods – I hope the enduring memories of my expedition will be the times when the sun did shine and I relished the peace, beauty and escapism of Lakeland.
"The Lake District is a special place and we should all respect and look after it."
Throughout his adventure James adhered to leave-no-trace principles, camping responsibly by carrying out all litter, never lighting fires, pitching his tent late and leaving early.
The fastest supported completion – and overall record – is held by inov-8 ultra runner Paul Tierney who, in June 2019, did the entire lot in a phenomenal 6 days, 6 hours and 5 minutes, beating Steve Birkinshaw's previous best by almost 7 hours.
As you would expect given the nature of their attempts, both runners were supported by pacers and a roadside support team, whereas James was walking alone and unassisted.
"I have a newfound respect for the ultra-runners who have run the Wainwrights in under a week – I have no idea how they got around so quickly," said James afterwards.
"My approach was very different, however. Hiking alone and without a support crew added an extra layer of difficulty to my expedition, particularly the discomfort of camping in depressingly damp conditions after a long day of hiking.
"In some ways I loved the solitude and tranquillity – and I relished test of being entirely self-reliant. But dealing with the rather crushing mental lows by myself was incredibly difficult. There were a few times when I was in tears, ready to quit and throw in the towel, but I managed to pull through.
"I hope my journey has inspired some people to seek out the mountains and adventures in the great outdoors – they can have a massively beneficial impact on your mental health. Just make sure you pick a good weather window!"
James followed the route Steve Birkinshaw had meticulously planned in 2014, and which Paul also used. Starting and finishing in Keswick, it wriggles a way over the 214 summits famously featured in Alfred Wainwright's iconic seven-volume pictorial guide to the Lakeland fells.
James added: "Steve's route is incredibly clever and efficient – and I thank him for sharing it with me. He even came to see me on Blencathra and that was a lovely moment that really gave me a boost when I needed it."
Throughout the adventure James wore just one pair of hiking boots, the ROCLITE G 345 GTX with Graphene-Grip, designed by Lake District born-and-based brand inov-8.
Lee Procter, inov-8 Global Communications and Ambassadors Manager, said: "It was a case of Hike, Forrest, Hike! What James achieved is amazing. He got to grips with some of England's toughest hiking terrain, moving fast over it every day for almost three weeks. He has banked up many stories from this epic solo adventure and we can't wait to hear them all."
All the latest inspiration, tips and guides to help you plan your next Advnture!
Author of Caving, Canyoning, Coasteering…, a recently released book about all kinds of outdoor adventures around Britain, Pat has spent 20 years pursuing stories involving boots, bikes, boats, beers and bruises. En route he's canoed Canada's Yukon River, climbed Mont Blanc and Kilimanjaro, skied and mountain biked through the Norwegian Alps, run an ultra across the roof of Mauritius, and set short-lived records for trail-running Australia's highest peaks and New Zealand's Great Walks. He's authored walking guides to Devon and Dorset, and once wrote a whole book about Toilets for Lonely Planet. Follow Pat's escapades on Strava here and instagram here.