inov-8 founder buys back running shoes brand
Wayne Edy prepares to launch new G-FLY graphene innovation as he returns to the helm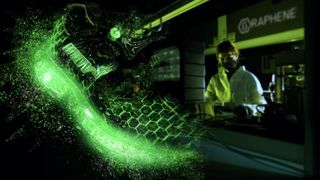 (Image credit: inov-8)
Inov-8 founder Wayne Edy has returned to the helm of the sports company having bought it back from Japanese sports brand Descente last year.
Now with full ownership of Inov-8 outside of Northern Asia, Edy is preparing to launch another world first in running shoes. 
The trail running shoe will feature a graphene-enhanced foam, called G-FLY, and has been developed in collaboration with the University of Manchester, known as the "Home of Graphene".
The planet's strongest material and a Nobel Prize winner, graphene has been infused into the foam of the new shoe to improve the performance of trail and ultramarathon runners.
The shoes will go on sale at the end of March. 
Edy, who founded inov-8 in 2003,  said: "I'm delighted to be back at the helm ahead of what is an exciting new chapter in the continued development of the innovative sports brand. 
"We benefited from being part of the Descente group from 2015 to 2020, but we're now independent again and preparing for our biggest  product launch next month.
"I'm proud to lead such a talented global team and can't wait to unveil our new shoe, heralding the future of trail running."
inov-8 'pioneer' graphene in running shoes
inov-8 first pioneered the use of graphene in 2018 when launching graphene-enhanced rubber, which is claimed to deliver the world's toughest grip. Sales of its running, hiking and fitness shoes featuring the rubber have surged over the last three years. Read a review of inov-8 Terraultra G-grip 270 shoes.
Once again inov-8 has teamed up with The University of Manchester and leading footwear veteran Doug Sheridan.
As well as being 200 times stronger than steel, graphene boasts great flexibility. A team of 300 staff at the university has pioneered projects into graphene-enhanced sports cars, medical devices, aeroplanes and sports footwear.
Dr Aravind Vijayaraghavan, Reader in Nanomaterials at The University of Manchester, said: "This is the next major step in our successful partnership with inov-8. Building on the global success of Graphene-Grip rubber, we are excited to extend the superlative properties of graphene to the foam of the next generation of inov-8 shoes."
inov-8 is based in the UK's Lake District and trades in more than 60 countries.
All the latest inspiration, tips and guides to help you plan your next Advnture!
Thank you for signing up to Advnture. You will receive a verification email shortly.
There was a problem. Please refresh the page and try again.