Joe Biden: what does the new President mean for the outdoors?
Newly elected President Joe Biden is expected to make climate policy and environmental protection key priorities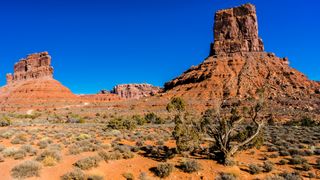 (Image credit: Getty)
To suggest January 20 is going to be a big day in the United States is a gross understatement. As President Donald Trump leaves office and Joe Biden is sworn in as his successor, it promises to be a day full of tension and political division.
But politics aside, that day will definitely represent a huge turning point for those who enjoy outdoor recreation and have an affinity for the environment and a concern for the global climate change problem.
When Biden, a Democrat, is inaugurated as the 46th President of the United States, it will bring about a seismic shift in American politics, but it should also result in a massive policy change toward numerous environmental issues, public land access and global warming. Throughout his presidency, Trump, a Republican, pushed for American energy independence, and the promotion of coal mining and oil and gas drilling on previously protected lands.
But with the results of last fall's elections – and equally as important the outcome of the US Senate runoff elections in Georgia on January 5 – the environmental movement in the United States suddenly has a new life, or perhaps a life preserver, depending on how you view it.
The narrow margin of victory in the Senate – Democrats hold 50 seats (including two independents) and the Republicans hold 50 seats, which means new Vice President Kamala Harris will have to serve as tiebreaker – should give the pro-environment Democratic Party a chance to make big strides, assuming conservative members of the liberal party toe the line when it comes to green issues. The Democrats also control the House of Representatives.
Does that mean the much ballyhooed Green New Deal is on the way? Can we expect a bold reimagination of the national economy away from fossil fuels? A new focus to preserve public lands? Biden has promised to re-enter the Paris Agreement, prioritize climate change across the federal government and push for sweeping clean-energy legislation. There have been rumors that he might stop the controversial Keystone XL pipeline from Canada to Nebraska, reinstate full projection to the Bears Ears National Monument in Utah and make preservation of the Arctic National Wildlife Refuge in Alaska a priority in his first week in office. That all comes as welcome news to many hikers, backpackers, trail runners, hunters, mountain climbers and environmentalists.
It all starts with the transition of power on January 20 in Washington, DC, where there is considerable unrest after an uprising of pro-Trump followers stormed the US Capitol on January 6. With key environmental issues waiting in the wings, more than 25,000 National Guard soldiers will be on hand to protect the inauguration of Biden and Harris from protestors.
"It's going to be an exciting day, that's for sure," says Patagonia-sponsored trail runner Luke Nelson, an environmental activist and race director from Pocatello, Idaho. "It would be great to see him turn back the Keystone Pipeline, rejoin the Paris Agreement and maybe even see the Bears Ears decision reversed. And protect the Arctic National Wildlife Refuge, of course. There are some really cool things that could happen right away. If I could have a wish list on Day 1, I don't know what else I would ask for aside from those things."
Biden was the first presidential candidate to make climate change a top priority of his campaign, but he can't wave a magic wand and simply eliminate all trace of the Trump legacy as soon as he enters the White House. Because of a complex statutory framework and the tendency for policy and ideology to ping pong between administrations, effectively combating climate change has always been a long, technical, uphill battle.
Dramatic legislation and action to offset climate change won't come as quickly as Biden professed it might while on the campaign trail, says Ken Rait, a project director with the Pew Charitable Trusts, a global research and public policy organization that uses bipartisan analysis to create solutions for environmental challenges, as well as numerous American health, civic and cultural initiatives.
Reversing the trend of repealing environmental protection for National Park Service properties and having tighter limits on drilling, mining and logging on Bureau of Land Management (BLM) and US Forest Service (USFS) lands will also be a priority of the Biden Administration.
More than 35 million acres of public lands were removed from protected status during the past four years in the name of energy independence and economic growth under the Trump Administration.
Although his cabinet has yet to be approved, Biden has selected Deb Haaland, a Congressional representative from New Mexico and a Native American, to lead the Department of the Interior. She would oversee a sprawling department responsible for some 500 million acres of public lands, including national parks, oil and gas drilling sites and endangered species habitats.
"It's been a horrible four years for publicly owned and publicly managed lands, which have been looked at only as a way to fulfill that administration's energy-dominance narrative," says Rait, an avid trail runner from Portland, Oregon, who leads work to conserve western lands, including collaborating with local partners and the Bureau of Land Management to balance conservation and development. "It won't happen overnight, but we now have a perfect opportunity to make positive change."
All the latest inspiration, tips and guides to help you plan your next Advnture!
Brian is an award-winning journalist, photographer and podcaster who has written for Runner's World, The Times, Outside, Men's Journal, Trail Runner, Triathlete and Red Bulletin. He's also the author of several books, including Kicksology: The Hype, Science, Culture and Cool of Running Shoes. He lives in Boulder, Colorado, and loves to run, bike, hike, camp, ski and climb mountains. He has wear-tested more than 1,500 pairs of running shoes, completed four Ironman triathlons, as well as numerous marathons and ultra-distance running races.