Keep the lockdown blues at bay with Hike from Home
Merrell and Mind team up to encourage people to improve their mental health with walking and outdoor activity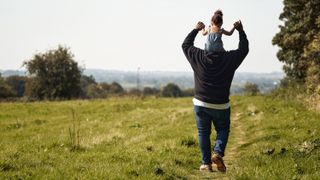 (Image credit: James Carnegie)
In response to some shocking statistics revealing the extent the Covid-19 pandemic has impacted people's happiness and wellbeing during 2020, one of the world's leading trail footwear brands has teamed up with a mental health charity and a popular DJ to tackle the issue one step at a time.
Merrell, a brand built around negotiating tough paths, are working with Mind to encourage anyone feeling anxious or depressed to go outside and explore their local area, and to try walking as a way of improving their mental health during what is, for many people, an extremely challenging time.
The new initiative has been called Hike From Home, and it sees Merrell and Mind partnering to promote the enormous psychological benefits of time spent in the outdoors. Experiences such as exploring a nearby park or simply leaving the door and going on a short walk can provide a very real boost to people struggling during lockdowns and amid widespread social disruption.
The campaign was conceived after Mind conducted a survey involving more than 16,000 respondents, which revealed the enormous impact the pandemic was having on people – both those with pre-existing mental health problems, and those who hadn't previously struggled with any such issues.
The resulting report, available in full on the Mind website, revealed that two out of three adults, and three-quarters of young people aged between 13 and 24 with an existing mental health problem, had experienced worsening health during the pandemic. Over half of the people surveyed who were not previously experiencing any problems also said their mental health had deteriorated during this difficult period.
Exercise has been scientifically proven to improve mental as well as physical health multiple times, but you don't have to go and run an ultra to reap the rewards, simply spending time outside, doing any kind of activity, can help with mild and moderate depression.
As populations everywhere emerged from strict lockdowns into a world where social distancing and travel restrictions had become the new norm, mini adventures and doorstep-discovery style micro-expeditions suddenly became very popular, with people exploring hitherto unknown or ignored trails near their homes.
To help encourage and inspire people to embrace the Hike From Home concept throughout October, Merrell has also partnered with the well-known route-planning and navigation app Komoot, which brings together a huge digital community of outdoor enthusiasts.
As part of the campaign, Merrell have donated over 25 pairs of their MQM 2.0 walking shoes (currently being trail tested by Advnture's boot and shoe crew). Anyone who completes a hike in October and tags Merrell and #HikeFromHome in their activity title on Komoot is in with a chance to win.
"It's been a tough year for many people and as a consequence, this has adversely impacted mental health across the country," says Simon Sweeney, UK Marketing Manager at Merrell. "Findings from Mind's survey during lockdown uncovered the scale of this issue, so we wanted to be able to support the fantastic work the charity undertakes in addressing this problem.
"With more time being spent at home, getting outside for fresh air and reconnecting nature can be a powerful antidote. We hope this initiative inspires people of all ages to get out and discover new areas from their doorstep."
British DJ MistaJam, a radio presenter and father of three who has lived through mental health problems himself, is also supporting the initiative. "As someone who has experienced depression, anxiety and suicide attempts, it has always been important to get to a place where I understand myself more and take care of myself. The focus on self-care has certainly amplified during the pandemic as it has brought about many new challenges, worries and responsibilities – from childcare to having our movement restricted.
"For me it's been about giving yourself timeout, space to decompress and getting out into nature. Being in a place where you can reconnect is vital and in my experience, during the height of depression, you feel disconnected to everything.
"I've been reconnecting through walks with the family. For us, it's been discovering new routes from our doorstep and spending quality time with the kids. When the treadmill of normal life stops, it has afforded us more time to explore new things, and we've found walking around our local area, finding new cool places, a necessary break from the same four walls."
And, for those who like to listen to music while they walk, MistaJam has created a bespoke playlist as a soundtrack for participants taking part in the Hike From Home initiative.
"I listen to lots of soundscapes – music that goes really well with nature and the natural environment," he says. "Getting out for a walk is also a great opportunity to listen to albums too, immersing yourself in a body of work".
Merrell and Mind, who have worked together for some time on various projects, are also raising money to increase awareness of mental heath issues and the role outdoor activity can play in addressing them.
All the latest inspiration, tips and guides to help you plan your next Advnture!
Author of Caving, Canyoning, Coasteering…, a recently released book about all kinds of outdoor adventures around Britain, Pat has spent 20 years pursuing stories involving boots, bikes, boats, beers and bruises. En route he's canoed Canada's Yukon River, climbed Mont Blanc and Kilimanjaro, skied and mountain biked through the Norwegian Alps, run an ultra across the roof of Mauritius, and set short-lived records for trail-running Australia's highest peaks and New Zealand's Great Walks. He's authored walking guides to Devon and Dorset, and once wrote a whole book about Toilets for Lonely Planet. Follow Pat's escapades on Strava here and instagram here.