Man walks 700 miles in search of missing hiker
Devastated partner continues to comb mountains for signs of his soulmate after she disappeared without trace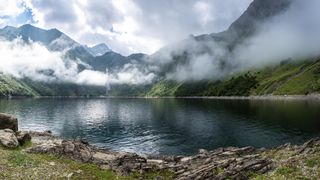 (Image credit: Getty Images)
The partner of a missing hiker has walked more than 700 miles and ascended 330,000ft in his quest to solve her disappearance.
Dan Colegate last heard from Esther Dingley eight months ago while she was on a solo backpacking trip in the European mountains of the Pyrenees.
Despite an extensive search and rescue and police investigations, she has never been found.
Now Dan has revealed how he can't rest until he knows what has happened to the person he describes as the love of his life.
It was on November 22 last year that Dan and Esther had their last phone exchange. She was on the summit of Pic de Sauvegarde, in the region of Haute-Garonne (opens in new tab).
The couple, who have been together more than 20 years, were counting the final days of her trip and hoped to meet up again within days. But Dan has never heard from Esther again.
Since then, Dan has conducted his own extensive search retracing her likely walking route and every accessible bit of mountainside.
He is reported as saying in a BBC article: "The question on my mind with every step has been the same: 'If she stood here and fell, where would she be?' And, for most of the day when I'm not searching, my brain is churning over the myriad equally unlikely possibilities that could explain where my soulmate has gone."
Dan doesn't blame the police although he is not agreement with the theory that Esther has simply vanished or met with a tragic accident.
He says that Esther was a very experienced hiker and had all the equipment she needed to survive should she have been caught in a difficult situation.
He also states that Esther's walking route was close to two roads, one in France and one in Spain, that the phone coverage was good and the weather was fine.
He adds that the paths throughout the region are well made and easy to follow, even in the dark. He is sure that if she had fallen, which he thinks is unlikely, her body would have been found by now.
So Dan believes it is more probably that his soulmate has been the victim of a criminal act.
But even so, he keeps on with his search. He is reported as saying: "I can't prove that Esther isn't on the mountain somewhere, all I can do is keep searching, meticulously sweeping back and forth across an increasingly large area."
All the latest inspiration, tips and guides to help you plan your next Advnture!
Fiona Russell is a widely published adventure journalist and blogger, who is better known as Fiona Outdoors. She is based in Scotland and is an all-round outdoors enthusiast with favourite activities including trail running, mountain walking, mountain biking, road cycling, triathlon and skiing, both downhill and back country. Her target for 2021 is to finish the final nine summits in her first round of all 282 Munros, the Scottish mountains of more than 3,000ft high. Aside from being outdoors, Fiona's biggest aim is to inspire others to enjoy the great outdoors, especially through her writing. She is also rarely seen without a running skort! Find out more at Fiona Outdoors (opens in new tab).