Mysterious metal monolith removed from Utah desert
Another bizarre metal monolith appears in Romania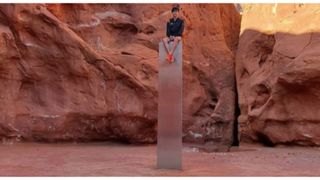 (Image credit: Rich to check)
The mystery behind a bizarre metal monolith that was discovered in a remote Utah desert on November 18 still has yet to be revealed, even though the 9.5-foot (2.89m) triangular prism was dismantled and removed by four men 10 days later.
Now a similar three-sided metal structure has appeared in Romania. In both cases, the origin of the tall metal structures is unknown. Both have received worldwide attention with speculation about aliens, artists and pranksters being at the root of theories behind the mysterious objects.
The metal structure in Utah had originally been spotted by state wildlife officials who were helping to count bighorn sheep from a helicopter earlier in mid-Novmember. It was approximately 17 miles southwest of Moab, located in a remote red rock canyon in the Lockhard Basin of San Juan County.
Hundreds of hikers and adventure seekers sought it out and found the remote monolith in late November after GPS coordinates of its location were posted on the Internet.
The non-magnetic metal structure was likely made of aluminum and stood 291cm tall with three sides that were 58cm wide, according to several people who had posted details about it on social media accounts. The three-piece monolith appeared to be riveted to a metal frame likely drilled into the Utah rock.
"I was really bummed," said Salt Lake City resident Spencer Owen, who visited it on November 27 and then posted a video on his Instagram after hiking back to the place the next day to find it had been removed. "It was so pretty and shiny. I wanted to go see it again."
The monolith was removed on 27 November, by a group of people including Adventure tour guide Sylvan Christensen, who uploaded a video to social media showing him and three other men pushing over the 12-foot pillar and then strapping it down to a wheelbarrow.
Dutch journalist Nouska du Saar, who specialises in open-source intelligence, used Maxar satellite images to determine that the monolith first appeared between July 7, 2016 and October 21, 2016.

Several YouTube influencers found the Utah monolith and created videos about it, including Justin McBride and Talon Seitzinger, aka, Talon Sei.
Colorado photographer Ross Bernards had driven six hours with three friends to take pictures of the structure and wound up witnessing four men dismantling it on the night of November 27, according to news reports. Using high-end Lume Cube lights attached to a drone, he produced a series of glowing, moonlit pictures in which the monolith glistens against the red cliffs and the deep blue of the night sky.
The appearance of the hollow structure in Romania, which has a triangular shape and is covered in a looping scrawl, has sparked similar speculation about its origin. The shiny triangular metallic pillar stands about 13 feet (3.96m) and is a few yards away from an ancient landmark called the Petrodava Dacian Fortress in the city of Piatra Neamt.
It is unknown where these monuments have come from. Some have guess it was a mysterious art installation from someone of the caliber of Banksy or the duo of Christo and Jeanne-Claude.
Others have guessed it could be the work of a prankster inspired by science fiction movie/novel 2001: A Space Odyssey. In the book by British SF writer Arthur C. Clarke (Stanley Kubrick directed the film version) a monolith first appears on Earth in Africa three million years ago and appears to serve up intelligence upon a starving tribe of great apes to develop tools. The monolith is used as a tool by an alien race to investigate worlds across the galaxy and to encourage the development of intelligent life.
In the book, the great apes use their tools to kill animals to eat meat to end their starvation, and to kill a predatory leopard. The next day, the main character uses a club to kill the leader of a rival tribe of apes, leading to an awakening of intelligence and the development of humans.
Romanian officials still do not know who is responsible for erecting the mysterious monolith.
"We have started looking into the strange appearance of the monolith," said Neamt Culture and Heritage official Rocsana Josanu, according to the Daily Mail. "It is on private property, but we still don't know who the monolith's owner is yet. It is in a protected area on an archaeological site. Before installing something there, they needed permission from our institution, one that must then be approved by the Ministry of Culture."
All the latest inspiration, tips and guides to help you plan your next Advnture!
Brian is an award-winning journalist, photographer and podcaster who has written for Runner's World, The Times, Outside, Men's Journal, Trail Runner, Triathlete and Red Bulletin. He's also the author of several books, including Kicksology: The Hype, Science, Culture and Cool of Running Shoes. He lives in Boulder, Colorado, and loves to run, bike, hike, camp, ski and climb mountains. He has wear-tested more than 1,500 pairs of running shoes, completed four Ironman triathlons, as well as numerous marathons and ultra-distance running races.