Watch mountain biker swap bike for kayak to make hair-raising desert decent
Pro MTB rider Bradon Sweeney abandons full suspension for a white water vessel to take the dramatic plunge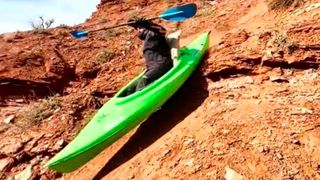 (Image credit: Bradon Sweeney)
Last weekend, top class mountain bikers hurtled down courses in Utah that dropped as much as 600 feet within 3/10 of a mile for the Red Bull Rampage event. But not all of them were just doing it on their trusty full suspension bikes.
Here's KHS pro-team rider Bradon Sweeney performing what he calls "one of the craziest stunts I've done", and what commenters on the video he posted are calling "feeyaking". But don't expect to see it becoming an official Olympic sport any time soon.
According to Paddling Magazine, Bradon is using a Sun Dolphin Aruba recreational kayak which the editors call "an interesting choice" because of its lack of a rocker – that is a pronounced curve at the front and back of the kayak; the more of a rocker a kayak has, the more nimble and easier to turn it becomes. In water, anyway.
We're not sure how much R&D top kayak manufacturers have made into how their craft perform on sandy red cliffs in the Utah desert. At least there was little chance of Sweeney being blown off course.
20 year-old Bradon Sweeney comes from St George Utah, so he's no stranger to these kind of slopes. "Growing up near the home grounds of RedBull Rampage has been a huge constant motivation for me and my freeride career," he said. "I feel absolutely blessed to live in the freeride capital of the world and cannot wait to see what the future holds!"
We're pretty sure it's not future where he runs an alternative Red Bull Challenge for feeyaking.
All the latest inspiration, tips and guides to help you plan your next Advnture!