New summit lodge atop Pikes Peak will open in June
The new visitor center on Pikes Peak will feature restaurants, shops, decks and spectacular views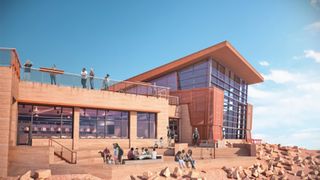 (Image credit: Brian Metzler)
There's a new place to hang out after hiking or running up one of Colorado's most prominent mountains.
If you hike or trail run 12 miles (19 km) on the Barr Trail to the top of Pikes Peak this summer, you'll no doubt be in need of a break before hiking down, and possibly a hearty meal and something to drink, too. Although the trails to the 14,115 foot (4,302 meter) summit are gradual, it's one of the longest efforts required to reach one of Colorado's famed "14ers," the nickname for the state's 53 peaks that top 14,000 feet (4,267 meters) (opens in new tab). By late June, though, you'll have a comfortable place to rest and refuel.
By early summer, a new mountaintop visitor lodge should be open to the public, according to an article on OutThereColorado.com (opens in new tab). The new, 38,000-square foot "Pikes Peak Summit Visitor Center" is on track to open in late June, just in time for peak hiking and trail running season. Although the exact date for the opening has not been set, a ribbon-cutting ceremony is planned for June 30.
The opening of the new lodge will also coincide with the reopening of the Cog Railway (opens in new tab) that travels to the summit from town of Manitou Springs at the base.
Pikes Peak: something to celebrate after spring closures
The Pikes Peak summit has remained closed to both traffic and hikers since March 24 for the construction. As a result of the continued construction, the summit (opens in new tab) will remain closed until June 15, instead of May 23 (opens in new tab). Spring snow and rain is the reason for delays which resulted in the extended closure. During the summit closure, Pikes Peak Highway visitors can hike the Barr Trail from Manitou Springs or park at Devil's Playground at 13,500 feet and hike various trails below the summit.
"We are all anxiously awaiting the opening of the new Summit Visitor Center and the reopening of the summit, and we understand that extending the summit closure is an inconvenience for visitors who have planned and are expecting to be able to visit the summit of Pikes Peak," said Jack Glavan, project manager for Pikes Peak – America's Mountain. "We thank visitors for their patience as we work to complete the project."
The new summit house (opens in new tab) will include a kitchen, several dining areas, a retail center that will sell souvenirs and hiking accessories, and open-air decks for enjoying sweeping mountain views, as well as interactive displays and exhibits showcasing the history of the fourteener (opens in new tab). (Hungry hikers will be happy to know that the famous donuts made at the summit (opens in new tab) will return, too.) Additional images of architectural renderings of the new facility can be seen on Architect Magazine's website (opens in new tab).
The entire site meets the latest Americans with Disabilities Act standards. It features a new elevated pathway and overlook that allows visitors to experience the breathtaking views while protecting the fragile tundra, and was designed to achieve Leadership in Energy and Environmental Design (LEED) Silver certification.
This new building has been under construction since June 2018, and will replace the 1964 Summit House that was torn down. Exterior work and final details will continue on the new facility through September.
The nine-mile Cog Railway, which brings visitors from the renovated depot in Manitou Springs to the summit, reopens to the public on May 20 after a three-and-a-half-year closure (opens in new tab). Prior to the reconstruction of the train and tracks two years ago, hikers and trail runners would often go up the Barr Trail on foot and take the train back down to the bottom.

The center is expected to cost about $65 million and is funded in part by reserves from Pikes Peak – America's Mountain (an enterprise of the City of Colorado Springs that generates funds through toll fees and concession sales) and revenue bonds taken by Pikes Peak. (The fundraising goal of $15 million from public and private donations currently stands at about $12.7 million. No general fund tax dollars have been used.)
"The former summit house had dutifully served its purpose for almost 60 years," said project spokeswoman Vanessa Zink. "It was time to rebuild and refresh."
All the latest inspiration, tips and guides to help you plan your next Advnture!
Brian is an award-winning journalist, photographer and podcaster who has written for Runner's World, The Times, Outside, Men's Journal, Trail Runner, Triathlete and Red Bulletin. He's also the author of several books, including Kicksology: The Hype, Science, Culture and Cool of Running Shoes. He lives in Boulder, Colorado, and loves to run, bike, hike, camp, ski and climb mountains. He has wear-tested more than 1,500 pairs of running shoes, completed four Ironman triathlons, as well as numerous marathons and ultra-distance running races.