"Pineapple Powder" falls on the mountains of Hawaii
Going hiking in Hawaii? Expect snow. The three highest volcano peaks in Hawaii have received measurable snowfall recently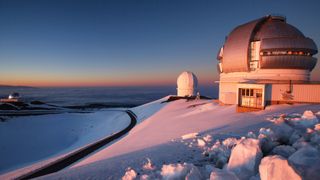 (Image credit: Getty)
It's been a snowy week across the US, with dumps in Colorado, Wyoming, Boston and New York City – but snow in Hawaii? Yep.
Even though daytime temperatures peaked at 83°F (29°C) on February 3 in the beach resort town of Kailua-Kona on the Big Island of Hawaii, it looked liked and felt winter on top of nearby Mauna Kea (opens in new tab).
Recent rain showers at sea level turned to snow showers on top of the 13,803-foot volcano mountain, the highest peak in the Hawaiian Islands. A cold front moving down the island chain was expected to bring anywhere from two to four more inches of snow.
The Maunakea Access Road was cleared for visitors to the mauna on February 3, and many hikers and sightseers, as well as a handful of skiers and snowboarders, have taken advantage this week. The summit access road is about eight miles long and includes unpaved sections and blind turns. Only four-wheel drive vehicles are allowed beyond the visitor station.
Sandy Beach and Muijer Durk visited the summit of Mauna Kea this week for the first time since recently moving to the Big Island from Charlotte, NC. The adventurous couple hiked one of the largest slopes at the summit to have the best view of the world around them, according to an article in West Hawaii Today (opens in new tab).
On the way back down to their car, Beach glissaded – aka, slid down on her bum – part of the way down a snowy slope.
"We climbed up the mountain and I thought this was the fastest way down," Beach said. "So, I just got down on my bottom and went. It was awesome!"
The snow, commonly known as "Pineapple Powder," is not as uncommon as you might think. The twin volcano peaks of Mauna Kea and neighboring Mauna Loa (13,679 feet) on the Big Island get some accumulation of snow every January. But it's much more rare for snow to appear on other islands. This year even the Haleakalā volcano on the island of Maui, the state's third highest peak at 10,023 feet, has received snow (opens in new tab), limiting the popular 11-mile hike to the crater at the summit in Haleakalā National Park (opens in new tab).
There is a webcam on Mauna Kea to monitor snow conditions (opens in new tab) and it mockingly claims a ski resort exists, but it there is no such thing even though a Hawaiian ski club has existed since 1936 (opens in new tab). There are no chair lifts, no grooming, no resort, but a road goes to the summit to serve the dozen or so scientific observatories located at the summit. Only four-wheel drive vehicles are allowed to access the summit road.
Another visitor, Aaron Todd, traveled to the Mauna Kea summit with his wife to snowboard for the first time in three years. As a Vermont native, Todd has waited for the opportunity to snowboard in his new state since moving to Hawaii in 2018.
"I mean this is insane, right?" Todd told West Hawaii Today. "I don't think there are too many people who can say they've snowboarded in Hawaii."
The Wilkerson family traveled from the Hawaiian town of Waikoloa to have fun in the snow, with their boogie boards in tow. While her children bobbed up and down the slopes using their boards as sleds, Meg Wilkerson was in awe of their consistent energy at such a high altitude.
"We love to drive up here anytime it's snows," Wilkerson said. "It's the only snow the boys have ever known, and they have so much fun up here."
Wintry conditions atop Hawaii's highest peaks are prompting safety warnings and closures. University of Hawaii, which operates several of the observatories, said two car accidents were also reported (opens in new tab), two people suffered altitude sickness, and another person was injured while playing in the snow.
"The public is asked to remember that the summit of Mauna Kea can be one of the most dangerous places in Hawaii because of the extreme altitude and weather conditions," the university said in a recent news release.
A 2017 study published by researchers at the University of Hawaii at Manoa (opens in new tab) suggested that climate change could make it so that snow in the Aloha State could be eliminated by the end of the century.
For the study, a team of climate modelers led by Chunxi Zhang of the International Pacific Research Center used satellite images to measure recent snow cover patterns (opens in new tab) on the volcanoes of Mauna Kea and Mauna Loa on the Big Island of Hawaii. The researchers then made a climate change model specific to the region to simulate current snowfalls and project future totals based off changing climate patterns.
The team reported that, at present, the summits of the two volcanoes are covered by snow at least 20 days each year. They predicted that, by 2100, the snow cover on Mauna Kea and Mauna Loa will be ten times less than what it is at present, essentially eliminating snow from the Big Island.
Brian is an award-winning journalist, photographer and podcaster who has written for Runner's World, The Times, Outside, Men's Journal, Trail Runner, Triathlete and Red Bulletin. He's also the author of several books, including Kicksology: The Hype, Science, Culture and Cool of Running Shoes. He lives in Boulder, Colorado, and loves to run, bike, hike, camp, ski and climb mountains. He has wear-tested more than 1,500 pairs of running shoes, completed four Ironman triathlons, as well as numerous marathons and ultra-distance running races.
All the latest inspiration, tips and guides to help you plan your next Advnture!
Thank you for signing up to Advnture. You will receive a verification email shortly.
There was a problem. Please refresh the page and try again.