Rod Hutchinson RIP: tribute to a carp fishing legend
The world of fishing has paid tributes to one of the true legends of the sport - Rod Hutchinson.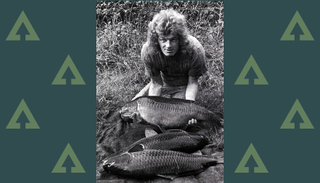 (Image credit: Angler's Mail)
Welcome to Advnture, the new home of AnglersMail.co.uk
Rod Hutchinson was best known as an author, and a pioneer of the hair rig and particle fishing. He died of a heart attack at the age of 74.
Rod is someone who achieved carp fishing's equivalent of rock-star status. He lived the dream and turned a love of carp fishing into fame and fortune, and for that he will always receive, and deserve, widespread admiration.
Divorced Rod had been married to Sue and had two daughters, and leaves new partner Coral.
Anglers across the UK, and beyond, have been remembering the great man with special fondness. Some knew Rod really well, learning first-hand from his incredible angling mind… others were inspired from afar.
A Lincolnshire lad, Rod Hutchinson produced a classic work with 'The Carp Strikes Back' . It is considered by many to be the finest book on carp fishing ever written.
Jovial Rod, who loved a 'guesting' session or two, really was a pioneer in the 1970s and 80s experimenting with unusual baits and mysterious ingredients as well as tackle innovations.
While not inventing the true hair rig, Rod was one of the first to develop it at Savay Lake and had tied hemp onto light hair rig lines at Redmire Pool.
Rod helped bring carp fishing out of the bread paste and par-boiled potatoe era to HNV baits his flavours like Scopex and Monster Crab will go down in folklore.
He set up Catchum Products, in his home town of Louth, in 1979. He helped bring in thousands of carp anglers in the next two decades with his tackle and bait. And he also inspired anglers with articles and books that also included 'Carp Along the Way' and 'Carp: Now and Then.'
Rod Hutchinson made huge impact
Surrey specialist Dave Ball was a close friend of Rod Hutchinson.
Dave said: "No one in history has had a greater impact on carp fishing than Rod.
"He was a totally natural angler who always seemed to know what to do next, but although dedicated, he was nicely irreverent.
"You wouldn't want to lend him tackle as he was very physically clumsy but he was very bright, astute and highly talented.
"I have known him since 1970 and my fondest memories are of family holidays together in France where he was in his element.
"He got on so well with everyone there and one night I particularly remember is when the locals had given him five litres of armagnac (brandy) which we nearly got through," he added.
Rod was a 'total-one off'
Carp historian Chris Ball has a better knowledge than almost anyone when it comes to carp fishing, its development, catches and characters. he was a big fan of Rod Hutchinson.
Chris said: "Rod was a total one-off and he left an indelible mark on carp fishing, being at the forefront of many developments and innovations.
"When I first met him back in the early 80s I had gone to visit Savay Lake during my lunch break dressed in a pin striped suit and waders.
"His swim was in total disarray which was typical. He had a bite while I was there and only landed the fish as I could wade in.
"Back in the days before mobile phones there was a public phone box near the lake and Rod was always in there phoning the weather centre for the forecast and they go to know him well.
"If they predicted a change in wind direction he would change swims so he was already tackled up ready for the fish to move in.
"Although he was a dedicated angler he enjoyed a social life around it, and was happy to adjourn to the pub for long breaks.
"When he fished Redmire with Chris Yates the older regulars there didn't quite know what to make of these two 20-something youngsters who were always climbing trees fish spotting, but they were both hugely successful there," concluded Chris.
Rod Hutchinson memories of Chris Yates
Former carp record holder and great pal Chris Yates was devastated at the death of Rod Hutchinson. He shared some of his most treasured memories of the great man.
Chris said: "Rod's passing is such a terrible loss. We first met on the dam at Redmire in 1972 when Rod was lying flat on his stomach in his great coat peering into the water and it was one of my great angling moments.
"We had both somehow managed to wheedle our way into the Redmire syndicate without hardly having previously caught a carp between us.
"Rod was a scaffolder at the time and an ex semi-pro footballer. We were both completely overwhelmed by Redmire and immediately got into its rhythm.
"We both wanted to do things differently and had ideas bouncing off each other.
"I had brought a tin of sweetcorn along to go with scrambled eggs for breakfast and that evening I asked Rod whether it was worth trying a bit as bait.
"He said that he had used it once so give it a go and that evening I had my first ever carp going 12 lb. Meanwhile Rod was stalking carp with worm and actually caught one of 6 lb while fishing from a tree.
"After that our particle fishing took off and we moved onto things like hemp, beans and black-eyed peas.
"I had the best two years fishing off my life with Rod at Redmire. I think the biggest carp he had there was a 32- pounder in 1973 but in those days that was a cracking fish.
"Rod then went on to other venues and I eventually started to fish more for other species while he stuck to the carp.
"He went on to put France on the map as far as carp fishing is concerned ending up catching 50-pounders out there at Cassein.
"Rod really revolutionised fishing. He was a great innovator. He was also very warm hearted and generous. It was always a pleasure to be with him and a privilege to fish alongside him. I will miss him terribly," Chris added.
More Rod Hutchinson tributes
Columnist Colin Davidson was amongst a generation of anglers who followed Rod Hutchinson, hugely inspired by the trail he blazed.
Colin said: "Rod was a carp angler the likes of whom we will never see again.
"I grew up on his writings and his epic The Carp Strikes Back should be compulsory reading for anyone, who to borrow Rod's own words, 'ever had both feet on the accelerator aiming for a swim on a Friday after work'.
"His ability to catch carp was second only to his humour, from his woes with big fish and not having 'the knack' through to tales of accidentally poaching swimming pools in the dark to his dog biting him whilst being dragged from a burning van – some things it seemed could only ever happen to Rod.
"His obsession with carp, the amazing years of the explosion of modern carp fishing, and the characters of the time, gave the most colourful backdrop for any carp books ever written.
"Aside from his giant technical contributions in particle fishing, boilie formulation and the development of modern tactics and rig theory, Rod was a true gentleman and an angler that raised the bar with his achievements both home and abroad.
"He quite literally inspired a generation, will be sorely missed but very fondly remembered."
Former carp record holder Lee Jackson said: "Rod was my biggest influence in carp fishing as well as a good friend.
"It is such a sad loss, he was a true legend. A god of carp fishing has passed away, but his spirit will live on in the hearts of carp fishermen everywhere."
Great friend and fishing companion Ritchie McDonald, who first met Rod on the Loony Rota at Savay, said: "Rod had an angling brain like no other.
"He was an inspiration to everyone, and is up there with the angling greats like Dick Walker. We had some amazing times together, and it's a sad loss to angling."
All the latest inspiration, tips and guides to help you plan your next Advnture!
Running from 1964 until 2020, Angler's Mail was the UK's leading weekly magazine devoted to coarse fishing, telling readers everything they needed to know about which fish to catch, where to catch them, and what kit they needed to do it. Now, loads of the magazine's expert advice can be found on Advnture.com, as a helpful resource for angling newcomers and experts alike.