Solo trail runner films terrifying encounter with mountain lion
When a runner came too close for comfort to a mother lion protecting her cubs, he videoed the whole terrifying encounter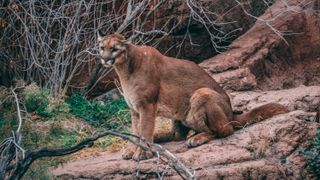 (Image credit: Ian Williams Unsplash)
On October 10, 2020, Kyle Burgess was enjoying a solo run on a remote trail on the outskirts of Provo in Utah. He came across what he thought was bobcat kitten on the track in front of him. Cute. He captured some footage on his phone. And then he spotted the mountain lion mother behind the baby. And she started coming for him.
Audibly alarmed, Burgess backed away from the advancing animal. Luckily he knew what to do if you meet a mountain lion – and he kept shooting the unfolding drama on his phone for a full six minutes, while carefully backtracking his footsteps as the cat defensively followed and occasionally lunged toward him, all in an effort to put distance between her kittens, who were hidden in the brush.
The 26-year-old trail runner nervously filmed the entirely episode on his phone and posted it to his YouTube account sparking an enormous response from the millions of people who watched it and realized the magnitude of the scenario.
As the protective puma stalked him back along the section of trail he'd just been running, Burgess alternates between cussing and complimenting the cat, begging it to let him alone.
"Go get your babies," he implores, nervously reversing along the trail, snatching the odd glimpse over his shoulder and trying desperately to avoid falling over, which could have proved fatal. This is scary… My heart is racing," you can hear him say. "I just wanted to go for a run."
Eventually the cat turns tail and runs back to its young. Burgess survived the incident unharmed, but he was lucky, and he knew it. "Wow… so that just happened," he says at the end of the video. "You see, some will come at ya. Yeah, I'm not going back that way."
There are an estimated 20,000 to 40,000 mountain lions living in the American West, and sightings and encounters have become increasingly common on trails adjacent to growing cities like Denver, Salt Lake City, Bend, Oregon, and Reno, Nevada. Mountain lion attacks on humans, however, are very rare.
The California Department of Fish and Wildlife estimates there are 4,000 to 6,000 mountain lions in California, which has a population of 40 million people, but there have been fewer than 20 verified attacks on humans and only two fatalities since 1986. Similarly, the Colorado Parks and Wildlife have reported fewer than 20 human attacks over the past 30 years and only two fatalities during that span.
Travis Kauffman had a vicious confrontation with a juvenile mountain lion while trail running near Fort Collins, Colorado, on February 4, 2019.
"My adrenaline was spiking just watching that. I really thought the cat was going to attack when it started that charge," Kauffman says. "I've felt that desperation when you just want the cat to turn and leave and you're thinking, 'I just wanted to go on a run, and now this?!?'"
Kauffman, like Burgess, was running alone in a mountain park 10 miles west of Fort Collins on that sunny winter day when he came across the small-ish cat on a remote section of trail, but unlike the benign interaction with Burgess, the cat that Kauffman ran into attacked him. Kauffman had to fight for his life against the mountain lion, which scratched him and bit his wrist in a scuffle that lasted several minutes. Ultimately, Kauffman had to kill the cat with his bare hands to save his own life.
Park rangers later determined the cat that Kauffman killed was a kitten that weighed about 35 pounds (15kg) and that it was hungry and separated from its mother.
"It was all instinct. I just reacted and found myself in an epic struggle," Kauffman said. "I was aware that there were mountain lions there, but I had never seen one. I had no time to do anything but fight for my life because it immediately lunged onto me. Watching that video, I also thought about how super lucky I was that the mother mountain lion wasn't around for my unfortunate encounter."
For more information about mountain lions, visit Mountain Lion Foundation or Cougar Conservancy.
All the latest inspiration, tips and guides to help you plan your next Advnture!
Brian is an award-winning journalist, photographer and podcaster who has written for Runner's World, The Times, Outside, Men's Journal, Trail Runner, Triathlete and Red Bulletin. He's also the author of several books, including Kicksology: The Hype, Science, Culture and Cool of Running Shoes. He lives in Boulder, Colorado, and loves to run, bike, hike, camp, ski and climb mountains. He has wear-tested more than 1,500 pairs of running shoes, completed four Ironman triathlons, as well as numerous marathons and ultra-distance running races.