Surge in mental health help through fishing
Thousands of people have turned to angling for therapy, according to the Environment Agency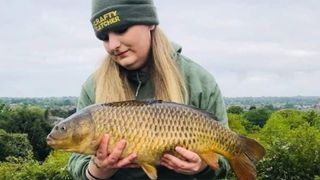 (Image credit: Angler's Mail)
Welcome to Advnture, the new home of AnglersMail.co.uk
The Environment Agency has confirmed that 100,000 more people are fishing this summer than last summer, and are working with the Mental Health Foundation and Angling Trust to encourage even more people to wet a line for their personal well-being.
The end of the lockdown, with many people still off work, and the continued restrictions on some sports and pastimes, has resulted in a huge growth in the number of people on the bank. Rod licence sales are now confirmed as being up by 17 per cent compared to the same time last year.
There are currently over 750,000 anglers with a licence in England and Wales, and the EA has set a new target to get one million people fishing by 2025.
EA fisheries manager Heidi Stone said: "Fishing licence sales have risen to an exceptional high compared to the past few years. We are seeing a true revival for the sport, people recognising all that it has to offer.
"Now, more than ever, people have a desire to get outdoors and escape their daily stresses. Fishing is a sport that can be done by a person of any age or ability, and it provides a great opportunity for families to try something new."
The Mental Health Foundation has backed the EA's call, encouraging the pursuit of outdoor activities such as fishing to help people deal with the impact of the pandemic.
Dr Antonis Kousoulis, director of the Mental Health Foundation, said: "Growing evidence suggests that spending time in 'green' and 'blue' spaces has a very positive effect on our mental health, providing protective and restorative benefits.
"Fishing remains one of the most popular outdoor activities in England, and it is important for people's mental health that they can continue to pursue this activity in a safe way, both during and after the pandemic."
A recent survey from the Angling Trust found that 42 per cent of respondents reported taking someone from their family along with them to try fishing for the first time, and half said that fishing has allowed them to bond with friends and family post-lockdown while remaining at a safe distance.
Clive Copeland, head of participation at the Angling Trust, said: "We are very keen to promote the mental well-being elements of fishing through our work with Sport England and the EA. Going fishing helps recovery from and prevention of mental health issues, and involves spending time by the water, which is brilliant for relaxation and aids concentration.
"We've been working flat out to ensure that we meet demand and get as many people as possible involved in the sport at beginner-friendly locations around the country, which are listed on our website getfishing.org.uk with videos, top tips and advice that is perfect for anyone who wants to give fishing a go."
Jodie Stafford, from Macclesfield, Cheshire, told us how fishing has helped her.
The 26-year-old explained: "I have had several severe mental health problems for many years, including post-traumatic stress disorder and some physical problems. I rarely used to leave the house, as I was scared of being outside with lots of people. I was often suicidal, taking many overdoses and spending time in a psychiatric hospital.
"My partner, Jordan, first introduced me to fishing about five years ago, and we've been going regularly for the past couple of years. I really believe fishing has saved my life, as my mental health has slowly improved, and it is now eight months since I had a major crisis. Fishing is relaxing, and I see it as my 'happy place'."
All the latest inspiration, tips and guides to help you plan your next Advnture!
Running from 1964 until 2020, Angler's Mail was the UK's leading weekly magazine devoted to coarse fishing, telling readers everything they needed to know about which fish to catch, where to catch them, and what kit they needed to do it. Now, loads of the magazine's expert advice can be found on Advnture.com, as a helpful resource for angling newcomers and experts alike.