Ultrarunner John Kelly takes on Britain's biggest running challenge
The American ultrarunner tackles the Bob Graham, Paddy Buckley and Charlie Ramsay rounds consecutively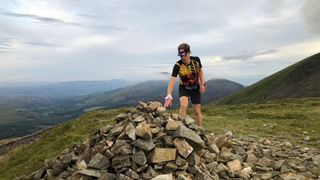 (Image credit: Damian Hall)
American trail and ultra runner John Kelly has embarked on an attempt to run all three of Britain's best known and most brutal 'rounds' – the Bob Graham in the Lake District, the Paddy Buckley in Wales and the Charlie Ramsay in Scotland – back-to-back, while cycling between them.
He aims to run each of the rounds in under 24 hours, and to complete the entire 'Grand Round' in less than 100 hours. The epic challenge will see John run a total of around 185 miles (296km), with 84,000 feet (25,603 metres) of elevation across 113 summits, and cycle some 400 miles (640km).
This will be John's second attempt at the Grand Round, and it comes just a month after he broke a Fastest Known Time record on the Pennine Way that had stood solid for 31 years (and which was subsequently bested a week later by his friend and fellow ultra runner Damian Hall).
The three-decade-old Pennine Way record had been set by English fell-running legend Mike Hartley, who is also the only other person known to have run the UK's three big rounds one after the other (although even he didn't try and cycle between them). To honour Mike's achievements, John has named his effort the Hartley Slam.
"It's not that I've tried to copy Mike, or that I'm trying to one-up things he's done," says John on his blog. "It's just that for pretty much everything I've thought of here in the UK and set my sights on doing, I've started doing research and then found out "wait, Mike Hartley pretty much already did this!"
A native of Morgan County, Tennessee, John is currently living near Bristol in England, with his wife and three kids, and when not running works as Chief Technology Officer for a company assessing cyber risks. While in the UK, he has become fascinated with the local running culture.
"Fell running has a rich history that I've enjoyed learning about," he says. "The achievements, stories, and places to explore are incredibly numerous – especially given the geographic size of the country compared to somewhere like the US."
He is the last person to have finished the infamous Barkley Marathons, commonly considered the world's weirdest and woefully hardest running race, which is held in Frozen Head State Park near Wartburg, in John's home state.
He was the only person to complete the invite-only event in 2017 – indeed the full, five-loop 100-mile (160km) race, which has been running since 1986, has only ever been completed 18 times by 15 runners as of 2019 (and even the brutal Barkley was KOd by Covid-19 this year).
John began his current mammoth marathon on 16 August by knocking off the Paddy Buckley Round, accompanied by Damian Hall and several other supporting runners. By Monday morning he was on his bike, hoping for better weather than he endured during his initial aborted attempt in May 2019.
At the time of writing, the La Sportiva-sponsored runner is battling around the Lakeland fells in reasonable conditions, and if he stays on track with his target time, the forecast is looking fairly kind for his Highland fling around the Charlie Ramsay Round. You can follow his progress on Live Open Tracking, but due to COVID19 concerns John has asked people not to join him on the hills or in urban areas unless it's already been pre-arranged.
During his challenge John will be raising money for the Stephen Lawrence Charitable Trust, which works with young people from disadvantaged backgrounds aged 13 to 30 to inspire and enable them to succeed in the career of their choice.
All the latest inspiration, tips and guides to help you plan your next Advnture!
Author of Caving, Canyoning, Coasteering…, a recently released book about all kinds of outdoor adventures around Britain, Pat has spent 20 years pursuing stories involving boots, bikes, boats, beers and bruises. En route he's canoed Canada's Yukon River, climbed Mont Blanc and Kilimanjaro, skied and mountain biked through the Norwegian Alps, run an ultra across the roof of Mauritius, and set short-lived records for trail-running Australia's highest peaks and New Zealand's Great Walks. He's authored walking guides to Devon and Dorset, and once wrote a whole book about Toilets for Lonely Planet. Follow Pat's escapades on Strava here and instagram here.