Ultrarunner smashes record on iconic UK trail
Pawel Cymbalista completed the 95-mile West Highland Way in under 18 hours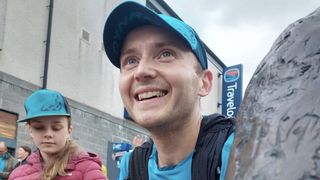 An ultrarunner has set an impressive new record on Scotland's famous West Highland Way. Pawel Cymbalista ran the 95-mile trail unsupported in a time of 17 hours 53 minutes and 35 seconds. He was almost 5.5 hours faster than the previous record holder, Matt Girvan.
After setting the new record on the West Highland Way, Cymbalista, 34, said: "I was so happy to finish. I was happy to see my family; happy to see my friends; happy it was over; and happy I could sit down. I was also happy I had broken the unsupported record."
What is the West Highland Way?
The West Highland Way starts in Milngavie, north of Glasgow, and finishes 95 miles (152km) later in Fort William, Highlands. The total ascent is 12,007ft (3,660m). The route takes most people five to seven days to walk, although runners will usually target three or four days.
The route is signposted but navigation is still required at times, especially at night or in poor weather. There is a wide range of terrain, from easy-going paths to rough and rocky tracks, hills and remote moorland. Tens of thousands of people walk the iconic Scottish route annually.
Tough times during West Highland Way record run
Cymbalista, who is originally from Poland and now lives with his wife and children in Mallaig, on Scotland's west coast, is no stranger to ultra running.
In April, he set an unsupported running record on another popular Scottish walking trail, the Great Glen Way. Last year, he also set a record for summitting the UK's tallest mountain, Ben Nevis, the most times. He reached the highest point of the 1,345m peak seven times.
Cymbalista has also completed several classic mountain rounds, the Charlie Ramsay Round in Scotland, the Paddy Buckley Round in Wales and the Bob Graham Round in England, all within 24 hours.
However, he found the West Highland Way run with a total ascent of 3660m very challenging.
The conditions on July 16 were very humid, which meant he struggled to stay on top of his hydration. He said: "I was sweating buckets and losing precious energy trying to regulate my core temperature.
"I had to drink plenty of water to stay on top of my hydration, which slowed me down due to multiple refills. But I knew I had to do it in order to survive and keep going."
Stomach issues also plagued him for the first part of the run. "I felt cramping in my abdomen, which was possibly caused by stress due to travel issues getting to the start," he said. "The stomach problems continued for the first 40 miles."
He also battled with negative thoughts. Cymbalista said: "I was halfway through the West Highland Way and my demons were telling me to finish this by taking the easy route and just sit down. But I refused, had more food, more water, salt tablets and continued to push.
"I decided to phone my wife and I had a moan about the route and my issues. We had a laugh. I needed to hear her voice and have a chat. I felt so much better and I got a great boost to keep going."
Cymbalista described the terrain on many sections of the WHW as tough. He said: "On the east side of Loch Lomond, I needed to do a lot of balancing on tree branches and rocks and jumping over boulders and fallen trees with constant up and downs. There was no way to get up to speed.
"Later on, there was a long, steep descent from Glencoe down to Kinlochleven, which was painful for my quads and I felt like screaming in pain.
"It was the first time in my life that I had to start walking downhill for few second at a time because of the pain in my quads and muscles around my bottom ribs."
For Cymbalista, the final section of his unsupported run of the West Highland Way was very emotional. "This was the only section that I knew," he said. "I knew what was ahead of me and how rough the path is. My feet were in bits and every wrong footstep was giving me pain.
"Finally, I knew the end was close and I felt my body fill with adrenaline. I still was in pain but I also felt numb and started slowly speeding up. I finished with a strong sprint on the High Street of Fort William."
'I've learned so much about myself'
Cymbalista revealed the West Highland Way record run taught him a lot about himself. He said: "I learned a lot and I will use that knowledge in my future adventures. I was very close to my breaking point. This route forced me to use everything I had in me to complete it in a record time."
All the latest inspiration, tips and guides to help you plan your next Advnture!
Fiona Russell is a widely published adventure journalist and blogger, who is better known as Fiona Outdoors. She is based in Scotland and is an all-round outdoors enthusiast with favourite activities including trail running, mountain walking, mountain biking, road cycling, triathlon and skiing, both downhill and back country. Her target for 2021 is to finish the final nine summits in her first round of all 282 Munros, the Scottish mountains of more than 3,000ft high. Aside from being outdoors, Fiona's biggest aim is to inspire others to enjoy the great outdoors, especially through her writing. She is also rarely seen without a running skort! Find out more at Fiona Outdoors.