Ramsay's Round: meet Scotland's most daunting trail run
We take you on a tour of Ramsay's round, a gruelling trail running route in the Highlands of Scotland that is not for the faint of heart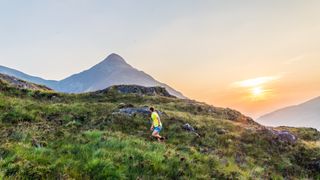 (Image credit: fschuetz)
Are you looking for your next epic trail run in the UK? You've probably considered famous routes such as the classic 66-mile Bob Graham Round in the Lake District or the notorious 95-mile Jurassic Coast stretch of the South West Coast Path. While both of these routes will deliver monumental challenges and exceptional beauty, they'll also likely be crowded with lots of other walkers and runners doing the same thing. For an equally stupendous feat that few pairs of trail running shoes dare to tread, you might want to head north for Ramsay's Round. What is Ramsay's Round, you ask? We break it all down for you here.
What is Ramsay's Round?
Ramsay's Round is a 58-mile fell running route near the town of Fort William in the western Highlands of Scotland. No, at under 60 miles, it's not as long as the Bob Graham Round or the Jurassic Coast, but don't discount it as too easy for you until you hear all the details.
Ramsay's Round, also known as the Charlie Ramsay Round, is a circuit that takes in the summits of the 24 peaks that make up the Mamores and the Grey Corries, two imposing mountain ranges in Lochaber around Glen Nevis. Not impressed yet? A full 23 of those mountains are munros – mountains over 3,000ft – and one of them is the UK's highest mountain, Ben Nevis.
If that's still not enough to make you feel slightly dizzy, there's one more detail – Ramsay's Round is not just a route, but a challenge, meaning to officially complete it, you have to run it in under 24 hours, known as Scotland's Classic Mountain Marathon.
The route was devised by fell runner Charlie Ramsay in 1978. Charlie Ramsay comes from Edinburgh and his first round was a milk round in the city, he shared during a presentation at the Fort William Mountain Festival, gave him the means to buy his first bike and start out his athletic career as a cyclist. After moving to London for work, he returned to Edinburgh where he started a family and lived at the foot of the Pentland Hills, which he started hiking every day. Hiking soon turned to running and in 1974, Ramsay signed up for the Ben Nevis race, which tested both his athleticism and willpower.
"I didn't realise it was such a big scene," he confesses, recalling "I got to the halfway mark and I thought, this isn't too bad, I'm enjoying this, and then I crossed the red burn and I looked up and noticed that all the guys were turning left. They weren't going up the zig zags, as I thought we were going, they were going straight up. So I tried my best to go straight up as well and I kept looking up, thinking, somebody's pushed that summit further back."
Despite the challenge, he completed the 8.6-mile mountain race in about one hour 50 minutes earning him the 38th position. After this, Ramsay joined the Lochaber Athletic Club to continue his training. On a camping holiday with his family in the Lake District, he inadvertently ended up running the entire Bob Graham round when he was asked to sub for another runner after intending to just join some friends for the first part of a race.
Upon his inadvertent completion of the race, another trail runner insisted that Ramsay create an equivalent up in Scotland, and he started looking at an existing walking route in Lochaber, known as Tranter's Round.
"I like Tranter's Round but I thought, it's not big enough. It's only 18 munros, so what do I do?"
Ramsay realised that if he went around Loch Treig, that added another 20 miles and 8,000ft of climbing to the route. He was satisfied with his plan.
On July 8, 1978, Ramsay set off to try to run his route in under 24 hours, aided by a couple of support runners. The next day, after 23 hours and 50 minutes of running, with both support runners having dropped out, Ramsay made it back to the Glen Nevis Hostel where he'd started, and Ramsay's Round was born.
Since 1978, some of the hardiest trail runners have completed Ramsay's Round. Runner Adrian Belton held the fastest known time for the round for a whopping 26 years. That record has been broken numerous times since 2015, with the most recent time of 14 hours 42 minutes established by Finlay Wild in 2020.
How hard is the Ramsay Round?
Though difficulty is often considered subjective, it's probably fair to say that Ramsay's Round is objectively hard. In addition to distance, all those summits mean you gain a total of 28,500ft, which is only about 500ft short of running up Everest. In addition to elevation, you'll encounter all the unique obstacles that come with hiking in Scotland – if you don't know, that means wild weather, difficult navigation and in summer, the dreaded midge.
In order to do Ramsays' Round, in addition to completing the round in under 24 hours, you have to start and finish at the Glen Nevis Hostel. From there, you can go either clockwise or anticlockwise, which is the way Ramsay originally completed it. Runner Es Tressider, who set a record in 2019, suggests that anticlockwise is best for faster times.
"I think it's nice to finish on the highest mountain in Britain and if you go the other way round then the last 5km is flat and having to race that would be really hard," he advises.
If you're curious about running Ramsay's Round, start with our articles on trail running in Scotland and how to run an ultra, then cruise over to the official Ramsay's Round website for tips on navigating the route and training for this specific challenge. And last but not least, good luck!
All the latest inspiration, tips and guides to help you plan your next Advnture!
Julia Clarke is a staff writer for Advnture.com and the author of the book Restorative Yoga for Beginners. She loves to explore mountains on foot, bike, skis and belay and then recover on the the yoga mat. Julia graduated with a degree in journalism in 2004 and spent eight years working as a radio presenter in Kansas City, Vermont, Boston and New York City before discovering the joys of the Rocky Mountains. She then detoured west to Colorado and enjoyed 11 years teaching yoga in Vail before returning to her hometown of Glasgow, Scotland in 2020 to focus on family and writing.