Would you pay $375 for a pair of trail running shoes?
A new company, Speedland, launches the 'no compromise' product into what they believe is a gap in the market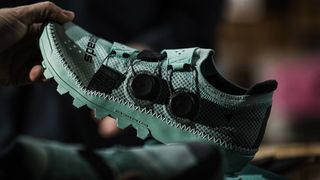 (Image credit: Speedland)
We are very familiar with the launch of new products and almost daily, runners, hikers and campers are told the new footwear, clothing or equipment is "unique", "different", "the best yet" or "utilises the most modern technology".
And here we are again, with Speedland, a trail running footwear brand that claims to have a "new approach" and is a "different proposition to what is on the market right now".
First glance and the launch product by Speedland, the SL:PDX trail running shoe definitely has a unique point: It's price is an eye-watering $375 (£265). This is deliberate according to company co-founder Dave Dombrow.
Speedland has a "no compromise" approach that has seen the brand focus on premium materials at every stage, rather than worrying about the usual goal of being competitive on price.
Dave is reported as saying: "For every component, we partnered with the best in the world in that area." This includes features such as Michelin outsoles, a Pebax midsole, a Dyneema upper, BOA Fit for lacing and Carbitex carbon plate.
He adds: "It is an aggregation of all the best of the best things put together. Nobody would ever do it because it creates a very high retail price… the shoe is equipment for your feet, a totally different way of looking at things.
"It is a different proposition than what is on the market right now."
His co-founder Kevin Fallon continues in the same vein. He is reported as saying: "We are not doing trail as a side business to the road or balancing metric. This is our product. We believe this is a totally different level of equipment."
Founders of Speedland
Both Dave and Kevin come from pedigree design backgrounds, including Nike, Puma and Under Armour. So it's fair to say they will know the sportswear market and the type of consumers there are.
Speedland, based in Portland, Oregon, has been some 18 months in the development process. The pair believe they have found an obvious gap in the market for their trail running shoe.
Likening the development to what has happened in the road shoe arena with products such as Nike's Next%, the friends wanted to apply the same technological advances, such as carbon, plus greater levels of research, design and thought to the trail.
Apparently, several elite trail running athletes have already embraced Speedland's SL:PDX shoe.
Speedland SL:PDX shoe in greater detail
Michelin-created outsole: uses fibre reinforcement in the rubber to allow for a super thinness (just 1.2mm). The claim is that instead of heavy rubber weighing down the runner, the SL:PDX sees the foot encapsulated without adding weight.
The outsole also features "customisable lugs". The shoe arrives with 6.5mm lugs that can be cut to 3mm depending on what the wearer fancies.
Carbitex carbon fibre plate: Speedland state that the plate has been designed specifically for the trail and "decoupled from the new Pebax foam midsole". The design allows the carbon fibre to increase stiffness as it flexes and to highlight articulation in the toe and flex asymmetrically so is easily bends. The company reports that athletes can feel the propulsion.
Dyneema upper: including a moccasin stitch to eliminate lamination and glue so the shoe has a singular aesthetic, that Speedland call a "super technical trail moccasin".
The SL:PDX shoe will be the main focus of the company to start with. Instead of new releases seasonally that change the core design, Speedland plans to offer "commissions" of the shoe, which will be designed for individual athletes and conditions.
But the brand does know it is not for everyone. Dave says there will be those that "get it" and understand Speedland's aims… and presumably those that won't!
Speedland has launched the SL:PDX shoe for orders, with deliveries from August 15, 2021.
All the latest inspiration, tips and guides to help you plan your next Advnture!
Fiona Russell is a widely published adventure journalist and blogger, who is better known as Fiona Outdoors. She is based in Scotland and is an all-round outdoors enthusiast with favourite activities including trail running, mountain walking, mountain biking, road cycling, triathlon and skiing, both downhill and back country. Her target for 2021 is to finish the final nine summits in her first round of all 282 Munros, the Scottish mountains of more than 3,000ft high. Aside from being outdoors, Fiona's biggest aim is to inspire others to enjoy the great outdoors, especially through her writing. She is also rarely seen without a running skort! Find out more at Fiona Outdoors.