Yellowstone reopening: America's second-most-visited national park ready to open for summer
Yellowstone reopening: most attractions will be open and accessible, but services and lodging will be limited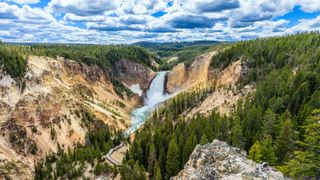 (Image credit: Kelly Cheng Travel Photography (Getty))
The welcome mat is at the doorstep of Yellowstone National Park as it prepares for hordes of visitors, but so are a few caution and closure signs.
As Yellowstone readies for its 150th summer as a protected park, some services, lodging and visitor centers will remain limited because of Covid-19 safety precautions. Park officials have said Yellowstone will open on a partial basis on April 16 to start the 2021 summer season, according to a report in the East Idaho News.
Yellowstone reopening: all you need to know
Known for a wide range of wildlife, numerous geothermal features and several big waterfalls, the 2.2-million-acre park (8,983.18 km2) is an idyllic place for hiking, trail running, camping and sightseeing. Yellowstone is also one of the most popular parks in the U.S., with more than 3.8 million visitors last year despite Covid-related restrictions for part of 2020.
"We are expecting a busy summer," park spokeswoman Linda Veress said.
Park officials said the first road sections planned to open on April 16 are from the west entrance to Old Faithful, from Mammoth Hot Springs to Old Faithful and from Norris to Canyon Village. The road from Mammoth to the Northeast Entrance is open year-round.
Most services won't open until Memorial Day or later and some services for camping, lodging, dining, shops, and gas stations will be limited in April and May. In celebration of the start of National Park Week, all entrance fees on April 17 will be waived, according to a Yellowstone news release.
If you're planning to visit Yellowstone, you should expect some changes in operations with Covid-19 precautions still in place. For starters, the park said face masks will be required in all visitor facilities and other areas when physical distancing cannot be maintained. However, most of the park's popular features — including Old Faithful geyser, Mammoth Hot Springs, Mt. Washburn, Yellowstone Grand Canyon and the Upper and Lower Falls of the Yellowstone River — will be open and accessible, and so will the majority of the park's 900 miles (1,449 km) of trails.

Some Mammoth hotel rooms and cabins will open April 30 and May 7, while the Madison Campground is expected to open May 14. The Old Faithful Snow Lodge and Cabins open May 7. Roads leading to Yellowstone Lake are scheduled to open in early May. The Beartooth Highway is expected to open on May 28. The park will continue to update information on its website throughout the spring and summer.
The phased Yellowstone reopening plans come a year after the park was shuttered because of the coronavirus pandemic. Yellowstone closed to visitors in late March 2020 and remained closed through the month of April. Wyoming's entrances to the park opened in May, but Montana's entrances stayed closed until June 1.
The closures reduced the park's visitor counts for the first half of the year, but numbers soared through the summer and fall. The final six months of the year posted visit counts well above the counts for the same months in 2019.
The park reported more than 3.8 million visits for the year, making it the sixth-busiest year on record. It was the second-most-visited park in the U.S. last year behind Great Smoky Mountains National Park (12.1 million visitors).
Yellowstone reopening: construction and Covid-19 closures to affect access and some services for the foreseeable
There will still be several Covid-19 closures for the foreseeable future. All park-operated visitor centers will stay closed, as will popular swimming spots at the Boiling River and Firehole River. Some privately operated lodges will operate at less-than-full capacity and most dining facilities will be limited to outdoor seating or takeout only.
Several road construction projects will result in limited services and delays within the park. Park officials have said the road from Tower-Roosevelt to Canyon Village will remain closed through the season for the second straight summer because of an ongoing construction project that won't be completed until May 2022. The overpass at Old Faithful is being improved and will be reduced to one-lane travel for part of the summer, and there is also an expansion project underway at the north entrance near Gardiner.
Visitors can buy entrance passes, camping permits and fishing permits on recreation.gov. Three Yellowstone campgrounds — Mammoth, Slough Creek and Pebble Creek — were also added to the online reservation system this year. To cover the cost of the online reservation system, officials raised campground fees by $5. The fee increase applies to the Mammoth, Slough Creek, Pebble Creek, Indian Creek and Lewis Lake campgrounds.
For specifics on opening dates for other facilities, visit Yellowstone's web page for trip planning.
All the latest inspiration, tips and guides to help you plan your next Advnture!
Brian is an award-winning journalist, photographer and podcaster who has written for Runner's World, The Times, Outside, Men's Journal, Trail Runner, Triathlete and Red Bulletin. He's also the author of several books, including Kicksology: The Hype, Science, Culture and Cool of Running Shoes. He lives in Boulder, Colorado, and loves to run, bike, hike, camp, ski and climb mountains. He has wear-tested more than 1,500 pairs of running shoes, completed four Ironman triathlons, as well as numerous marathons and ultra-distance running races.