The best women's hiking backpacks 2023: packs designed to fit the female form
Our pick of the best women's hiking backpacks are comfortable and offer the storage you need for your adventures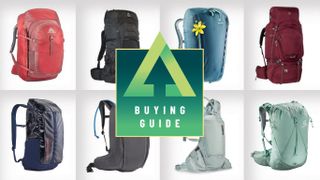 (Image credit: Future)
For carrying comfort on the trails, you can't beat one of the best women's hiking backpacks. Designed for the female anatomy, they offer sport-specific storage, multiple pockets for smart organization and make carrying loads over long distances comfortable and efficient.
The best women's hiking backpack for you will depend on the size of your adventure and, therefore, how much you intend to carry. In this guide, we feature everything from barely-there hydration packs for trail runners to 70-liter behemoths for loading yourself up like a yak on a wild camping expedition.
If you're traveling light, we think the best women's hiking backpack is the Deuter Gravity Motion SL. We particularly appreciated it when climbing thanks to its dedicated chalk/shoe storage and straps for extra carrying capacity. For multi-day adventures, the Granite Gear Crown 2 60 gets our seal of approval due to its smart ergonomic design that makes heavy loads easier to handle.
Typically, the best women's hiking backpacks feature shorter back panels and differently placed shoulder, chest and waist straps in order to properly fit women's bodies for better comfort and weight distribution. We've put all the packs in this guide to the test on hills and mountains to see just how well they hold up, and how comfortable they are for long days on the trails.
The best women's hiking backpacks
Lightweight women's backpacks
A streamlined climbing pack that doubles as a rope tarp – best on test as a crag pack
Specifications
Colors:
Arctic navy / Arctic Maron
Reasons to buy
+
Dedicated shoe and chalk pockets,
+
Zips open nearly flat
+
Dedicated chalk/shoe storage
A lightweight backpack with a duffel-style full zip closure, this pack is simple but highly functional. The shoulder straps are contoured for females and, paired with the cheststrap, the pack carries well (although we missed having a waist belt). And the Gravity Motion is just as functional at the crag as it is at the gym.
Inside, the oversized main compartment has loops to tie off rope ends or organize draws and other gear, and you can use this bag as a rope tarp. With the zipper fully open, the main compartment lays nearly flat. Spacious tubular side pockets hold shoes, chalk, guidebook, and more, while the zip and stuff organizer pockets in the right-hand tube can store snacks, sunscreen, car keys, and other essentials. The zipper to access the main compartment is in the back of the Gravity Motion, between padded panels.
A daisy chain on the pack front, as well as top and bottom lash straps, expands this bag's capacity when you have more to carry than will fit inside. And, when it's time to grab this pack and shoulder it, a haul handle on the backside makes it easy to hoist.
The Gravity Motion has a trim silhouette, feels good and secure to wear, leaving arms free for scrambly approaches.
Read our full Deuter Gravity Motion SL review
A compact hydration pack that won't weigh you down – best on test as a cycling hydration pack
Specifications
Volume:
3L / 183 cu in (plus 1.75L / 59 oz reservoir)
Reasons to buy
+
Easy to reach external phone and snack pockets
+
Magnetic sleeve on hydration hose auto connects to shoulder strap
Reasons to avoid
-
Hose cover picks up metal shavings
-
One color
Thule's Vital is a minimalist pack that carries 1.75 liters of water plus all the gear you need for a day on the trails (extra layers, tools, food and emergency gear) with room to spare, but it feels more like you're wearing a hip pack than a backpack. The pack, which is suspended on a mesh harness, has a main compartment that's positioned low for comfort and stability. The mesh harness is fully breathable, so it feels like you have less on your back when riding with the Vital, and because it stores weight low, even a full pack pulls less on your shoulders and puts less strain on your back than other packs.
Inside, there's an internal sleeve for the reservoir, a vertical tube for a pump, and a zip pocket for tools. The Vital's Hydrapack reservoir hose feeds from the reservoir pocket through a guide loop at the top of the pack harness. The hose has a magnetic sleeve near the bite valve, so when you let go of the hose after drinking, it clicks against the shoulder strap instead of flapping around. The valve has good flow and is easy to turn off and on to prevent accidental spills. The reservoir is easy to fill and close too, but because the reservoir doesn't have a stiffener like some other bladders, it has to be clipped to the back of the pack, or it will sag and feel lumpy inside the pack, which would also made it harder to drink.
The Vital's main compartment holds plenty of gear, even with the 1.75-liter reservoir filled to the brim. But the handiest storage is the Velcro-close jersey-style pockets in the hip belt, which hold snacks, hex wrenches, and a phone where you can reach them, without having to take the pack off. The wing-shaped hipbelt and the mesh harness make this an extremely comfortable cycling hydration pack. The unpadded hip belt stabilizes the load without needing to be pulled ridiculously tight, and the women-specific shoulder straps and torso design really make a difference.
Read our full Thule Vital 3L Women review
Light, versatile and comfortable over long distances – a nicely designed daypack
Specifications
Capacity:
24L / 1464 cu in
Colors:
Ebony & lilac gray / Canton & yucca
Reasons to buy
+
Lightweight
+
Multiple handy pockets
+
Great back panel
Reasons to avoid
-
Shoulder straps don't sit well unless clipped together
Salomon promise that their Out Day 24 pack delivers 'hydration, freedom of movement and multifunction', and as six-word summaries go, that is pretty spot-on. This smart pack is reasonably lightweight and is nicely designed to fit women's bodies – the lack of weight and wide strap combo means you'll barely feel the Out Day when it's on. The size is compact but there is still plenty of space for all the essentials and warm clothing you'll need to pack for a day hike.
The sleek exterior is pleasingly minimalist but there're still lots of places to stash all your kit in a wide side pocket and two stretchy water bottle pockets. We rate the wide, form-fitting hip pads, both with zipped pockets, and the mesh-covered back panel, which is comfortable and breathable – you'll never feel sweaty with this rucksack on. Our only issue on test was with the shoulder straps, which flap about unless snugly clipped together. But for adventurous days out you really can't go wrong with light and versatile Out Day.
Bottom line? One of the best women's hiking backpacks there is for gals who live to travel fast and light.
Read our full Salomon Out Day 20 + 4L review
Multiday trekking backpacks
An ultralight pack that will carry all your gear for thru-hikes and multiday adventures – best on test for fast and light backpacking
Specifications
Weight:
Short 1.03kg/2.26lb, regular 1.07kg/2.36lb
Sizes:
Short Torso / Regular Torso
Colors:
Flint/Midnight Blue, Black/Bedrock
Reasons to buy
+
Thin webbing and small buckles are functional and light,
+
Adjustable hip belt
Having less load to carry makes hiking more fun. Weighing in at 2.2lb/1kg, the Granite Gear Crown 2 60 is about as light as you can get for a pack that will still comfortably carry 40lb/18kg of gear. The top-loading Crown shaves weight in all the right places, like buckles and webbing, but it doesn't skip on structure and padding where you need it. The pack uses a compression-molded polypropylene frame sheet with reinforced channels and weight-reducing cutouts. Paired with the comfy molded-foam back panel, which also has channels, (for ventilation), it's structurally secure, but it moves with your body when you walk, and allows airflow to reach your back, preventing excess sweatiness.
The Granite Gear Crown 2 comes in two fixed torso lengths, but the hip belt is adjustable, so that the curve of the belt sits perfectly on your hips – a feature that made this pack exceptionally comfortable. Both sides of the belt have big storage pockets for snacks and electronics, and the lid (which features a water-resistant zipper and is made with weather-repelling fabric) comfortably holds things you might want to access quickly, like sunscreen, toiletries, utensils, and a headlamp (see our guide to the best headlamps for some good options).
When you want to go fast and light, you can detach and leave the lid at home (dual straps keep the roll-top secure against weather, whether the lid is on or off), and the framesheet is also removable – although we found hiking without it increased stress on shoulders. External compression straps on the face of the pack are handy for drying a pack towel or wet socks while you're on the move, or for carrying a jacket you might want to reach quickly.
All in all, one of the best women's backpacks out there for multi-day adventures.
Read our full Granite Gear Crown 2 60, Women's Fit review
A streamlined and spacious travel conversion pack with a zip-off daypack
Specifications
Weight:
1.86kg/ 4lb 1.6oz (plus 204g /7oz for the rain cover)
Sizes:
fully adjustable harness
Colors:
Bordeaux red / Mystic gray
Reasons to buy
+
Fully-featured zip-on daypack
+
Hidden passport pocket
+
Expanding pocket for dirty clothes
+
Rain cover doubles as cover for air travel
Reasons to avoid
-
Zippers connecting the day bag to the main pack don't lock
Packing for a long trip where you'll be on the go – not basecamped in a single location – can be tricky, but that's exactly what the Gregory Tribute 70 is made for. It's a nimble and flexible system: an integrated backpack/daypack that's comfortable to carry, or a bag that splits into a backpackable suitcase and daypack. The base bag, which is the 'suitcase' part of the system, has an oversized unzipping front panel for full access to the spacious main compartment. Foam in the sides keeps the main compartment propped open, making it a breeze to load and also to locate gear inside.
At the bottom of the main compartment is a full-length zip that opens a waterproof storage area that keeps the stinky stuff separate from the rest of your gear, and that expands as you fill it.
With the bag zipped, compression straps that wrap over the front panel cinch down the load. Then, a fully featured day pack zips and clips on to the base bag. Together, they carry on an adjustable frame with a broad waist belt and articulated shoulders that make this pack comfortable enough to go backpacking. Haul handles on both sides and the top of the pack make it easy to grab and hoist the pack onto the top of a bus. When you want to leave the main pack behind and explore unburdened, the daypack zips off in a snap. This daypack has padded laptop and tablet sleeves, water bottle pockets, internal organizer pockets, and even a clip for a light.
Minimalist, frameless, and without a hip belt, it's not meant for carrying a heavy load for any major distance, but a foam backpanel does give it some structure, and it is large enough to hold food, camera, water, and even extra layers shoved into the front stuff pocket.
Read our full Gregory Tribute 70 review
A comfortable, functional choice for travellers and backpackers with a great removable daypack
Specifications
Capacity:
60+10L / 4272 cu in
Colors:
Black / Maron & aubergine
Reasons to buy
+
Great female-specific back design
+
Front access
+
Removable day pack
Got a big backpacking adventure in your sights? Deuter's Aviant Voyager is the perfect companion. The main backpack holds 60 litres, which is easily enough for multiday walks or international backpacking adventures, and we love the removable 10L daypack, which has a padded laptop pocket and is ideal for sightseeing or for using as a carry-on bag. Top and front access make it easy to unpack the Voyager, or to grab items of kit quickly. A rain cover is included and can be secured to protect your pack during travel, and external pockets, clips and a valuables pocket help keep everything squared away.
Deuter's female-specific bags are designed with women's bodies in mind, with shorter back frames and well-placed hip and chest belts. Wide hip fins help to support your back, and we found the adjustable back panel very comfortable on test, helping to mitigate some of the pack's weight – although it's a fairly heavy model. The Aviant is big enough to take lightweight camping kit, making the Voyager a versatile pack.
Read our full Deuter Women's Avant Voyager 60+10 SL review
A big-load backpacking pack that makes it easy to get to your gear – best on test for Backpacking
Specifications
Volume:
65 + 8 L / 3667 + 488 cu in
Reasons to buy
+
There's a pocket for everything
+
Convertible lid comes with webbing shoulder straps
Developed with female mountain guides at the Alpine School Innsbruck, the Denali 65 is a beast of a pack for when you're heading out for several days and need to carry a lot of gear and keep yourself organized. The aluminum honeycomb frame and beefy padding – including thickly-padded shoulder straps and hip belt, and low back padding positioned to keep the pack away from the back – support loads over 50lb/23kg. A wrapping Velcro strap lets you adjust the torso length, which moves the shoulder straps up and down between sizes. The hip belt adjusts with a standard sliding buckle, and it is removable.
We loved this pack's unique main compartment access: the pack unzips like a duffel bag with a u-shaped zipper that lets you completely peel back the front panel. You can also reach gear stored in the main compartment from the top, and via the zippered sleeping bag compartment. The front panel is a deep zippered storage pocket with organizing sleeves inside. The triple-pocket lid and two spacious hip belt pockets are also excellent for storage. For side trips and summit pushes, you can clip the lid off and use the included webbing shoulder straps to turn it into a mini pack. One side pocket on the main pack unzips into a sleeve big enough to hold a liter water bottle (make sure you check out our best hiking water bottle to find the perfect option for you!), while tubular pockets on each side of the main compartment hold a hydration reservoir and yet more gear. Lash points and bungies let you expand this pack's carry capacity even more, and allow you to strap on your best trekking poles when they're not in use.
Read our full Jack Wolfskin Denali 65 Women backpack review
Hiking backpack for urban use
A comfortable urban pack for carrying your computer and more – best on test for commuting
Specifications
Volume:
23L / 1,404 cu in
Colors:
Smoulder blue / Pumice / Black / Purple
Reasons to buy
+
Made from recycled materials
+
Easy access
+
Haul handle
+
Padded laptop and tablet compartments
Reasons to avoid
-
No hidden wallet/passport pocket
-
No neck handle
For a small bag, the Black Hole has a lot of capacity for organization, as well as a tough and weather-resistant exterior that's also lightweight. Made to carry a computer and tablet safely, there are lightly padded sleeves inside the main compartment, big enough to take a laptop. The tablet sleeve has a microfiber face that keeps it from scratching the glass on iPads. Internal organization pockets hold back-up chargers and cords, as well as essentials like keys. The front pocket expands, to swallow also sorts of other everyday essentials.
The Blackhole's outer fabric is a shiny PVC-free laminate that's unbelievably wear-resistant, and which effectively repels dirt and sheds water. And, as well as being durable, the body, lining fabrics and webbing are all 100% recycled. Big, stretchy water bottle pockets on each side (on the outside) double as storage for a light jacket if so required, or post-work shopping. While this pack doesn't have a handle at the nape of the neck, the front-mounted haul handle makes it easy to grab off the floor or off the overhead rack on a plane, train or bus.
Read our full Patagonia 23L Black Hole Pack review
Technical hiking backpacks
The first women's-specific avalanche airbag pack is sleek and streamlined, with an Alpride inflation system that can be triggered multiple times – best on test for ski touring
Specifications
Sizes:
adjustable harness
Reasons to buy
+
Straps tuck away
+
All pockets easily accessible
+
Alpride is the lightest avalanche airbag system
Reasons to avoid
-
Expensive
-
Inflatable airbag packs are always heavier than a non-airbag pack
The only women-specific Avalanche Airbag pack, Osprey's Sopris uses the lightest multiple inflation airbag systems available to help keep you safe without weighing you down if you regularly go backcountry skiing or ride where avalanches occur. Alpride is a rechargeable system with a supercapacitor and an oversized balloon. If you get in a slide, pulling the trigger handle inflates the massive balloon, which helps you to float on top of the snow, so when the slide stops, there's a much greater chance you won't be buried.
The Sopris Pro holds 30 liters of gear, which is ample for a ski touring daypack. Storage is divided into the main bag, which also houses the supercapacitor, and a safety gear/shovel and probe pocket with dual zippers that makes it instantly accessible, even when your skis are on your pack. A stash pocket in the side of the pack holds hat, gloves, snacks, and other items you might want to reach without taking the pack off. Straps carry a snowboard vertically, and I was able to carry my skis both A-frame and diagonally.
All the straps tuck away when you're not using them, including the helmet harness, which stores under an invisible front flap. That keeps the pack clean and makes it less likely you'll get snagged on a branch when skiing in the trees. Hip pockets keep snacks and a spare buff close at hand. Even with the pack fully loaded, it wasn't a burden to carry. The wire framesheet, which attaches to a thermoformed plastic backpanel, stabilizes the load while you're skiing or hiking.
Read our full Osprey Sopris Pro Avy Airbag review
A daypack for dawn to dusk hikes that can also handle gear for a night out – best on test for day hiking
Specifications
Weight:
1kg 240g / 2lb 12oz
Volume:
27L / 1,648 cu in (plus 3L/100oz water)
Colors:
Castlerock gray/Lake blue
Reasons to buy
+
Loads of pockets
+
More support than most daypacks
+
Comes with raincover and reservoir
Reasons to avoid
-
Lack of lash points
-
Expensive
This oversized Shasta 30 carries weight as well as a backpacking pack, but it organizes gear so you can reach it easily. Jackets, bivvy, and other bulky gear stash inside the pack's main section, while water has its own compartment. The 100oz/3L hydration reservoir slides into a zippered sleeve between the pack and your back, where body heat reduces the chance of it freezing. There are four stretchy side pockets, and a massive zippered pocket in the oversized, wing-shaped hip belt, all of which are ideal for keeping snacks, phone, gloves and hat close at hand. With the pack on and waist belt buckled, the stretchy pockets lock-in contents, despite the lack of zip.
The well-padded hip belt and a stiff, tray-shaped plastic framesheet stabilize the load. Semi-circles of ridged foam in the lower back and shoulder blades keep the pack bag off your back and create airflow. While the Shasta pack fabric isn't waterproof, the pack comes with a raincover stored in a bottom Velcro pocket, which is quick and easy to grab and slide over your pack to keep the contents dry. While it's not intended to be an overnight pack, it's capable of fulfilling this purpose if you load it intelligently, not least because everything stores inside, so it's easy to keep gear out of the weather.
Read our full Camelbak Shasta 30 review
A dry bag–style backpack that's ready to tackle both adventure and travel – best on test for keeping gear dry
Specifications
Weight:
1kg 450g / 3lb 2oz /
Volume:
34L / 2075 cu in (also available in 25L / 1526 cu in)
Sizes:
Adjustable harness goes from XS–XL
Colours:
Black / Pistachio
Reasons to buy
+
Fully waterproof
+
Hermetic seal at the drinking tube exit
+
Key hook
Reasons to avoid
-
Lots of straps
-
Shoulder and back panel fabric was rough on bare skin
The proudly PVC-free and sustainably made Altrack, available in 34L and 25L sizes, is designed specifically for women. Made for active travel, the Altrack is more technical than your standard daypack or carry-on bag. It's one of the best women's hiking backpacks out there but also a dry bag (tested waterproof to IP67, ensuring 100% dry gear), complete with a fully waterproof zipper on the backside that opens the bag from tip to tail, like a duffel.
The women-specific shoulder straps are attached to the pack's harness, which adjusts from XS–XL with sliding buckles. Also fully adjustable and made to fit the female form, the broad supportive waist belt is separated into two wings, each with a stretchy mesh pocket big enough for stashing snacks, a face covering, or sunscreen.
The back panel and shoulder fabric are well-vented (if a bit rough on the skin until they're broken in). Both harness and hip belt are mounted to a minimalist plastic and metal frame that stabilizes the load even when this bag is stuffed. Dual mesh water bottle pockets on the sides and front lash points for extra gear aid organization.
Inside, the spacious main compartment has two sets of hanging pockets that lay flat when you're not using them. A clip holds keys or jewelry, and once your gear is sealed inside, external compression straps draw in the top and bottom of the bag like a burrito, compressing the sides to keep the load close to your back for comfortable carrying.
Read our full Ortlieb Altrack ST 34 review
Ideal for climbers and ski tourers, the technical Cima di Basso is packed with smart design features
Specifications
Capacity:
38L / 2319 cu in
Colors:
Grey / Black / Red-orange
Reasons to buy
+
Recco reflector
+
Great design elements
+
Brilliant female-specific fit
Reasons to avoid
-
Too many bells and whistles for casual use
-
Too heavy for very lightweight adventures
If your idea of a good time outdoors always involves heading for the mountains, take Tatonka's Cima di Basso pack along with you. German outdoor brand Tatonka named this technical pack, designed with female climbers and ski tourers in mind, after a 1800-metre (5906ft) Swiss peak, and it's definitely ready for challenging conditions. With 38 litres of space, it is best suited as a roomy daypack or for an overnight peakbagging expedition, with space to spare for technical kit, a rope, climbing shoes and spare clothing.
A built-in RECCO reflector makes you more visible to mountain rescue teams in the event of an avalanche, and plenty of external loops and clips hold ice axes or hiking poles snug. An elastic front pocket makes it easy to stash a helmet or a rope on the go. You can also remove the hip belt so that you can wear the Cima di Basso with a harness. We were impressed with the sack's outer material on test – it's a tough ripstop that can take any manner of knocks and scrapes (although the light grey colour does end up looking dirty relatively quickly). Because it is so well featured and robust, it is relatively heavy for its size, but when you aren't climbing or ski touring the pack is a great daysack for walking and trekking.
Read our full Tatonka Cima di Basso 38 W review
Hiking backpack for skyrunning
A body-fit running hydration vest that carries water low on your torso – best on test for trail running
Specifications
Weight:
251–331g/ 8.8 –11.7oz (including accessories)
Colors:
Poseidon / Night Sky
Reasons to buy
+
Intelligent flask placement for women
+
Lots of storage space
+
Available in XXS
Reasons to avoid
-
Not compatible with older soft flasks
-
Reservoir not included
Running vests use compression to keep pack contents, including hydration flasks, from bouncing around. This pack has enough compression to control bounce without cutting off breathing, whether you're out for the day or just an hour. Even if you're flat-chested, flasks positioned on top of the breasts and squeezed against the body can feel uncomfortable – and on a woman with a C, D, or larger cup size, flasks over the breasts can stick out awkwardly and defeat the design – but Salomon rethought flask placement with this pack. Instead of placing flask pockets on top of women's breasts, they put the pockets low and created 0.5-liter/16.7-ounce flasks with a straw top.
The flask pockets have a second stretchy pocket overlay that holds snacks, lip balm, and other small essentials. In the back, a side zip in the main compartment lets you load food and spare layers. It also holds a 1.5-liter reservoir in an insulated sleeve for longer jaunts and runs where there isn't a water source on the route. The pack cinches down with an adjustable bungee closure in the front that's laced to further reduce pressure on the breasts, while still keeping the load stable. Shoulder bungees hold hiking poles when you don't need them, and you can stash them while on the move. You can also store gear such as gloves in the low back pocket (which has dual side access), without stopping and taking off the pack.
Read our full Salomon ADV Skin 8 review
Women's hiking backpack comparison table
Swipe to scroll horizontally
Best women's hiking backpacks comparison table

| | | | | |
| --- | --- | --- | --- | --- |
| Hiking backpack | Price | Weight | Style | Best use |
| Deuter Gravity Motion SL | $100 (US) / £90 (UK) | Light | Small daypack | Speed hiking, scrambling, climbing, cycling |
| Thule Vital 3L women | $100 (US) / £90 (UK) | Ultra light | Hydration pack | Speed hiking, trail running, cycling, scrambling |
| Salomon Out Day 20 + 4 L | $105 (US) / £90 (UK) | Light | Small daypack | Speed hiking, scrambling, cycling |
| Granite Gear Crown 2 60 | $200 (US) | Medium | Expedition backpack | Hiking, backpacking, hut-to-hut-trekking |
| Gregory Tribute 70 | $180 (US) / £200 (UK) | Heavy | Expedition backpack with zip off daypack | Hiking, backpacking, hut-to-hut trekking, travelling |
| Deuter Aviant Voyager 60+10 SL | $260 (US) / £220 (UK) | Very heavy | Expedition backpack with zip off daypack | Hiking, backpacking, hut-to-hut hiking, travelling |
| Jack Wolfskin Denali 65 women | $330 (US) | Very heavy | Expedition backpack | Hiking, backpacking, hut-to-hut trekking |
| Patagonia Black Hole | $129 (US) / £100 (UK) | Ultra light | Small daypack | Light hiking, urban use |
| Osprey Sopris Pro Avy Airbag | $1,200 (US) / £950 (UK) | Very heavy | Avalanche Airbag daypack | Skiing, alpine mountaineering |
| Camelbak Shasta 30 | $175 (US) / £150 (UK) | Medium | Small Daypack | Speed hiking, scrambling, climbing, cycling |
| Ortlieb Altrack ST 34 | $265 (US) / £175 (UK) | Medium | Daypack | Hiking, scrambling, hut-to-hut trekking |
| Tatonka Cima di Basso 38 W | £145 (UK) / €160 (EU) | Medium | Technical daypack | Hiking, scrambling, hut-to-hut trekking, ski tourering, climbing, mountaineering |
| Salomon ADV Skin 8 | $155 (US) | Ultra light | Hydration pack | Trail running, cycling, speed hiking |
How we test the best women's hiking backpacks
Our female reviewers test women's specific hiking backpacks on trails in a range of environments and conditions, carrying various weights, ranging from multiday loads to day provisions. Features (including harness and hip wing design, carry capacity, overall comfort, product weight, materials, pockets and ease of access) are tested against claims made by the brand, and we assess factors such as value for money, durability and functionality.
How to choose the best women's hiking backpack
Backpacks designed specifically for women are being offered by an ever-increasing number of outdoor brands, for use in all sorts of outdoor scenarios. The best women's hiking backpack for you will be the one that best matches your ambitions. So if you're planning a backpacking adventure, you need to consider how you are going to fit in the hiking essentials, as well as anything else you need to bring.
If you're just looking to head out on individual days, a day pack will suit your needs. They're designed with size and weight in mind and make for the most comfortable option for a day hike. Even lighter still are the best hydration packs, designed for those wanting to choose a running backpack and head out on a fastpacking or trail running adventure.
However, if you're packing your best one-person tent or best two-person tent, camping stove and best sleeping bag for an epic thru hiking adventure, you are going to need a backpack that can carry in excess of 40L. This is where the women's hiking backpacks with a large capacity come into their own.
Whatever you choose, even the best backpacks can't keep everything completely dry. If the weather forecast is a bit dodgy, you might want to invest in a dry bag to keep your valuables from getting soaked.
Following are few tips on what to look out for when buying the best women's hiking backpacks.
Fit
Just like with the best women's hiking boots, the most important thing to consider when buying the best women's hiking backpacks is fit. The packs' shoulder straps should wrap your shoulders without gapping, and without creating pressure points. Likewise, the hip belt should conform to your shape. For backpacking the hip belt should support the load, while the shoulder straps balance it.
Women's packs typically have shoulder straps that are curved to accommodate female physiology, and that are set narrower than in men's packs. Women's hip belts are often more curved as well. And foam in both is shaped for females. Many packs have an adjustable harness, which moves the shoulder straps and lengthens or shortens the torso. Remember, adjustability is irrelevant once the pack is set for your body.
Volume
The size pack you need for a trip to the coffee shop with your computer is not the same size as the size pack you need for a two-week backpacking trip on Vermont's Long Trail. Buy a pack big enough to carry the gear you need, but not one that's so big that you're hauling around more pack than you need, or one that tempts you to bring too much gear to fill the extra space.
If you are wild camping, you will need something that can carry in excess of 40L in order to fit all of your kit in. If you're with mates, you can always split the tent's components between you — so you might not necessarily need the kind of pack you see weary world travellers traipsing around with. For more on this, check out our explainer what size backpack do I need?
Features
Every one of the best women's hiking backpacks we reviewed here has features that match the intended use. The day pack has a padded computer sleeve, the crag pack has a place to clip quickdraws and tie rope ends, a mountaineering pack has loops and attachments for ice axes and the ski pack has a shovel pocket, ski and snowboard carry, and an inflatable airbag system.
Some packs do many things well, and can transition from activity to around town. When you're buying a pack, look for the features that matter most for how you intend to use the pack most of the time. If you know you want to have snacks and sunscreen (or insect repellent if you're battling midges in Scotland's Munros) immediately at hand, buy a pack with a hip belt pocket or other pocket you can reach without taking off the pack.
Weight
If you'll be carrying your pack long distances, thru-hiking for example, choosing a lighter pack will help you hike more efficiently and have more fun. Light and strong materials sometimes cost more than heavier, bulkier ones, but it may be worth it. Extra features you don't need and won't use will make a pack heavier not more functional. But if you know you'll be trekking in the rain, a pack cover, dry bags or a waterproof pack are worth their weight in gold.
All the latest inspiration, tips and guides to help you plan your next Advnture!
Vermont-based writer, photographer and adventurer, Berne reports on hiking, biking, skiing, overlanding, travel, climbing and kayaking for category-leading publications in the U.S., Europe and beyond. In the field, she's been asked to deliver a herd of llamas to a Bolivian mountaintop corral, had first fat-biking descents in Alaska, helped establish East Greenland's first sport climbing and biked the length of Jordan. She's worked to help brands clean up their materials and manufacturing, and has had guns pulled on her in at least three continents.