Yosemite National Park's reservation system returning
Every park visitor will need to book ahead from May 21 to September 30 this year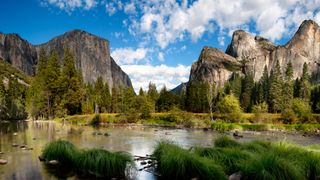 (Image credit: Getty)
Although coronavirus cases are declining in California and the state is beginning to fully re-open, Yosemite National Park is preparing for a big surge in visitors this summer
The park announced on April 9 it will launch a day-use reservation system on May 21, to manage the number of people in the park and prevent the spread of Covid-19 throughout the park, according to an article in the Fresno Bee.
Every visitor entering the park will need a day-use reservation, including annual and lifetime pass holders. The reservation is valid for three days with unlimited re-entries. The reservation system will be in effect through the busy summer season until September 30.
The day-use reservation passes will go on sale at 8 am on April 21.
The park's superintendent, Cicely Muldoon, said large crowds have already been coming to the park in recent weeks, and there are still cases of COVID-19 spreading in California, and other states and countries where visitors are coming from.
"The basic plan is to protect human health and safety and provide as much access as we can," Muldoon said during a meeting with government and business leaders of the communities surrounding the park.
Rocky Mountain National Park and Glacier National Park are putting in place similar rules, which have been encouraged for decades by environmental groups but resisted by gateway communities whose economies depend heavily on tourism.
Known for granite cliffs and domes, abundance of towering waterfalls, giant sequoia groves and snow-capped peaks, Yosemite is one of the most popular parks in America's National Park Service system. It was the second most-visited national park in the US in 2020 with 3.8 million visitors. Rocky Mountain National Park was fourth on the list with 3.3 million visitors, while Glacier National Park was number 12 with approximately 1.7 million people.
A similar day-use reservation system was in place last summer in Yosemite. It resulted in the park's visitation rates dropping by half. This summer the number of visitors allowed will range from 50 to 90 percent, depending on what levels of COVID-19 are found in Mariposa County on the park's western edge. Currently, with Mariposa in California's orange tier, Yosemite will allow 70 percent of normal summer visitation – or about 5,760 vehicles a day.
"We think these numbers will allow people to enjoy the park safely," Muldoon said.
Reservations can be made at www.recreation.gov beginning at 8 am on April 21. Each day-use reservation is valid for one vehicle for three days. Vehicles that arrive at park entrances after May 21 without reservations will not be admitted.
Due to pandemic concerns, park shuttle buses will not run this summer. Some, but not all campgrounds in the park will be open, with 585 sites available starting July 1, compared to 247 last year.
All the latest inspiration, tips and guides to help you plan your next Advnture!
Brian is an award-winning journalist, photographer and podcaster who has written for Runner's World, The Times, Outside, Men's Journal, Trail Runner, Triathlete and Red Bulletin. He's also the author of several books, including Kicksology: The Hype, Science, Culture and Cool of Running Shoes. He lives in Boulder, Colorado, and loves to run, bike, hike, camp, ski and climb mountains. He has wear-tested more than 1,500 pairs of running shoes, completed four Ironman triathlons, as well as numerous marathons and ultra-distance running races.