The best 3-season sleeping bags: for camping out in spring, summer and fall
Our selection of the best 3-season sleeping bags for getting a good night's rest during overnight outdoor adventures in all but the most wintery of conditions
Included in this guide:
1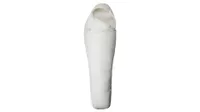 Mountain
Hardwear Lamina ECO AF -1°C/30°F
2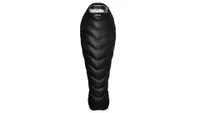 Rab
Mythic Ultra 360
3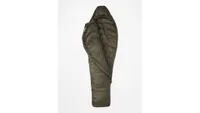 Marmot
Phase 30
4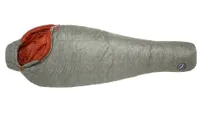 Big
Agnes Star Fire 20 UL
5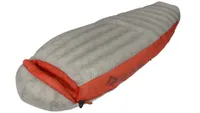 Sea
to Summit Spark Ultralight 3
6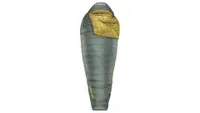 Therm-a-rest
Questar 20F
7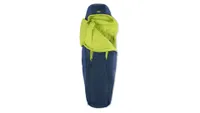 Nemo
FORTE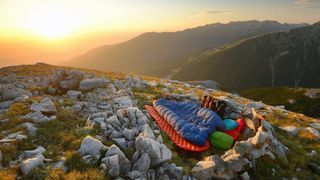 (Image credit: Getty)
After a backpack and tent, a top quality sleeping bag is at the top of any backpacker's list of 'must have' gear. Like most pieces of technical equipment, sleeping bags come with a variety of features carefully designed for specific environments and applications.
There is a bewildering array of types of sleeping bag available, and it can be hard knowing how to choose a sleeping bag that will be the best sleeping bag for your needs. The bag you will get the most use out of, though, is one that will keep you warm (but not too hot) most of the year round – in other words a 3-season sleeping bag.
The best 3-season sleeping bags perform well in spring, summer and fall temperatures. However, even once you have decided on a 3-season sleeping bag, there is an incredible variety of choices within this category, ranging from ultra lightweight and easily packable models for true backpacking expeditions, through to more comfort-oriented options better suited to base camp or car-camping weekend trips.
As is the case with the best sleeping pads, the best tents, and other camping gear, there are unavoidable trade-offs. Lighter weight models may sacrifice warmth for a few ounces of insulation. Larger, warmer models will be heavier and harder to carry in your backpack.
The best 3-sleeping bag for you, though, is the one that works best in the scenarios you most often find yourself camping out in. And there are so many choices available that you should be able to find the perfect combination of weight, insulation, shape, size, color and zipper location.
And once you find that perfect bag, it will really help you enjoy a genuinely restful night's sleep in the wilderness.
Mountain Hardwear Lamina ECO AF -1°C/30°F
A clean eco-friendly approach to camping out
RRP: $260 (US)/£199 (UK) | Shape: Mummy | Weight: 1lb 14.7oz / 870g | Length: Short: 80in / 203cm; Regular: 86in / 218cm; Long: 92in / 234cm | Pack size: 18 x 34cm / 7 x 13in | Zipper: left or right | Fill: Synthetic; Thermal Q Recycled | Comfort: 2°C /35.6°F | Limit: -4°C/24°F
Environmentally sustainable construction
Synthetic insulation
Proprietary welded construction
White shows up dirt
Narrow fit for some users
When they are not in the woods, backpackers are loyal ambassadors of the environment. Mountain Hardwear has taken bold steps to support sustainable product design and construction, and the Lamino Eco AF is a stark example of that commitment. Crafted with a recycled shell, lining, insulation and trim piece, the bag is completely white. The lack of dye significantly reduces the amount of water required to build the bag, but don't let the brilliant white mummy bag deter you from looking at the performance characteristics. The proprietary welded construction eliminates cold spots, while two way durable zippers let you tailor temperature and comfort. The liner fabric is soft and a cinchable hood keeps you cozy on cold mornings. A mummy style bag with plenty of room for legs and feet, the shoulder dimensions can feel a little restrictive for some users. The three-quarter–length right-side zipper has a solid feel and doesn't snag, and the whole bag is easily compressed into stuff sack. The mummy bag uses Mountain Hardwear's proprietary Thermal.Q recycled insulation. The recycled ripstop nylon shell is lightweight. After a good night's sleep, you can wake up in the Lamina Eco AF feeling good about your trip and good about Mountain Hardwear's reduced impact on the environment.
Rab Mythic Ultra 360
RRP: $649 (US)/ £700 (UK) | Shape: Mummy | Weight: 21.3oz / 606g | Length: 74in / 190cm | Pack size: 9 x 6in / 23 x 17cm | Zipper: left | Fill: Nikwax Hydrophobic Down | Comfort temperature: -2°C/28°F | limit temperature: -8°C /18°F
Ultra lightweight
Heat reflective interior
Ethically sourced down
Expensive
Three-quarter–length zipper
Narrow footbed
Recently, much of the innovation in sleeping bag construction has focused on the development of waterproof down and advanced synthetic insulation. The results have delivered lighter weight bags with higher performance in wider temperature ranges. Rab has added another technological improvement to the Mythic Ultra bag. The Thermo Ionic Lining Technology uses titanium-coated fibers to reflect the user's body heat back into the sleeping bag. The baffle construction also stops the 900+ goose down fill from shifting over time, and that extra warmth permits the designers to use a bit less down fill. The result is an ultralight weight sleeping bag that doesn't compromise warmth for weight.
Down insulation is well-regarded for warmth and compression, but faces troubling challenges when wet. RAB has partnered with Nikwax to develop flourocarbon free hydrophobic down. In other words, there's no reason to worry about faltering performance if condensation or a light rain fall on the Mythic. Warmth remains and the moisture moves on.
The bag's dark blue exterior and shiny 'TILT' lining reinforce the perception of quality and attention to detail. The three-quarter–length zipper seems to disappear into the background. Other features include a ripstop nylon shell, half zipper, and compression and storage stuff sacks.
The bottom line? It may be pricey, but the Mythic is probably the best 3-season sleeping bag out there for buyers who want lasting, top-end performance.
Marmot Phase 30
Experience being wrapped in warmth
RRP: $426 (US) / £400 (UK) | Shape: Mummy | Weight: 1lb 2oz / 504g | Length: Length Regular 182 cm/72in; Long 198cm/78in | Pack size: 15 x 33cm / 6 x 13in | Zipper: left | Fill: 850 Goose Down w/Down Defender | Comfort temperature: 5°C / 42°F | limit temperature: 0°C / 33°F
Water resistant down insulation
Full length zipper
Large foot box
Comfortable hood
Pricey
Small zipper tag
A backpacker's dream is a sleeping bag that's warm, comfortable and ultra lightweight.
Marmot's Phase 30 turns dreams into reality. The outer Pertex Quantum lining prevents losing heat in windy conditions and increases the efficiency of the water resistant 850-fill Down Defender insulation. The mummy style bag features 100% recycled shell and lining with curved baffles to prevent the insulation from shifting. The footbed's wrap-around construction keeps cold feet toasty warm all night long. A full length left side YYK zipper makes access easy, especially at the end of a long day on trail. Some users say the zipper can snag at times but most backpackers understand the finicky nature of zippers. Pull slow and steady for a stress free closure. A thoughtfully placed internal stash pocket keeps your glasses, contact case, or smartphone close at hand so there's no scrambling around when you wake up.
While the feature list is great, sliding into the bag surrounds you in impressive warmth and comfort. Dimensions permit moving around to find your best sleep position without feeling compressed like the burrito you had for dinner. On cool mornings, the adjustable hood frames your face without getting in the way of your glasses or the day's first steaming mug of coffee.
Big Agnes Star Fire 20 UL
RRP: $500 (US) / £400 (UK) | Shape: Traditional mummy | Weight: 1lb 15 oz / 800g | Length: Regular 152cm/60in; Long 158 cm / 62in | Pack size (regular): 6.5 x 7.5in / 17 x 19cm | Zipper: Left | Fill: DownTek 850 | Comfort temperature: 0°C/32°F | limit temperature: °-6C/21°F
Lightweight
Nylon ripstop shell
Body mapped baffle construction
Expensive compared to some models
Tight fit for some users
Hardcore backpackers count every ounce and often make sacrifices, trading comfort and convenience for weight. There's no compromise needed with the Star Fire. The ultralight mummy bag uses 850 fill Downtek water repellent down with a high strength Pertex shell to deliver a sweet night's sleep in a cocoon of warmth. Body mapped baffle construction reduces the chances of cold spots. An ergonomic footbox keeps your feet warm without constricting movement. A draft collar keeps cold air out of the bag where it belongs and one-handed cordlock cinches the hood tight on the coldest nights.
The mummy style bag's dimensions are spacious. Most sleeping bag brands, especially Big Agnes, offer regular and tall models. Shoulders, hips and feet feel cradled in comfort and not held tight. The StarFire's liner is smooth and silky and invites you to slide into a warm embrace. Sunlight bounces off the exterior shell and in the right position, teases you with a glimpse of the down feather's inside. The large zipper pull makes snags almost impossible.
Zipper garages keep tags out of the way. Integrated loops on the inside of the bag help securing liners and on the outside for hanging bags to freshen in the campsite breeze. Big Agnes includes a stuff sack and mesh fabric storage sack in the kit.
Sea to Summit Spark Ultralight 3
Lightweight dream machine
RRP: $479 (US)/ £400 (UK) | Shape: Mummy | Weight: 1lb 7.5oz /665g | Max user height: 6ft/183cm | Zipper: left | Fill: Ultra-Dry Down 850 | Comfort temperature: -2°C / 29°F | limit temperature: -8°C/18°F
Ultra lightweight
Compression sack included
Baffled construction
RDS-certified down
Zipper is only a third length
Pushing hard to get to a treasured campsite before the sunsets can leave a backpacker exhausted, worn out and anxious to sleep. The Spark Ultralight will wrap you in a mummy-shaped cocoon of Ultra-Dry 850+ fill down. And don't worry about a tight fit – the spacious Spark accommodates different sleeping positions. A DWR finish on the ultralight 10 Denier shell sheds condensation and moisture. The cinchable hood is smaller than on some similar models but still comfortable and appreciated on chilly mornings. Using the compression sack, the bag squeezes down to take up a small corner of your pack.
Like most outdoor equipment, it's easy to assign some personality traits to a new sleeping bag. The Spark is a solid, stand by your side friend that performs when you need it most. There's a quirky side too. The outer lining offers a glimpse of the feather insulation inside. Hanging out in the tent you will find yourself waving a hand over the fabric to see if the feathers move.
All in all, probably the best 3-season sleeping bag for gram-counters on the market today.
Therm-a-rest Questar 20F
RRP: $260 (US)/ £200 (UK) | Shape: Mummy | Weight (regular): 2lb 3oz / 1kg | Length: Regular 80in / 183 cm; Long 78in / 198 cm | Pack size: 7.5 x 9in / 19 x 23cm | Zipper: left | Fill: 650 Nikwax Hydrophobic Down | Comfort temperature: 0°C/32°F | limit temperature: -6°C/20°F
Nikwax hydrophobic down
Bag integrates with sleeping pad
Body mapped insulation
RDS-certified down used
Heavier than some comparable models
Stuff size larger than some comparable models
Backpackers have relied on Thermarest sleeping pads for decades. The brand is still at the top of their game with pads, and here the brand takes a systems approach to delivering a good night's sleep, by pairing a sleeping bag, cushioned pad and sleeping bag liner into a package that might entice you to sleep just a little longer on trail days. The SynergyLink Connector creates an integrated platform of sleeping bag and sleeping pad. No more slipping off the pad in the middle of the night and crashing into your partner.
The Questar's shape also cradles you, no matter which sleep position you prefer, and the 650 Nikwax Hydrophobic Down repels water, a challenge that previous down bags couldn't face.
Body mapped construction puts insulation where you need it, and campers will appreciate the little details like the cinchable hood, draft collar, full length snag-free zipper and external pocket. While slightly heavier than some comparable models, the Questar is a worthy backpacking option but definitely an outstanding choice for base camp or car camping adventures.
The Questar is offered in three sizes, with gender specific models. The kit includes compression and storage stuff sacks.
The bottom line? One of the best 3-season sleeping bags for buyers on a tighter budget.
Nemo FORTE
A classic car-camping cocoon
RRP: $200 (US)/ €200 (EU) | Shape: Spoon | Weight: 2lb 14oz / 1.3kg | Length: 72in / 183cm | Pack size: 11.5 x 9in / 29 x 23cm | Zipper: Men's left/ Women's right | Fill: Fill Synthetic Primaloft | Comfort temperature: 0°C/32°F | limit temperature: -6°C/22°F
Affordable
Comfortable sleeping position for side sleepers
Vented insulation for managing comfort
Gender specific zippers
Heavy compared to some models
Better suited for car camping than backpacking
Mummy bags are definitely warm, but for some people, the shape can be constricting.
The Forte's Spoon shape lets a squirmy side sleeper find a comfortable position for a peaceful night's sleep. Nemo is well-known for paying attention to fit. The brand's 'Classic Spoon' shape accommodates real-world sleeping positions: on your back, on your stomach, on your side – whatever your preference, the Forte fits just fine.
Primaloft insulation and Nemo's proprietary Thermo Gills let you tailor the temperature by venting body heat without letting cold air into the main bag compartment. The Thermo Gill zippers seem a little odd during first uses, but quickly become an asset for dialling in a comfortable environment inside (or outside) the tent. Called the 'Blanket Fold', turning up the external draft collar adds another layer of warmth. Turn it down to cool off when you wake up and the sun starts to heat up the tent. A waterproof breathable footbed keeps your feet dry if rain seeps into the tent floor.
Zippers, left-sided for men and right sided for women, can be connected to create a double-width bag. Use the integrated pillow pocket to keep a sweater, hat or rain shell close at hand for an early morning escape. Nemo stands by the Forte with a lifetime warranty.
What to look for in the best 3-season sleeping bag
The best 3-season sleeping bag will all keep you warm overnight in a tent for at least nine months of the year, but the design and construction of these bags will vary, which influences their performance and comfort level. Choosing the best 3-season sleeping bag can be a subjective matter, and a lot depends on how you intend to use it – for example, if you are intending to go backpacking in the shoulder months, you're going to need a bag that is warm but also light, whereas if you are car camping, the warmth completely out-trumps the weight. But, when you're looking at any sleeping bag, there are certain factors that you really should consider – including the following.
Temperature Range
Science creates precision measurements. Temperatures stated in Celsius or Fahrenheit are the same wherever you are, but how you feel in those temperatures is a very personal measure. Sleeping bag brands follow international guidelines when stating temperature ranges. That certainly helps consumers compare models standing in front of a wall filled with unfurled sleeping bags. But how comfortable you feel in a bag will depend on your personal physiology, shape, size, sleeping style and personal preferences. If the bag isn't well suited for a cold, near-freezing night, you will be miserable. On the other hand, using a bag with a lower temperature rating can leave you hot, sweat-soaked and uncomfortable on a summer night. The best 3-season sleeping bag should keep you cosy, without overheating. Taking some time to see what works best for you is worth the effort. A good night's sleep gets you ready for another day of epic adventures. If you're worried you will need a bit more warmth than your sleeping bag can supply, consider getting a thermal sleeping bag liner (see: What is a sleeping bag liner?).
Insulation
Traditionally, sleeping bag insulation came in two types: synthetic and down. Both have significant pros and cons. Down has traditionally faced a significant performance challenge when the feathers got wet. Now, with the introduction of several technologies that create 'water resistant' down, there's a third option to consider.
Overall down bags are lighter, create more loft, and compress into tighter, small stuff sacks, but they are expensive and there can be ethical issues around the collection of the down from water fowl. Synthetic fill keeps getting better and better, and now offers an almost comparable level of warmth, but of course it is manmade and will never biodegrade.
Another element to consider with insulation is fill rates. The feature list of every sleeping bag includes the amount of down fill used. Generally, the higher the fill rate, the warmer the bag. That's a good rule of thumb but not necessarily the only measure of a bag's performance. Before buying a new sleeping bag, look at the conditions you expect to encounter. The more fill, the more the bag will weigh. The more fill the warmer the bag will be on cold spring or autumn nights. There are many options to choose from, as long as you take a little time to think about when and where you are going to spend nights outside.
Shape
Sleeping bags are available in a variety of shapes. Most of the best 3-season sleeping bags for backpacking use the traditional mummy shape, but not all mummies are created equal. Some fit tight around the shoulders, hips and feet. Dimensions of some brands provide more room to find the most comfortable position. Brands like Nemo Equipment's 'Classic Spoon' promote a modified sleeping bag shape. Mummy bags have been proven in decades of camping experience, but pay attention to dimensions to make sure you are getting a good night's sleep and that you don't feel like you're locked in a tight cocoon for 8 hours.
Zippers
Crawling into your sleeping bag at the end of the day seems like a simple operation, right? Not so much if you have to wrestle with a balky, snagged zipper. Sleeping bags are offered with half-length, three-quarter length and full-length zippers. Some located on the right side of the bag, others on the left. They all work as designed, but personal preference can make a huge difference in which model you select. If you're uncertain about which configuration works best for you, try a few different styles at an outdoor speciality retailer.
A journalist specializing in outdoor recreation, Lou has covered product design innovations, participation trends and environmentally sustainable manufacturing for over 20 years. On the other hand, he's had some less than successful outdoor adventures: once, completely spent after a hard day on the trail, he managed to set a vintage MSR Whisperlite stove ablaze before accidentally kicking the burning contraption into a lake. A published author, his book about invasive fish threatening the Great Lakes watershed will be published in 2021. craftedwords.com
All the latest inspiration, tips and guides to help you plan your next Advnture!
Thank you for signing up to Advnture. You will receive a verification email shortly.
There was a problem. Please refresh the page and try again.