What is a sleeping bag liner? (And why you should have one!)
Learn how a sleeping bag liner can help you enjoy cozier camps and improve your sleeping bag's long-term performance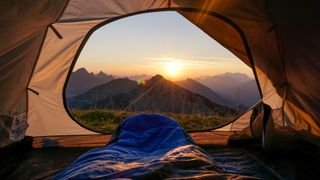 (Image credit: Westend61 (Getty))
Sleeping bag liners come in a range of shapes, sizes, and material types. What all varieties of this super-handy camping accessory have in common, however, is the ability to upgrade your sleeping system's coziness, cleanliness, and comfort levels, all while providing a layer of protection that can seriously enhance your sleeping bag's long-term performance.
The take-home from this potted summary of a sleeping bag liner's benefits is that – along with the best tents, best sleeping bags, and best sleeping pads – a great liner is a must-have piece of gear for any camping trip, whether you're a warm-weather-only kinda camper or a winter warrior.
Sold already? If so, great – we'll see the happier, cleaner, and better-slept version of you out on the trail! If not, read on to find out more about the types of sleeping bag liner available and all the other benefits these can bring to your backcountry sleeping system.
What is a sleeping bag liner? Types, shapes, and benefits
Types of sleeping bag liner
Silk – Silk has long been considered the gold standard of sleeping bag fabrics, and with good reason. It's ultralightweight, soft against the skin, naturally odor-resistant and antimicrobial, high-wicking (it transports sweat away from your skin), and has an outstanding warmth-to-weight ratio (meaning it weighs very little but provides plenty of heat). The only downsides to silk sleeping bag liners are that they're pricey and usually not machine washable.
Microfiber, cotton, and polycotton – All three of these fabrics offer excellent next-to-skin comfort and usually provide an extra few degrees of warmth compared to silk. They're also cheaper, machine-washable, and less prone to rips and tears. On the downside, they're not as lightweight as silk and have a much larger packed size.
Thermal – As the name suggests, thermal sleeping bag liners are all about adding warmth to your sleeping system, and some models can boost your sleeping bag's temperature rating by as much as 25°F. These liners are ideal for shoulder season and winter camping or if your sleeping bag's temperature rating isn't quite as low as the temps you expect to encounter on your camping trip.
Sleeping bag liner shapes
Mummy – Using a tapered shape designed to fit inside a mummy-style sleeping bag (the most popular of all types of sleeping bag), these liners are a little less roomy than standard sleeping bag liners but usually provide a little more in the way of warmth. Mummies are also usually lighter and more packable than regular, rectangular-shaped alternatives.
Regular – These rectangular-shaped liners don't insulate quite as well as their mummy-shaped siblings but are a little more spacious and ideal for standalone use in summer.
Long – Either mummy or rectangular-shaped liners with a little extra length to accommodate taller sleepers.
Double – Designed to fit two adult sleepers.
Sleeping bag liner benefits
Warmth
As with the baselayer in the layering system (see What to wear hiking), a liner helps you stay warm at night by providing an added layer of insulation that boosts retention of the heat generated by your body. Sleeping bag liners can add anything from 5°F to 25°F of warmth to your sleeping system.
Protects your sleeping bag
By placing a protective layer between your body and your sleeping bag, a sleeping bag liner helps to keep your bag free of contaminants like dirt, body oils, and sweat, all of which can diminish its its loft and insulating capacity over time.
Hassle-free hygiene
Sleeping bag liners help keep your sleeping bag clean and funky-odor-free by preventing it from coming into direct contact with dirt and sweat. They're also much easier to wash than sleeping bags (most are machine washable) and dry very quickly, meaning you're far less likely to begrudge – and shirk – laundering them post-trip. (Need tips on how to wash a sleeping bag?)
They're lightweight and packable
Sleeping bag liners weigh next to nothing (as little as 8 oz./200g) and pack down to a tiny, tidy little bundle that takes up very little room in your pack. If you know how to pack a backpack well, squeezing one in beside the rest of your kit is very easily done.
Standalone sleeping system
If you're camping in warm conditions but don't want to sleep entirely al fresco or leave your skin expose to bugs, using a sleeping bag liner will save you having to sweat it out in a sleeping bag while simultaneously providing a degree of protection against airborne biters.
Hut hygiene
In most mountain huts in Europe and the US, using a sleeping bag liner is compulsory. In those where it isn't, using one is nevertheless advisable given that the sheets and mattress you'll be sleeping on might have hosted anything from a few to a few hundred sweaty and dirty hikers before you get to them.
All the latest inspiration, tips and guides to help you plan your next Advnture!
Former Advnture editor Kieran is a climber, mountaineer, and author who divides his time between the Italian Alps, the US, and his native Scotland.
He has climbed a handful of 6000ers in the Himalayas, 4000ers in the Alps, 14ers in the US, and loves nothing more than a good long-distance wander in the wilderness. He climbs when he should be writing, writes when he should be sleeping, has fun always.
Kieran is the author of 'Climbing the Walls', an exploration of the mental health benefits of climbing, mountaineering, and the great outdoors.