Best camping tarps 2023: for camping, bivying, and building shelters
The best camping tarps can serve as a sun shade, tent footprint, hammock rainfly, multi-person camp awning and more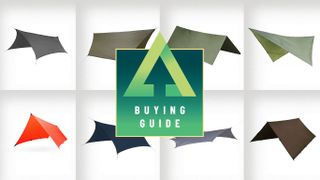 (Image credit: Future)
When it comes to creating shelter in the outdoors the sheer simplicity of a large expanse of waterproof fabric, set up using a few easily learnt skills, is hard to beat. If the idea of employing elements of origami, invention and minimalism sounds good, then tarp camping could be for you.
The best camping tarps can be configured as bivy and hammock shelters for sleeping out in all weathers, and across every season. They can be turned into useful sun and shower awnings for mid-day breaks, or deployed as an emergency shelter for several people in wilderness locations if the weather turns bad. Or you can just throw one down as a groundsheet for a picnic, or as a footprint for a tent. The tarp's versatility is its key point, as demonstrated in our guide on the myriad uses for a tarp.
Though simple in concept, the best camping tarps come in a range of designs, with shapes and features to recommend them for particular purposes. So, the Sea to Summit Poncho Tarp's double-functionality might appeal to the super-light hiker, while the Decathlon Fresh's large size and supplied poles create weight, but provide a roomy standing-height awning that adds a whole other dimension to van and car camping.
Tarps for camping and caravanning
1. ENO ProFly Rain Tarp
A shaped-skin tarp designed for quick deployment whether hammock camping or bivying
Specifications
Size:
320 x 190cm / 126 x 76in
Packed dimensions:
11.4cm x 22.9cm / 4.5 x 9in
Material:
70D ripstop nylon with 1000mm PU coating
Loops/Tie-downs:
6 loops with LineLock tensioners, aluminum ridgeline hooks, reflective guylines and aluminum pegs
Colors:
Navy / Charcoal / Olive
Reasons to buy
+
Lightweight
+
Easily adjustable guylines
Reasons to avoid
-
Only six tie-down points
The ProFly's stretched hexagon shape is designed to provide good shelter above a hammock or for an on-ground sleeping set-up, the corners making wings that stretch along a ridgeline or where pegged out along the ground line. With the aluminium ridge hooks, and attached adjustable guylines it is quick to set up between two trees as a rain-fly, and it's equally as easy to peg out as a wedge-shape, using a bicycle wheel, walking pole or stick to raise the head end. Though there are only six tie-out/tie-down points, with the guylines tightened the skin has minimal flapping even in a stiff breeze. Attention to detail is good; reinforced edges and tie-points, genuinely easy to adjust LineLoc tensioners and reflective threads run through the guylines. The light grey colour allows light to diffuse through the skin, which makes for a cheery atmosphere when under it, but is still unobtrusive in the outdoors.
2. Decathlon Quechua Fresh Multifunction Tarp
A self-standing awning, large enough to make a useful extension to a camper van or provide a focal-point shelter for a group
Specifications
Weight:
2.3kg (1kg without poles) / 81oz (35oz without poles)
Size:
285 x 285cm / 112 x 112in
Material:
Polyester fabric, pegs and poles stainless steel
Loops / tie-downs:
6 loops
Colors:
Snow white / sage green / dark petrol blue
Reasons to buy
+
Everything needed to make a free-standing shelter
+
Poles raise the awning to give standing room
+
'Fresh' fabric protects from sun and heat
Reasons to avoid
-
Heavy
-
Challenging to erect single-handed
For an established camp, a large shade and sun awning can provide a protected outdoor 'room' to eat and socialise under, while van and car campers can benefit from having a standing-room extension to their vehicle. The Fresh's material and color, (we recommend Snow White), has the intended benefit of reflecting the sun's heat; in hot climates, at summer festivals or on sun-baked beaches this would be a luxury if erected over a picnic area or even above a small tent to protect from high daytime temperatures (see: how to stay cool while camping).
The carry-bag is printed with instructions for erecting the Fresh and they repay careful study, otherwise the height of the four-piece poles, the expanse of fabric and the length of the guy straps could turn the whole operation a bit slapstick. Once up, though, and well pegged, the adjustable straps can be tensioned to provide a solid shelter that will cope with normal winds and rains. Different configurations allow for making wall-and-roof set-ups, windbreaks and sun awnings. If there are trees or the side of a vehicle available then there are even more options for the creative mind to come up with. All in all one of the best tarps for camping for buyers on a budget.
Tarps for bushcraft camping
3. Snugpak All Weather Shelter
A solid bushcraft tarp that works well for numerous outdoor shelter scenarios
Specifications
Size:
300 x 300cm / 118 x 118in
Material:
210T polyester rip-stop PU 2000MM Anti-UV30
Loops / tie-downs:
12 eyelets and loops on edge and 3 ridgeline loops
Reasons to buy
+
Diamond shape provides more efficient shelter
+
Useful number of eyelets, ridge loops and tie-out points
+
Versatile
Reasons to avoid
-
Heavy for minimalist hikers
With design input from military experts, the All Weather Shelter is a well-thought out piece of kit that will cover many bushcraft and adventure scenarios. In extreme weather four people can pull the nine square meters over themselves as an improvised group survival bag, making it a good carry for team leaders, whilst its generous size and diamond shape lend themselves to a wide range of bivy configurations, and also make it a practical hammock rainfly. Twelve strong eyelets and loops provide numerous tie-downs along the edges and, usefully, there are three ridgeline loops diagonally across the tarp for numerous suspension possibilities. I was easily able to construct a wedge 'tent, a suspended tepee and a 'floor, wall and sloped roof' shelter, with each taking only minutes to erect. The supplied pegs and four guylines are a good basis for many set-ups but add your own lines, clips or bungees for even more options. The All Weather comes with good diagrams for classic set-ups, as well as useful ideas for other uses, including instructions for making an emergency stretcher.
4. Alpkit 3 Square
A good, tough no-frills tarp to carry on anything from a day hike to a multi-week bivy trip
Specifications
Size:
295 × 295cm / 116 × 116in
Material:
190T polyester PU with 5,000HH
Loops / tie-downs:
16 attachment loops around edge
Reasons to buy
+
Plenty of tie-loops along edges
+
Good compromise between lightweight and robustness
The 3 Square is big enough to make a simple shelter to cover three or four people if needed, whilst for just one or two sleepers there's scope to erect any of the configurations that can equal a tent for weather-protection and a roomy interior. The Alpkit's sixteen loops along its edges are generous, making it easy to attach hooks, bungees or ropes for a variety of uses in different situations and landscapes. Stretch it out between trees or any other suspension points above head height to make a sunshade or rainfly for a midday group stop, or hang from poles to create a windbreak 'wall.'
Treated carefully, this tarp is tough enough to be used as a ground sheet to protect from damp, ticks and dirt, whilst its reinforced corners and loop points allow it to be pegged down with a fair bit of tension when creating shelters which reduces wind flap and noise.
Tarps for hammock camping
5. Hennessy Hex Rainfly
A rainfly shaped tarp to give maximum shelter making it solid for hammock and bivy camping
Specifications
Size:
348cm/137in on ridgeline, x 277cm/110in wide hexagonal shape
Material:
70D polyeurethane coated rip-stop polyester
Loops/Tie-downs:
Center line and corner 'D's
Colors:
Burnt Orange / bark / forest green / goldenrod
Reasons to buy
+
Quick to deploy
+
Hexagonal shape gives good weather protection
Reasons to avoid
-
Ideally needs trees for suspension
The Hex's stretched out, six-sided shape gives generous protection from bad weather, by extending the skin out along the ridgeline and low down to the ground at the corners. Whether used over a hammock or to cover a sleeping pad and sleeping bag on the ground, it's most efficiently deployed when suspended between two trees, using the ridge cords and tree saver straps, and pegged down tight to the ground, but it's possible to work out other set-ups using a single tree or a pole. Get the distances and heights between the suspension points right and it only takes minutes to set up and once in place it's easy to pull one side up and out with guylines – stored in neat pockets by the fixing points when not needed – to make an awning with more than enough room to cook under; just peg it down to the ground again to weatherproof your bed for the night. The orange colour is a good compromise between a low-key, natural hue for out-of-sight camping and being pleasantly cheerful to lie under. With the right ancillary sleeping gear, and good bivying skills, the Hex could be used across four seasons comfortably.
6. Amok Hammock Rain Fly Skjold 10
A high-tech, lightweight rainfly designed to clip into the Amok hammock but equally good used as a stand-alone shelter
Specifications
Size:
380 × 300cm / 148 × 118in
Material:
40D DRS Nylon with Dynema and Hyperlon reinforcement
Loops / tie-downs:
Two ridgeline loops and six tie-down loops with guylines and adjusters
Colors:
Dark grey / Camo (at extra cost)
Reasons to buy
+
Lightweight for size of coverage
+
Easy adjust guylines
Designed and sized to clip above Amok's Draumr hammock (which hangs across its suspension lines) the Skjold 10's octagonal shape is equally at home above conventional hammocks or pegged down as a large ground-sleeping tarp. The latter use has been anticipated with reinforced holes strategically placed to take the tips of walking poles as supports. Indeed, all the features show the same attention to detail; the ridge cords are a different colour from the side guylines making it quick to orientate the skin when setting up. The guylines are made from reflective cord, the line adjusters are easy to use and grip well and there are velcro bands to store unused lengths of guylines neatly. To strengthen the lightweight skin fabric there is reinforcing along the seams and edges and at stress points, so the tarp can be stretched out tight using the supplied aluminium pegs. The batwing scallops of the side edges also bring the pegging points down close to the ground giving greater weather protection. Used with a hammock, a sleeping mat and one of the best sleeping bags, this tarp could see you through a night of extreme weather without too many problems.
Emergency tarp
7. Highlander Emergency Plastic Bivvy Bag
A budget tarpaulin option for basic or emergency use
Specifications
Size:
180 × 90cm / 71 x 31.5in
Material:
Heavy duty 500 gauge plastic
Reasons to buy
+
Cheap
+
Totally waterproof
Reasons to avoid
-
Totally waterproof so traps condensation
Many people will have tried a plastic bivy sack in their early outdoors days and spent an uncomfortable night soaked in condensation. The trick for getting the best out of an emergency 'body bag' is to treat it more like a tarpaulin. Open up the bottom and one edge of the bag to make a single sheet of totally waterproof plastic that's big enough to use as the skin for a basic shelter. Suspend the sheet over a ridgeline between trees, and peg out guylines by tying knots (see: best camping knots) in the corners and attaching these to four large stones. Otherwise, just cut the closed end to make a tube that you can suspend between two trees, or prop open with sticks, giving you a 'groundsheet' and two sides of an 'A' shape.
Though not a long-term option, plastic emergency bags are a cheap, 'just in case' piece of kit that's well worth the modest investment. With care, one will remain reusable for a surprising number of outings, though ensure that your plastic bag-tarp is disposed of responsibly when you are finished with it. The orange version of this bag will obviously attract attention better from above in an emergency situation, and also comes with some safety and signalling information printed on it as a pro memoria.
Wearable tarp
8. Sea to Summit Ultra Sil Tarp Poncho
Ultralight tarp with poncho hood that can provide shelter both on the move and at night
Specifications
Size:
265×145cm / 57x104in
Material:
Double-stitched and tape-seamed 15D Ultra-Sil Nano fabric
Loops / tie-downs:
Loops on corners and along long sides
Reasons to buy
+
Super light
+
Dual-use and versatility
Reasons to avoid
-
Width is narrow for a bivy tarp
Designed to appeal to the weight-shaving hiker, Sea to Summit's Tarp Poncho is both rainwear and bivy tarp in one lightweight package. Though only recommended for hot climate bivying, it's what I used as my sleep-out shelter on a 500-mile winter walk across Europe and again for 750 miles hiking around spring-time Japan. I did find, though, that in severe weather it works best when supplemented with a light rain jacket by day and used in conjunction with a bivy sack at night, when the tarp can be set up over the bag's mouth to provide a roomy shelter for preparing food and such like.
The Tarp Poncho is a little too narrow for 'building' complex set-ups, but nonetheless will fully cover and protect a sleeping bag in heavy rain and even high winds when strung over a ridge line or suspended from a walking pole to make an open 'A' at the head, and can always be pegged out low in a wedge shape. Used as a poncho it can cover a hiker and a full-sized pack, whilst its looseness reduces condensation from exertion, though if walking in anything over a strong breeze the light material billows around and needs cinching in with an improvised belt.
How to choose the best camping tarp
Even the best camping tarps are satisfyingly basic in concept, and so it's the experience and innovation in using them that makes the difference between a miserable night out and a comfortable experience. Any tarp that's well made from good materials will work as well for an entry-level, fine-weather bivy-beginner as it will for a hardened expeditioner setting off on a multi-day, wilderness trip.
Choices come down to a few key points. Weight is important to hikers, slightly less so for cyclists and paddlers, and usually unimportant to van campers; factor in which you're going to be doing the most of and choose accordingly. Simpler designs are more versatile, one of the key benefits of tarp camping, allowing one to conjure up just the right configuration for specific situations, terrains and weather. Innovative designs, particularly in shapes such as batwing scalloped edges and hexagonal and octagonal patterns, can be quicker to set up and offer more consistent results against extremes of weather.
Weight and Size
One advantage of choosing one of the best camping tarps over other shelter types – whether bivy sacks or tents – is their positive size-to-weight ratio. You get more skin area for your payload. The larger a tarp is, and the simpler its shape, the greater the 'origami' options for folding and pegging it out into different configurations. For that reason, with a big square – say 3 metres by 3 metres – or an equally large diamond shape, you can build basic ridge tents, erect fully enclosed 'lavu' cones (held up by a central pole or suspended from a branch), cover a group of four or so people against sudden bad weather, or hang out a shade awning to lounge under on blistering days.
The very smallest tarps are amongst the lightest sleep-out options, but their performance will be compromised in really foul weather, even if well set up, because there won't be enough skin area to get much beyond the 'footprint' of a sleeping person; roll over in the night and you're wet. More complicated designs, like hammock rainflys (see: Best hammocks), can all be used on the ground but are sized and designed to be set up in a particular way and so are less suitable for bushcraft creativity, although they're often quicker and easier to transform from packed up to fully weatherproof shelter.
Versatility
A tarp can be a practical shelter in all weathers if you know what you're doing and have the right auxiliary kit, (the throughput of air reduces condensation but can be colder and so mats and sleeping bags should take that into account).
Pegging a tarp skin over a ridgeline, staking out a low wedge shape with an open door at the 'thick' end or stringing a wall-and-roof shelter between walking poles are all favoured configurations because they're quick to set up, and give proven protection from most weathers. Some cycle tourers use a demounted front wheel as a hoop to stretch a tarp over to create a tunnel tent whilst a fixed camp can benefit from a tarp-roofed area to lounge, cook, change and keep kit dry under. But that's not all tarps are good for, given that any big piece of waterproof fabric (see: Waterproof vs water-resistant) can have numerous uses – some of them lifesaving – in outdoor scenarios. Expeditioners have used tarps to collect rainwater to drink, others have wrapped them round frames as the skins of coracle-style boats for river crossings, and more have repurposed them as emergency stretchers to carry casualties to safety. A creative game around campfires is to come up with innovative uses for your tarp, though when you get to the 'hey, what about a parachute' stage it's probably time to put the cork back in the bottle.
Features
Ideally a camping tarp won't have too many features; if it did, it would be in danger of becoming a tent. Equally there are basic needs and clever innovations which can make a tarp more weatherproof, easier to use and more versatile, so bear the following in mind for your buying checklist.
For bushcraft squares and diamonds the more tie-out points, 'D's, eyelets and ridgeline loops the better, as they increase string-up and peg-out options. Reinforcing along seams and edges and at stress points like peg or guyline loops can lengthen the life of a piece of kit that necessarily gets hard usage. Extras like guylines, clips and hooks are useful, especially if good quality, but most tarp campers end up adding pegs, lines, bungees or quick clip-out systems to suit their own set-up preferences. Some tarp guylines are reflective, useful to avoid falling over them at night but not always so good if you're trying to sleep out under the radar. Eyelets, loops or reinforced holes to take the tips of walking poles for putting up a shelter where there are no trees can be a real plus. Stuff sacks are always better if they're over-sized as wrestling a tarp back into a too-small bag with cold hands on a wet morning is always frustrating.
Price/Value
Any given tarp will cost pretty much what you'd expect it to. An emergency plastic bag shelter slit to make a sheet of plastic is cheap and basic, whilst a tailored, shaped, and fully featured shelter made with lightweight materials is proportionally expensive. High-tech fabrics and superlight clips and lines cost money, and as with all kit there's often the paradox of paying far more for less, especially when it's less weight that one's buying. You'll pay a premium for designs made in fabrics that are light yet still highly waterproof and tough, but those are virtues you want in a tarp, and are worth the expenditure. If you use it to sleep out enough, the price per night soon becomes negligible.
You don't have to jump in with the most expensive kit if you're just starting out in tarp camping. A simple bushcraft square used in good weather will provide all you need to experiment with, especially when you'll be able to use the same kit in more extreme situations once you've honed your skills. And if you decide that sleeping under a tarp, whether hammock camping or bivying, is for you then there are more complex, designed and feature-rich tarps that can work better for some trips, providing better weather protection for minimum set-up times.
Whatever you choose, if you like being outdoors then with a tarp you're sleeping out in everything that nature has to offer whilst staying warm and dry. You're not zipped in and bagged up and insulated from the outside world, but a part of the night. Ultimately, with a tarp that's what you're paying for: less stuff getting between you and nature.
All the latest inspiration, tips and guides to help you plan your next Advnture!
After a wild childhood in west Cork, Jasper Winn began embarking on long cycles, walks, horse journeys and kayak trips across five continents – adventures he's decanted into books, magazine articles, radio and television documentaries. Keen on low-tech but good gear, Jasper is an advocate of slow adventures by paddle, pedal, saddle, boot and sail. He has circumnavigated Ireland by kayak and cycled across the Sahara. Twice. Having ridden north-to-south across Algeria he discovered the only way to get back was to turn round and pedal north again.