Waterproof versus water-resistant: what you should choose for your adventures
What you need to know about waterproof versus water-resistant standards and ratings whether you're a hiker, runner, climber or camper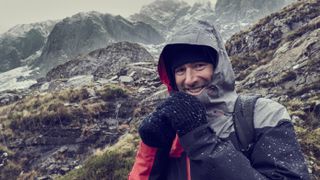 (Image credit: Getty)
When it comes to waterproof versus water-resistant, the distinction can be misleading and potentially dangerous. When you venture out into the harsh winter environment, for example, you'd better be well equipped and have confidence in your gear. Fortunately, we're here to explain how gear is rated and what to look out for at the point of purchase.
When considering kit, the difference between waterproof and water-resistant gear has a bearing on everything from your tent to your clothes, as well as your accessories like smart watches and headlamps.
So, how can you tell whether products are waterproof or merely water-resistant, and what are the right garments for different weather conditions, from freezing cold and snowy to warm and wet, or the right tech for wet-weather adventuring? Here, we explain all, providing a comprehensive guide on the ratings used to indicate a material's water repelling power, whether it's your shelter, waterproof jacket, waterproof trousers, or a gadget.
Fabric in focus: waterproof versus water-resistant
Fabric for clothing such as jackets, over-trousers, gaiters and gloves, as well as gear like backpacks and tents, is rated for waterproofing as well as having their own breathability rating. Here is a guide to understanding how fabrics are tested and the subsequent ratings.
Many manufacturers use a general Waterproof Rating standard, known as a water column test or Hydrostatic Head test, to rates how a fabric withstands water pressure. This rating is typically given in millimeters (mm):
0-5000mm: No resistance to some resistance to moisture, which means you might wear the items in light light rain or dry snow.
6,000-10,000mm: Water resistant to waterproof when there is light rain or snow.
11,000-15,000mm: Waterproof in moderate rain and snow.
16,000-20,000mm: Waterproof in heavy rain and wet snow.
20,000mm+: Waterproof in high-pressure conditions (when very windy, for example) and when there is heavy rain
Gore – the maker of a leading outdoors fabric Gore-Tex - explains the process of testing the initial waterproofness of a fabric. A spokesperson says: "We use the hydrostatic test method. Anything that withstands equivalent pressures above 1.3m (1300mm) can legally be called waterproof, however our experience is that, in real life, a product must be able to withstand pressures that relate to around 15m (15,000).
"These kinds of pressures are experienced in situations such as when you kneel when carrying a heavy pack. At Gore we test all of our Original GORE-TEX fabrics to be waterproof to a minimum of 28m (28,000mm)."
Gore also believe the "durability of waterproofness" is a vital component of their fabrics. The spokesperson said: "Once a garment has been worn and washed a few times, products start to drop off in performance. We run additional durability tests to ensure that the products are waterproof for their lifetime."
RET: fabric breathability
The breathability of the fabric is another consideration when looking at water-resistance and waterproofing. If you wear a product that is fully waterproof, such as one made of plastic, and then exercise, there is no way for the vapour from the sweat to evaporate .
The moisture from the sweat will not be able to escape through the plastic and so it collects inside. This means that even if a fabric or material keeps out the wet, if it is not breathable you will end up wet inside anyway. Materials like merino, often used in base layers, are very breathable but not particularly waterproof. This is the challenge for gear manufacturers when they design waterproof jackets, marrying the two characteristics.
Gore explained that they test fabrics for breathability using an RET (Resistance to Evaporating Heat Transfer) test method, which was developed by the Hohenstein Institute.
The spokesperson said: The RET test involves the test fabric being placed over a sweating hotplate and the resistance of the fabric to evaporative heat transfer is measured. The less resistant the fabric to heat and moisture transferring through it, the more breathable it is and vice versa."
The RET test was also developed in conjunction with human subject comfort tests, so it's possible to get a direct correlation between how breathable a fabric is and, therefore, how the comfort can be perceived by the wearer.
The RET test scores from 0 to 30; 0 being naked and 30 being dressed in a non-permeable material (i.e. a plastic bag).
RET 0-6: Very good or extremely breathable
RET 6-13: Good or very breathable
RET 13-20: Satisfactory or breathable
RET 20-30: Unsatisfactory or slightly breathable
RET 30+: Satisfactory or not breathable.
The right rating: waterproof and breathable, too
When designing products for the outdoors user, waterproofing, breathability and activity are taken into account.
Gore states: "We look at the end use, in terms of the physiological aspects of the user during activities, as well as the environment that they will be in. If, for example, someone is running, we know they will be hot, sweaty and generally wearing lightweight garments and most likely not carrying much equipment.
"Based on this assessment we can choose the most breathable membranes, the lightest weight face textiles and the best wicking backers to help manage the sweat.
"There are always trade-offs between lightweight versus ruggedness, so we are careful to ensure that the balance is met for the intended end use. This same rationale is used for all products, whether they be for climbing, skiing, sailing or motorcycling. One fabric does not fit all, so we only offer those that are suitable for the activity."
Waterproof versus water-resistant: electronics
IPX Rating System
The IPX Rating System is used to evaluate the resistance of products to environmental conditions. Understanding these ratings helps to grasp the difference between waterproof and water-resistant.
There are a few acronyms to understand: The IP (Ingress Protection) numbers are written as IPXX, where "Xs" are numbers. The first "X" is from 0 to 6 and represents solid (dust/particle) resistance and the second "X" represents liquid resistance (water).
This is what the ratings look like:
IP0X: The product is unprotected against any physical contact or objects.
IP1X: Only protected from objects larger than 50mm.
IP2X: Protected from any object larger than 12.5mm.
IP3X: Protected from things the size of 2.5 mm or more
IP4X: Protected from anything bigger than 1mm.
IP5X: Dust resistant. Some dust may get through, but it won't be enough to damage the product.
IP6X: Fully dust resistant.
Outdoor gear: protection from water
The second digit in the IPX system ranges from 0 to 9 and indicates how well the product is protected from water.
IPX0: The product offers no special protection from water.
IPX1: Will resist water that drips vertically on to the product.
IPX2: Will resist water that hits the product at a 15° angle or less.
IPX3: Can take water sprays of up to 60°.
IPX4: Is resistant to water splashes from any direction.
IPX5: Can resist a sustained, low-pressure water jet spray.
IPX6: Can resist high-pressure, heavy sprays of water.
IPX6K: Can resist water jets of extremely high pressure. Rarely used.
IPX7: Can be submerged up to 1 metre in water for 30 minutes.
IPX8: Can be submerged deeper than 1 metre and the exact depth is likely to be specified by a manufacturer.
IPX9K: Resists high-pressure and high-temperature sprays at close range. This is a special case that's dictated by a separate standard and is only rarely used.
If you buy one of the best GPS watches, for example, you will be keen to ensure it is protected from the weather and also that it can cope with the situation you plan to use it in.
If you are heading to the beach or a desert you will want it to have a rating or IP5X or more. Likewise, a GPS watch that you plan to use underwater, will need to be highly resistant, so look for a rating of IPX8 or more.
Other items that may have IPX rating are sports watches, headphones, computer technology, outdoor speakers and more.
All the latest inspiration, tips and guides to help you plan your next Advnture!
Fiona Russell is a widely published adventure journalist and blogger, who is better known as Fiona Outdoors. She is based in Scotland and is an all-round outdoors enthusiast with favourite activities including trail running, mountain walking, mountain biking, road cycling, triathlon and skiing, both downhill and back country. Her target for 2021 is to finish the final nine summits in her first round of all 282 Munros, the Scottish mountains of more than 3,000ft high. Aside from being outdoors, Fiona's biggest aim is to inspire others to enjoy the great outdoors, especially through her writing. She is also rarely seen without a running skort! Find out more at Fiona Outdoors.