Best 4-person tents: for camping holidays and backpacking adventures with 2 to 4 people
By Sian Lewis
Our pick of the best 4-person tents currently available are waterproof, roomy and perfect for nights under canvas in the great outdoors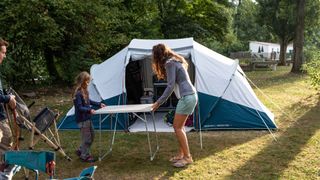 (Image credit: Quechua)
We've rounded up the best 4-person tents of all shapes and sizes to suit any outdoor adventure – and to fit most budgets. Whether you want to go backpacking in the mountains, head to a festival with friends or plan the perfect family camping holiday, there'll be something for you here.
The best 4-person tents do what they say on the tin – sleep four adults – but besides their capacity, they can vary massively in design, size and weight. From light, portable, backpacking tents to huge multi-bedroom family numbers, different models suit different kinds of nights in nature. Multiple tent designs, such as dome tents and tunnel tents, are available – you'll find a full guide to how to buy the best four-man tent for you at the bottom of our round-up, including how to choose a tent with the right waterproofing and wind resistance.

Looking for a family tent? The Outwell Nevada, with two bedrooms and a spacious living room, is perfect for a week's camping holiday. If you're going further from the beaten track, a light, packable one-bedroom tent such as the MSR Zoic will let you sleep four on a backpacking or wild camping adventure. Or if you want something a little bit different for a special camping trip with family or friends, a roomy, glamping-style bell tent such the Luna bell tent we've reviewed below is perfect, doubling up as a light-filled living space in the day and a cosy bedroom at night.
Sleep out in comfort in one of our top-rated 4-person tents
MSR's adventurous tents are firm favourites with backpackers, and their larger Zoic 4-person tent, new for this year, provides the same excellent quality we've come to expect from this all-American brand. An inner tent is the work of a few minutes to pitch using lightweight pre-bent poles that magnetically click together, and the inner's mesh lining works well as a standalone tent for stargazing on warm nights without any pesky insects. The outer fly is waterproofed to 1,500mm and has withstood heavy rain on test. One large bedroom is best suited to three adults or a family with two smaller children, and two doors, each with a generous porch keep kit dry and stored away. The Zoic is one of the most breathable tents we tested – ideal for camping adventures on tropical travels. The great quality of every component, from poles to pegs, make this a tent built to last you for years of adventures in the wild.
One of our top picks if you're watching the pennies, this simple but effective tent will fit four adults at a push, but would definitely be better suited to two or three people, or used as a separate tent if you want to give older children some space. Inside there's one nicely sized bedroom, lined with 'Nightfall' material to keep it cool and dark, and you can stand up if you're under 180cm in height. There's also a well-sized porch for storing your belongings or hiding from the rain. The Carron is quick and easy to pitch using lightweight, colour-coded fibreglass poles. The outer fly is waterproofed to a decent 3,000mm, which should put up with even heavy rain, and the tough groundsheet keeps water out and is easy to clean. There aren't many innovative touches here, but that's not the point – this is a simple, effective one-bed tent that's ideal for weekends and festivals, and all for under £200.
Robens' tents tend to be pitched at the expensive end of the market, but you definitely get what you pay for with the brilliant quality Vista 400. Unlike many 4-person tents, Robens mean it when they say the Vista is for four people – the roomy bedroom will sleep four adults comfortably, and is a roomy size for a family of four to share, even on longer holidays. We love the big living room, which has huge plastic windows and feels light and airy even on grey days due to the lighter hue of the Vista's polycotton outer material. A big porch can be tied open on warm days, with a zippable mesh panel if you need to keep insects out, and has an effective fixed roof to keep rain off. Well-placed vents and that cooling, breathable polycotton make this a lovely tent if you're off on baking hot holidays abroad, and the outer material is waterproof enough to put up with stormy weather. This may be a heavy, multi-roomed tent, but it's a doddle to pitch thanks to inflatable 'air' poles, and one person can erect it quickly and easily – although it's still a sizeable tent once packed down. If you want a quality four-man to last for many family camping trips to come, this is worth the price tag.
Snugpak's snug Journey 4 offers a great middle ground between hefty family tents and dinky backpacking numbers – it's a compact size and a portable weight but offers far more living space than a bedroom-only backpacking-style tent. The Journey sleeps four adults (or three with lots of space) in one bedroom, with a separate living room and porch for kit and for sheltering in during bad weather – which the tent will happily withstand thanks to a flysheet waterproofed to 4,000mm and a groundsheet waterproofed to 5,000mm. This isn't a tent you'd want to spend hours in on a long holiday, and there's no standing room inside, but for a camping weekend or a festival where you're out exploring for most of the day and want shelter from the elements at night, it's perfect. The Journey 4 is slightly on the large and heavy side for backpacking, but you could easily split it into two if you want to take it off the beaten track.
The Outwell Nevada might just be the Goldilocks of our round-up – neither too big or too cramped, it's the perfect size to sleep four in comfort. Walk through the roomy porch of this tunnel tent, which can be opened up on sunny days, and you'll find a generous living space that feels light and spacious thanks to two huge windows and plenty of headroom. Past this are two large blackout bedrooms, both of which will fit a double air mattress without blinking. The Nevada is fully waterproofed to a hefty 6,000mm, and shrugged off rain effortlessly when we tested it out. It's not the lightest tent to transport or the quickest to pitch, although pre-bent poles do make things more intuitive and also make the erected tent more stable – along with easily adjusted guy ropes and thick 'storm' guy ropes, the Nevada isn't going anywhere if the wind whips up. There are lots of nice touches here, including a mesh door to keep insects out and a rain-safe side door for easy access. There's also a three-bedroomed version available for £685, which sleeps five.
Decathlon's cheap and cheerful range of tents are the perfect place to start if you're after a simple, affordable tent to sleep a family of four for a first camping holiday, or to share with a few friends at a summer festival. We love the living design of this tunnel tent, which features a bedroom at each end, separated by a large living area you can stand up in. Two big doors on either side of the living room open up the tent still further, making it a nice space to hang out in during warmer weather. The bedrooms aren't huge, but each will sleep two, and they are lined with 'Fresh & Black' technology, which we found very effective on test at keeping the rooms cooler and darker during the night. A bathtub-style groundsheet and 2,000mm of waterproofing mean the Arpenaz can take on wet weather. The tent is pitched all in one and is easiest erected with two people, although colour-coded poles do make the process relatively simple.
Fancy something a little bit different for your next camping foray? A glamping-style bell tent is definitely a big investment, but they offer a wonderfully airy living and sleeping space, ideal if you find traditional tents on the stuffy side. Our top pick is the handsome Luna bell tent from Boutique Camping. Inside there's one large living and sleeping space that can comfortably fit four mattresses by night and a table, chairs and full cooking kit by day. Canvas tents are naturally breathable and cool on hot summer days, and the Luna's polycotton outer material is water-resistant enough to deal with showers. Large windows make the inside a lovely place to hang out if rain stops place, or a haven to retreat to at a busy festival. All that space and thick canvas does come at a price, and the Luna is heavy and cumbersome as well as expensive – you'll need somewhere spacious to store it and a car boot to transport it. That said, once it's erected (which isn't difficult with two people) and ready for a summer holiday, it's a true delight to camp in.
Another well-sized all-rounder aimed at families of four, Coleman's Mackenzie is perfect if you like good headroom and space throughout a tent. It features two large bedrooms that can easily take double air mattresses (and can be zipped open to form one massive bedroom) and a roomy living room with lots of built-in storage space. The blackout bedrooms are some of the best we tested at blocking out bright sunlight – perfect for families with younger children. We like the double doors and the well-placed windows, which can also be easily zipped closed or converted into breathable mesh panels that keep insects at bay. The living room is large enough for a table and chairs as well as all your camping kit. The tent's outer fly is waterproof enough to repel rain year-round, and three steel poles keep the structure in place even in high winds, but do take a while to assemble, even with two people. This is a large, hefty tent – best used for holidays where you're setting up in one campsite for the duration, and rate comfort over manoeuvrability. The price seems very reasonable for such a well-built tent – if you're after a versatile two-bedroom family tent, this comes highly recommended.
Sierra Designs specialise in lightweight backpacking tents, tarps and shelters for one or two people, but that lightweight know-how translates brilliantly into a bigger tent like the Nomad 4. It's the job of minutes to pitch this tent after a glance at the instructions, and three colour-coded poles offer good protection from high winds, even above the tree line. The bedroom doesn't quite offer room to stand but is still far roomier and taller than most lightweight four-man tents on the market. It might be a tad too heavy for anything but short trails, but could still work for bikepacking or motorbike touring. Two doors and two porches are great for stashing kit, and plentiful pockets inside make it easy to get everything squared away. If you're planning on camping for more than a few days, the roomier Nomad 6 might be worth the extra cash at £376.
Dreaming of 4-person tent that you can still take backpacking? Meet the Kelty Dirt Motel, well-named as it's happy to go adventuring far from the madding crowds but still offers a comfy nights sleep when you pitch it in the wild. It's as lightweight as many backpacking tents, and could be carried alone in a backpack or easily split between two people. We wouldn't recommend sleeping four adults in the bedroom, but there's a good amount of room for three and it's positively palatial for two people. Two doors, each with their own wide porch, make it easy to pop in and out of the tent when sharing it and to store your bag and boots next to you. The dome design is wind-resistant enough to take higher into the mountains, but although we found the Dirt Motel waterproof enough to deal with a shower on test, 1,500mm of waterproofing might not be enough to deal with heavier weather. Like the MSR Zoic, the Dirt Motel has an inner tent made of 'No-See-Um' insect-stopping mesh that can be used alone on the hot summer nights.
Choosing the best 4-person tent for you
Although they share a common denominator of being able to provide four adults with shelter, there's a huge variation of styles and sizes of four-person tents, with one to suit every group. When you're choosing the best four-person tent for your requirements, consider the following:
1. Weight and size
They may all be four-man tents, but the weight of the models in our round-up varies from a featherweight 3kg to a whopping 31kg. Think about how and where you want to use your new tent before you splurge – if you want to go on a multi-week family camping trip with the car, a large, heavy tent such as a family-style 4-person tent with multiple rooms or a canvas glamping tent is worth the size and weight for the roomy living space you'll get. If you're just off for a weekend, look for a more compact tent, and if want to carry your tent any distance on a backpacking or bikepacking journey, pick something that weighs 4kg or less.
2. Waterproofing and wind resistance
Any tent you invest in should be waterproof enough to withstand a sudden downpour. Look for a 'twin skin' tent – this means the tent has a separate inner layer and an outer 'flysheet' layer – and pick a model that has a fully waterproof fly. You'll sometimes see the waterproofness of a tent listed by its Hydrostatic Head rating – anything above 1,500mm is considered waterproof. If you're buying a canvas tent, look for one made with water-resistant polycotton. Good tents have built-in waterproof nylon groundsheets, which stop any wet seeping in from the ground. Choose a tent with plenty of guy ropes, which you can peg out and pull taught to keep your tent stable in wind. Dome tents are usually more wind resistant than tunnel tents.
3. Bedrooms and living spaces
Four-person tents range from small, one-bedroom tents (that are really more suitable for two or three people) to multi-bedroom tents with plenty of space for a family of four. If you're going camping with older children, you'll definitely get a better night's sleep if you pick a tent with two separate bedrooms. If you're a light sleeper, choose a tent that uses blackout material inside the bedrooms, keeping them cooler and darker and blocking out the dawn light. Breathable mesh panels and ventilation flaps are also useful in bedrooms on hot nights. For a camping weekender, a small tent with one bedroom and a porch for your kit will be fine, but for longer holidays a large living room – ideally one you can stand up in – plus a roomy porch will give you much more room to manoeuvre and store gear.
4. Tent type
You'll see multiple four-man tent designs on the market – the most common are dome, geodesic and tunnel tents – although inflatable tents are becoming more popular. Dome tents have poles that cross in the middle to create a stable, wind-resistant half-sphere structure, and offer a good amount of internal space. Geodesic tents use more poles to create a structure made up of triangles, and are even more stable in extreme weather conditions, but might be overkill for a simple campsite holiday. Tunnel tents use sets of poles to create a tunnel shape, usually with a living room and one or two bedrooms, and are easy to pitch, but won't stand alone without being pegged into the ground. They usually offer more space and are good for families. You'll also see traditional canvas glamping-style tents in our round-up – they aren't usually as waterproof as modern tents but offer the most living space and head height overall.
5. Pitching
Pitching and packing up a tent can be a breeze – or a fiddly nightmare. As a rough rule of thumb, the bigger, heavier and fancier a tent is, the more complicated it will tend to be to pitch, and may require two people to erect. That said, 'air' tents, which feature hollow tubes instead of traditional poles and which are inflated using a pump, are a great way to own a bigger, multi-room tent without the pitching nightmare. Whatever tent you choose, it's a good idea to have a go at pitching it in the garden at home first, to get the hang of things. Pack extra pegs, and don't forget to use all your tent's guy ropes, to keep your tent stable in case of wind.


All the latest inspiration, tips and guides to help you plan your next Advnture!
Thank you for signing up to Advnture. You will receive a verification email shortly.
There was a problem. Please refresh the page and try again.