The best 4-person tents 2023: for camping trips with your tribe
Our selection of the best 4-person tents for glorious camping trips with friends and family, tested and rated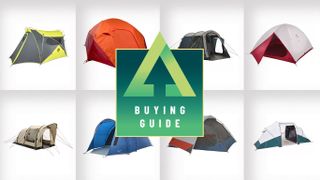 (Image credit: Future)
The best 4-person tent is like a portable home from home, opening up a world of potential camping adventures for you, your friends and family. Many of us are plotting escapes to the backcountry in 2023. With this in mind, there's never been a better time to get hold of a decent sized shelter to make those plots a reality.
Time to connect with the great outdoors? Gather the family for some much need escapism. Fancy an epic expedition? Grab a couple of friends and head uphill. The best 4-person tents are a good size for the campsite, while often still light enough to carry to a wild camping spot, especially if you split the weight.
A word of warning, the best 4-person tents fit four people as a maximum. In fact, while it may be perfect for a couple and their kids, four adults may find it a bit of a squeeze. As a general rule of thumb when it comes to camping tent sizes, always consider going one size over the number of adults that plan to sleep in it if you value your personal space and comfort.
In this guide, we've separated the tents into the best options for backpacking, the best value shelters and the best tents for car camping holidays. All you need now is one of the best sleeping bags and you're good to go!
Best 4-person tents overall
1. Marmot Limelight 4
Comfortable choice for family camping adventures
Specifications
Interior floor dimensions:
92 x 81in / 234 x 206cm
Pack size:
27.5 x 10in / 70 x 26cm
Porches & doors:
2 vestibules & 2 doors
Waterproofing (fly):
68d Polyester Taffeta 190T (1500mm HH)
Compatibility:
Backpacking or car camping
Reasons to buy
+
Reflective points prevent late night tripping
+
Solid protection in poor weather
+
Durable materials
+
Footprint included
Reasons to avoid
-
Extensive use of mesh requires rain fly for privacy
-
Rain can pool near vestibule
-
Poles are stiff
Small details matter. Often overlooked by first time tent buyers, details like color-coded easy pitch clips and poles, a waterproof seam, taped full-coverage rainfly, and durable fabrics make the Limelight 4 a very comfortable 4-person shelter. Set-up is fast and stress free.
Reflective points shine under headlamps and help avoid campers tripping over guidelines after dark. A large D-shaped door makes entry easy. The top half of the Limelight uses mesh to improve ventilation, save weight and lets campers stargaze late at night.
On the other hand, the mesh doesn't provide much privacy. The rainfly provides solid weather protection but in place, ventilation suffers a bit. The spacious floor plan fits four and two vestibules add more storage space. Marmot offers a nice unique touch with a doormat to clean boots and keep twigs, grass and leaves outside of the tent.
A fine choice for car camping families, it's also light enough to take backpacking if you split the load. The Limelight is constructed with a excellent attention to detail, durable materials and plenty of features to improve liveability. Better still, it is backed by Marmot's lifetime warranty.
2. Nemo Wagontop
Hold your head high in this luxurious car camping shelter
Specifications
Style:
Single-wall construction with poles
Weight:
20lb, 1oz / 9.11 kg
Pack size:
27 x 10 x 10in / 69 x 25 x 25cm
Dimensions:
100 x 100in / 254 x 254cm
Max Headroom:
80in / 203cm
Porches & doors:
1 door 1 vestibule
Waterproofing (fly):
75D PeU Polyester (1500mm HH)
Compatibility:
Car camping / luxury camping
Reasons to buy
+
Stand up living space
+
Windows
+
Lifetime warranty
+
Three season
Reasons to avoid
-
Minor rain issues
-
Footprint not included
Higher priced than competitive models, the uniquely shaped Wagontop offers a way of spending a few days outside in almost glamping-style comfort. A self-contained pole hub system creates a large living space with almost vertical walls. No more hunching over or pressing your head against a thin fabric ceiling. Ventilation from a generously sized door and large side windows prevents you feeling stuffy and stale if you have to spend a day inside.
With a floorplan comfortable for four people, there are plenty of pockets and loops to keep sunglasses, smartphones and headlamps from getting crushed underfoot. A huge vestibule adds storage space for muddy boots and daypacks, and helps with living space inside the tent.
Recently updated, improvements include a new window hardware, more rugged 300-denier floor fabrics, and a new pole hub system that simplifies set-up. If your criteria for a family tent is great ventilation, stand up tall living space and lots of room for gear, the Wagontop is hard to beat. Just in case, the stuff sack includes a small repair kit. A lifetime warranty takes worries away from long-term use.
Best lightweight 4-person tents
Light, backpacker-friendly tent that's ready to get off the beaten track
Specifications
Weight:
3.12kg/6lbs 14 oz
Rooms:
One bedroom, two porches
Pack size:
40x19cm/ 16 x 7.5in
Compatibility:
Sleeps three in comfort on dry weather backpacking and bikepacking adventures
Reasons to buy
+
Lightweight
+
Great space for a backpacking tent
+
Standalone mesh inner tent
Reasons to avoid
-
Not waterproof enough to take out in really bad weather
-
Not enough room for four to sleep comfortably
Dreaming of 4-person tent that you can still take backpacking? Meet the Kelty Dirt Motel. The name sums up its appeal: it's happy to go adventuring far from the madding crowds but still offers a comfy nights sleep when you pitch it in the wild.
As lightweight as many backpacking tents, it could be carried alone in a backpack or easily split between two people. We wouldn't recommend sleeping four adults in the bedroom, but there's a good amount of room for three and it's positively palatial for two. Two doors, each with their own wide porch, make it easy to pop in and out when sharing. There's also room to store your bag and boots next to you.
The Dirt Motel's dome design is wind-resistant enough to take higher into the mountains, but although we found it waterproof enough to deal with a shower on test, 1,500mm of waterproofing might not be enough to deal with more heavier outbursts. Like the MSR Zoic, the Dirt Motel's inner tent is made of 'No-See-Um' insect-stopping mesh that can be used in isolation on the hot summer nights.
Backpacking families should look no further than this high-quality lightweight tent
Specifications
Rooms:
One bedroom, two porches
Pack size:
56x15cm/22x6in
Compatibility:
Ideal for warm weather backpacking family adventures
Reasons to buy
+
Lightweight
+
Roomy bedroom
+
Great quality components
Reasons to avoid
-
Less waterproofing than other tents of a similar design
MSR's adventurous tents are firm favourites with backpackers. Their larger Zoic 4-person tent, new for this year, provides the same excellent quality we've come to expect from this all-American brand.
The inner tent only takes a few minutes to pitch, using lightweight pre-bent poles that magnetically click together. Better still, its mesh lining works well as a standalone tent for stargazing on warm nights, without those pesky insects.
The outer fly is waterproofed to 1,500mm and has withstood heavy rain on test. The one large bedroom is best suited to three adults or a family with two smaller children. Its two doors each come with a generous porch keep kit dry and stored away.
The Zoic is one of the most breathable tents we tested – ideal for camping adventures on tropical travels. The great quality of every component, from poles to pegs, make this a tent built to last you for years of adventures in the wild.
Best value 4-person tents
A good size compromise, the Journey is portable and weatherproof but with more living space than a one-room backpacking tent
Specifications
Weight:
5.4kg/11lbs 14.5oz
Rooms:
One bedroom, one living room, two porches
Pack size:
58cm x 19cm/23 x 7in
Compatibility:
A nice compact, lightweight choice for camping weekends in the hills, and festivals, even if the heavens open
Reasons to buy
+
Compact
+
Lighter than most multi-room tents
Reasons to avoid
-
No standing space
-
A squeeze for four
Snugpak's Journey 4 offers a great middle ground between hefty family tents and dinky backpacking numbers – it's a compact size and a portable weight but offers far more living space than a bedroom-only backpacking-style tent.
It sleeps four adults (or three with lots of space) in one bedroom. It has a separate living room and porch for kit or for shelter during bad weather – which the tent will happily withstand thanks to a flysheet waterproofed to 4,000mm and a groundsheet waterproofed to 5,000mm.
The Journey 4 isn't a tent you'd want to spend hours in on a long holiday, and there's no standing room inside, but for a camping weekend or a festival where you're out exploring for most of the day and want shelter from the elements at night, it's perfect. It is slightly on the large and heavy side for backpacking, but you could easily split it into two if you want to take it off the beaten track.
The simple, functional Carron is ideal if you're after a one-bedroom tent on a budget
Specifications
Rooms:
One bedroom, one porch
Pack size:
65x27cm/25.5x10.6in
Compatibility:
Best suited to two or three people for a weekend, and waterproof enough to deal with bad weather
Reasons to buy
+
Affordable price
+
Compact when packed down
+
Waterproof enough to deal with showers
Reasons to avoid
-
Not quite spacious enough for four adults
-
No bells and whistles
One of our top picks if you're watching the pennies, this simple but effective 4-person tent will fit four adults at a push, but would definitely be better suited to two or three people. Alternatively, it can be used as a separate tent if you want to give older children some space.
Inside there's one nicely sized bedroom, tall enough to stand up in if you're under 180cm in height. It's lined with 'Nightfall' material to keep it cool and dark, perfect for those humid summer nights. There's also a well-sized porch for storing your belongings or hiding from the rain.
The Carron is quick and easy to pitch using lightweight, colour-coded fibreglass poles. The outer fly is waterproofed to a decent 3,000mm, which should put up with even heavy rain, and the tough groundsheet keeps water out and is easy to clean.
There aren't many innovative touches here, but that's not the point – this is a simple, effective one-bed tent that's ideal for weekends and festivals, and all for under £200.
A great first family tent or festival tent – and at a very pocket-friendly price
Specifications
Rooms:
Two bedrooms, one living room
Pack size:
60 x 26cm / 23.6 x 10.2in
Compatibility:
Sleeps four comfortably on more casual camping adventures
Reasons to buy
+
Great layout
+
Big living space with room to stand
Reasons to avoid
-
Too flimsy to withstand strong winds
-
On the heavy side
Decathlon's cheap and cheerful range of tents are the perfect place to start if you're after a simple, affordable option to sleep a family of four for a first camping holiday, or to share with a few friends at a summer festival.
We love the living design of this tunnel tent, which features bedrooms at each end separated by a large living area you can stand up in. Two big doors on either side of the living room open up the tent still further, making it a nice space to hang out in during warmer weather. The bedrooms aren't huge, but each will sleep two, and they are lined with 'Fresh & Black' technology, which we found very effective at keeping the rooms cooler and darker during the night.
A bathtub-style groundsheet and 2,000mm of waterproofing mean the Arpenaz can take on wet weather. The tent is pitched all in one and is easiest erected with two people, although colour-coded poles do make the process relatively simple.
The best 4-person family tents
A beautifully designed tent sleeping four in comfort – our top pick for families
Specifications
Weight:
18.5kg/40lbs 13oz
Rooms:
Two bedrooms, one living room, one porch
Pack size:
79 x 35cm / 31 x 13.8in
Compatibility:
Ideal for week-long camping holidays for a family of four or a gang of friends
Reasons to buy
+
Very spacious
+
You can stand up throughout
+
Great porch and living room
Reasons to avoid
-
Expensive
-
Takes two people to pitch
The Outwell Nevada might just be the Goldilocks of our round-up – neither too big or too cramped, it's the perfect size to sleep four in comfort.
Walk through the roomy porch of this tunnel tent, which can be opened up on sunny days, and you'll find a generous living space that feels light and spacious thanks to two huge windows and plenty of headroom. Past this are two large blackout bedrooms, both of which will fit a double air mattress without blinking.
The Nevada is fully waterproofed to a hefty 6,000mm, and shrugged off rain effortlessly when we tested it out. It's not the lightest tent to transport or the quickest to pitch, although pre-bent poles do make things more intuitive and also make the erected tent more stable. With thick 'storm' and easily adjusted guy ropes, the Nevada isn't going anywhere if the wind whips up.
There are lots of nice touches here, including a mesh door to keep insects out and a rain-safe side door for easy access. There's also a three-bedroomed version available which sleeps five
Beautifully made, roomy and breathable tent – ideal for family holidays
Specifications
Waterproofing:
Water-resistant polycotton
Rooms:
One bedroom, one living room, one porch
Pack size:
90x40cm/35.5x15.7in
Compatibility:
Ideal for four people on family car camping holidays, especially if you're heading abroad
Reasons to buy
+
Great build quality
+
Sleeps four comfortably
+
Lovely living space
Tents from Robens tend to be pitched (excuse the pun) at the expensive end of the market, but you definitely get what you pay for with the Vista 400, a tent of brilliant quality. Unlike many 4-person tents, Robens mean it when they say the Vista is for four people – the roomy bedroom will sleep four adults comfortably, and is a roomy size for a family of four to share, even on longer holidays.
We love the big living room, which has huge plastic windows and feels light and airy even on grey days due to the lighter hue of the Vista's polycotton outer material. A big porch can be tied open on warm days, with a zippable mesh panel if you need to keep insects out, and has an effective fixed roof to keep rain off. Well-placed vents and that cooling, breathable polycotton make this a lovely tent if you're off on baking hot holidays abroad, and the outer material is waterproof enough to put up with stormy weather.
This may be a heavy, multi-roomed tent, but it's a doddle to pitch thanks to inflatable 'air' poles, and one person can erect it quickly and easily – although it's still a sizeable tent once packed down. If you want a quality four-man to last for many family camping trips to come, this is worth the price tag.
A well-sized, reliably weatherproof multi-bedroom tent at a good price point
Specifications
Rooms:
Two bedrooms, one living room, one porch
Pack size:
80 x 40cm/31.5 x 15.7in
Compatibility:
Ideal for longer camping holidays in any weather
Reasons to buy
+
Brilliant bedrooms
+
Waterproof and wind resistant
+
Great convertible windows
Another well-sized all-rounder aimed at families of four, Coleman's Mackenzie is perfect if you like good headroom and space throughout. It features two large bedrooms and a roomy living space with lots of built-in storage space.
The bedrooms comfortably take double air mattresses and can even be zipped open to form one massive room. If you're looking to block out bright summer sunlight, the blackout bedrooms are some of the best we tested – perfect for families with younger children. We like the double doors and the well-placed windows too, which can also be easily zipped closed or converted into breathable mesh panels that keep insects at bay.
The living room is large enough for a table and chairs, as well as all your camping kit. The outer fly is waterproof enough to repel rain year-round, and three steel poles keep the structure in place even in high winds. However, they do take a while to assemble, even with two people.
This is a large, hefty tent – best used for holidays where you're setting up in one campsite for the duration, and rate comfort over manoeuvrability. The price seems very reasonable for such a well-built tent – if you're after a versatile two-bedroom family option, this comes highly recommended.
Handsome, weatherproof bell tent perfect for DIY glamping in the summer months
Specifications
Waterproofing:
Water-resistant polycotton
Pack size:
95cm x 28cm/37.5 x 11in (approx)
Compatibility:
This bell-shaped beauty is best used on longer summer camping holidays with family or friends, or at a festival
Reasons to buy
+
Great quality
+
Masses of space
+
Waterproof enough to use all summer
Reasons to avoid
-
Very heavy
-
Takes two people to erect
Fancy something a little bit different for your next camping foray? A glamping-style bell tent is definitely a big investment, but they offer a wonderfully airy living and sleeping space, ideal if you find traditional tents on the stuffy side.
Our top pick is the handsome Luna bell tent from Boutique Camping. Inside there's one large living and sleeping space that can comfortably fit four mattresses by night and a table, chairs and full cooking kit by day. Canvas tents are naturally breathable and cool on hot summer days, and the Luna's polycotton outer material is water-resistant enough to deal with showers. Large windows make the inside a lovely place to hang out if rain stops play, or a haven to retreat to at a busy festival.
All that space and the quality, thick canvas comes at a price, and the Luna is heavy and cumbersome as well as expensive – you'll need somewhere spacious to store it and a car boot to transport it. That said, once it's erected (which isn't difficult with two people) and kitted out, it's a true delight to camp in. Perfect for a summer holiday.
Most versatile 4-person tent
Roomy, lightweight three-season tent, ideal if you're moving between camping spots
Specifications
RRP:
$425 (US)/£336.83 (UK)
Weight:
4.51kg / 9lbs 15 oz
Rooms:
One bedroom, two porches
Compatibility:
Lightweight, roomy option for shorter camping trips or bikepacking in spring-autumn
Reasons to buy
+
Roomy
+
Quick to pitch
+
Good storage space
Reasons to avoid
-
A tad too heavy to work for backpacking
-
Not quite enough room to stand
Sierra Designs specialise in lightweight backpacking tents, camping tarps and shelters for one or two people, but that lightweight know-how translates brilliantly into a bigger tent like the Nomad 4.
After a glance at the instructions, it takes mere minutes to pitch. Three colour-coded poles offer good protection from high winds, even above the tree line. The bedroom doesn't quite offer room to stand but is still far roomier and taller than most lightweight 4-person tents on the market.
It might be a tad too heavy for anything but short trails, but could still work for bikepacking or motorbike touring. Two doors and two porches are great for stashing kit, and plentiful pockets inside make it easy to get everything squared away. If you're planning on camping for more than a few days, the roomier Nomad 6 might be worth the extra cash at £376.
Comparison table
Swipe to scroll horizontally
Best 4-person tents comparison table

| | | | | |
| --- | --- | --- | --- | --- |
| 4-person tent | Price | Weight | Style | Best use |
| Marmot Limelight 4 | $380 (US) / £370 (UK) | Light | 4-person backpacking tent | 3 season use: backpacking, car camping |
| Nemo Wagontop | $500 | Very heavy | 4-person camping tent | 3 season use: car camping, festivals |
| Kelty Dirt Motel | $380 (US)/£370 (UK) | Light | 4-person backpacking tent | 3 season use: backpacking, bikepacking, thru hiking, car camping |
| MSR Zoic 4 | $450 (US) / £437 (UK) | Light | 4-person backpacking tent | 3 season use: backpacking, thru hiking, car camping |
| Snugpack Journey 4 | £290 (UK) | Medium | 4-person camping tent | 3 season use: car camping, festivals, easy backpacking |
| Vango Carron | £190 (UK) | Heavy | 4-person camping tent | 3 season use: car camping, festivals |
| Quechua Arpenaz 4.2 | $199 (US)/£170 (UK) | Very heavy | 4-person camping tunnel tent | 3 season use: car camping, festivals |
| Outwell Nevada | £625 (UK) | Extremely heavy | 4-person camping tent | 3 season use: car camping, festivals |
| Robens Vista 400 | £1,250 (UK) / €1,500 (EU) | Extremely heavy | 4-person inflatable camping tent | 3 season use: car camping, festivals, holidays abroad |
| Coleman Mackenzie 4 | $750 (US)/£400 (UK) | Extremely heavy | 4-person camping tunnel tent | 3 season use: car camping, festivals |
| Luna Bell | £839 (UK) | Extremely heavy | 4-person bell tent | 3 season use: car camping, festivals holidays aborad |
| Sierra Designs Nomad 4 | $425 (US) / £337 (UK) | Medium | 4-person camping tent | 3 season use: car camping, festivals, easy backpacking |
How we test 4-person tents
At Advnture we endeavor to test every product we feature extensively in the field. That means one of our team of reviewers and writers – all experienced outdoor specialists active across the US, UK, Europe and Australasia – taking it out into the terrain and climatic conditions that it's designed for. If, for any reason, this isn't possible, we'll say so in our buying guides and reviews.
Our reviewers test 4-person tents overnight, sleeping out with adventure buddies in outdoor conditions, temperatures and terrain appropriate to the rating assigned to the product by the manufacturers/ brand. Lightweight 4-person tents will also be tested in backpacking scenarios to assess their performance as a shelter for multi day hikes.
For more details, see how Advnture tests products.
How to choose a 4-person tent
Although our best 4-person tents share the common denominator of being able to provide four adults with shelter, there's a huge variation of styles and sizes, with one to suit every kind of outdoor adventure.
If you're arriving by car and setting up camp for a week with the family, you're not going to be concerned with weight, whilst room and comfort are going to be high on your priority list. If you're rocking up at a festival, you'll want to head for the arena as quickly as possible, so you'll want a tent that pops up with minimal fuss. However, if you're wild camping, you're going to need a lightweight tent that combines weather resistance with ease of set-up.
When you're choosing, consider the following:
1. Weight and size
They may all be amongst the best 4-person tents money can buy, but the weight of the models in our round-up varies from a featherweight 3kg to a whopping 31kg. Think about how and where you want to use your new tent before you splurge.
If you want to go on a multi-week family camping trip with the car, a large, heavy tent such as a family-style 4-person tent with multiple rooms or a canvas glamping tent (see our feature: in defence of glamping) is worth the size and weight for the roomy living space you'll get.
If you're looking to discover the joys of camping wild, look for a more compact, lightweight tent. Ideally, you'll want to pick something that weighs 4kg or less if you intend to carry it long distances over a weekend or longer. (Check out our feature on 10 essential items for a backpacking adventure for more inspiration.)
2. Waterproofing and wind resistance
Any tent you invest in should be waterproof enough to withstand a sudden downpour. Look for a 'twin skin' tent – this means the tent has a separate inner layer and an outer 'flysheet' layer – and pick a model that has a fully waterproof fly.
You'll sometimes be able to find out how waterproof a tent is by its Hydrostatic Head rating – anything above 1,500mm is considered waterproof. If you're buying a canvas tent, look for one made with water-resistant polycotton. Good tents have built-in waterproof nylon groundsheets, which stop any wet seeping in from the ground.
Choose a tent with plenty of guy ropes, which you can peg out and pull taught to keep it stable in wind. Dome tents are usually more wind resistant than tunnel tents.
3. Bedrooms and living spaces
4-person tents range from small, one-bedroom options (that are really more suitable for two or three people) to multi-bedroom units with plenty of space for a family of four. Camping with teenagers? You'll definitely get a better night's sleep if you pick a tent with two separate bedrooms.
If you're a light sleeper, choose a tent that uses blackout material inside the bedrooms, keeping them cooler, darker and blocking out the dawn's rays. Breathable mesh panels and ventilation flaps are also useful in bedrooms on hot nights.
For a camping weekender, a small tent with one bedroom and a porch for your kit will be fine. For longer holidays, a large living room – ideally one you can stand up in – plus a roomy porch will give you much more space to manoeuvre and store gear.
4. Tent type
You'll see multiple 4-person tent designs on the market – the most common are dome, geodesic and tunnel tents – although inflatable tents are becoming more popular.
Dome tents have poles that cross in the middle to create a stable, wind-resistant half-sphere structure, offering a good amount of internal space. Geodesic tents use more poles to create a structure made up of triangles. They are even more stable in extreme weather conditions, but they might be overkill for a simple campsite holiday.
Tunnel tents use sets of poles to create a tunnel shape, usually with a living room and one or two bedrooms. They are easy to pitch but won't stand alone without being pegged into the ground. This is a good option for families, as they usually offer more space.
You'll also see traditional canvas glamping-style tents in our round-up – they aren't usually as waterproof as modern tents but offer the most living space.
5. Pitching
Pitching and packing up a tent can be a breeze – or a fiddly nightmare. (See our foolproof how to pitch a tent guide.) As a rough rule of thumb, the bigger, heavier and fancier a tent is, the more complicated it will tend to be to pitch, and may require two people to erect.
That said, 'air' tents, which feature hollow tubes instead of traditional poles and which are inflated using a pump, are a great way to own a bigger, multi-room tent without the pitching nightmare. Whatever tent you choose, it's a good idea to have a go at pitching it in the garden at home first, to get the hang of things. Pack extra pegs, and don't forget to use all your tent's guy ropes, to keep your tent stable in case of wind.
All the latest inspiration, tips and guides to help you plan your next Advnture!
A journalist specializing in outdoor recreation, Lou has covered product design innovations, participation trends and environmentally sustainable manufacturing for over 20 years. On the other hand, he's had some less than successful outdoor adventures: once, completely spent after a hard day on the trail, he managed to set a vintage MSR Whisperlite stove ablaze before accidentally kicking the burning contraption into a lake. A published author, his book about invasive fish threatening the Great Lakes watershed will be published in 2021. craftedwords.com