The best four-season tents 2023: backpacking shelters to protect you all year
Committed campers need a four-season tent designed and built to cope with any conditions. Here's our roundup of the best available right now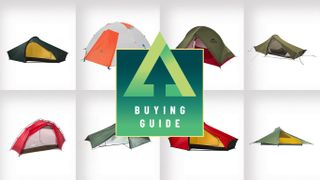 (Image credit: Future)
If you want to camp year round, then buying one of the best four-season tents is the logical alternative to shelling out on multiple tents. Fall, winter and early spring are great times to go camping. Colder temperatures and unpredictable weather bring a host of new challenges that can make even simple camping trips feel like the adventure of a lifetime. But only if your kit is sound. Turn up with gear that's not up to the task and you will be in for an incredibly miserable night (as I found out when I pushed some budget three-season camping gear to its limit).
Camping safely and confidently throughout the entire year is all about bringing the correct kit. You need to make sure you pack stuff that's robust, reliable and warm enough to get you through the night comfortably, which starts with picking the right shelter. Take something that's too fragile and it might get crushed by wind or snow, while a shelter with too much mesh/ventilation may not maintain enough heat to keep you warm through the night.
There is, of course, a distinction between dedicated winter camping equipment, which is designed specifically for use in very cold conditions, and four-season kit intended to provide comfort for 12 months of the year. Read more about that in our feature on the difference between four-season and winter kit.
Solid four-season tents can cost eye-watering amounts, especially if you're looking for one that you can also use in the warmer months. To get the most out of your budget, think about the environments you'll be primarily camping in and what characteristics you need in a shelter in these places. Do you intend on hiking dozens of miles? Then weight might be the deciding factor for you. Are you planning on camping in the snow at elevation? Then robustness and strength might be the things to look for. Whichever direction you go in, tents that deliver on weight, strength and packability will come with the highest price tag. So figure out what you really need from your shelter and shop accordingly.
Our guide to the best four-season tents will help you make the most informed decision possible. So take a look, see which tents have made the cut and read more about why we like each shelter. And check out our tips and additional considerations when shopping for a four-season tent at the bottom of the page to know what to look for in your next shelter.
Best one-person four-season tents
Lightweight, easy to carry and suitable for practically any weather conditions, the Hilleberg Akto is an excellent all-rounder but with a premium price tag
Specifications
Pack size:
13cm x 43cm / 5in x 17in
Compatibility:
Sleeps one comfortably or two at a push and is suitable for adventures in practically any weather or climate conditions worldwide
Reasons to buy
+
Lightweight
+
Small pack size
+
Suitable in all seasons
+
Durable
+
Roomy
Reasons to avoid
-
Pricey for casual users
-
Prone to condensation in summer
-
Not freestanding
The Hilleberg Akto has been one of the most popular tents for wild campers, hikers and bikepackers for over 20 years now – and with good reason. A true "do anything" shelter, it's a well-thought-out four-season tent that will keep you safe in any conditions, be that summer campsite camping, winter camping at elevation, or even on a polar expedition.
Featuring a single-pole construction, the tent is simple to set up and can be done so with even just a few pegs. When pitched, the Hilleberg Akto offers plenty of living space in both the sleeping compartment and the vestibule, guaranteeing more than enough room for one person and ample gear. Despite this space and the strength of the materials it's constructed from, however, it also packs down to an impressively small size and weighs only 1.3 kg / 2lb 13oz in its lightest form.
Though pricey, the Hilleberg Akto is a true investment in quality. It is an impressive all-rounder; every feature on this shelter has been designed to improve your experience of sleeping in a tent, whatever the conditions.
A tiny do-anything shelter that will keep you safe and warm in practically any conditions with some well-thought-out features
Specifications
Waterproofing:
5,000mm fly / 10,000mm floor
Pack size:
39cm x 15cm / 15in x 6in
Compatibility:
1 person and gear
Reasons to buy
+
Great in changing weather conditions
+
Very reliable and rugged
+
Reasonably priced
+
Highly waterproof
+
Excellent in strong winds
Reasons to avoid
-
Not the lightest
-
Very small interior
-
Small vestibule
The Robens Starlight 1 is a true all-rounder: it's light enough to carry long distances, packs down small enough to fit in your pack, and is strong enough to withstand the worst of the weather.
It's also incredibly robust, being made from 75D polyester and having impressively high hydrostatic head ratings. Thanks to the single-pole tunnel construction, the Robens Starlight 1 is also a doddle to erect and simple to pack away. This is something you'll be thankful for when caught out in a storm in the shoulder seasons, conditions in which the Starlight 1 truly excels.
The tiny size of both the inner and the vestibule, however, means this tent isn't for everybody. If you're looking for a shelter with extra room, you won't find any here. Instead, you'll find a near bombproof shelter that excels in practically all conditions you'd reasonably consider camping in.
Read our full Robens Starlight 1 review
A fabulous four-season offering, excellent for stormy weather, but heavier than most other solo shelters
Specifications
Weight:
1.6kg / 3lb 8.4oz
Pack Size:
44cm x 13cm / 17in x 5.5in
Dimensions:
96cm x 230cm x 60cm / 36in x 91in x 24in
Max headroom:
99cm / 39in
Waterproofing:
SuperSil (silnylon coated on both sides) 1500mm HH
Compatibility:
One-person, four-season use
Reasons to buy
+
Freestanding
+
Flexible enough to squash in a mate, at a pinch
+
Storm-, wind- and snow-proof
The dome-shaped Big Sky Chinook 1Plus is a hardy four-season shelter, able to withstand properly foul stormy conditions. When operated as a single-unit (fly-clipped-to-tent), it's great for setting up and packing down in bad weather. It's also fairly roomy, and able to accommodate two at a stretch. There's a catch for those benefits, though: it's also up to double the weight of other one-person tents on test. But room, warmth and staying dry may be worth paying the price of heft, especially if you can split the carrying weight between two.
The strength ratio comes from a sturdy three-pole design which can actually be downscaled to a two-pole setup if you want to find weight savings as a solo traveller, but that also drops you into three-season territory. In three-pole mode, the fly is drum-tight when set up, which is great for shedding snow and repelling water, but harder in setup mode because of how taut it is. A double-wall construction with two top vents does the job of preventing interior condensation while still holding onto body heat warmth in cold conditions. The steep wall design sheds snow well, so it's a good winter wonderland tent, and there are many tabs sewn into the seams for additional guys.
The pole clip design offers super-fast and easy setup and take-down, while the interior buckling to the outer shell for one-piece setup / take-down ensures good speed in foul weather. The interior is large, with a high ceiling and decent doors on each side that allow easy entry and exit for either one or two people (no need to climb over each other). The durable 30D nylon silicone /PU-coated and seam-taped fabric floor keeps the footprint dry and 1500mm rated fly sheet keeps things super dry.
A versatile tent designed for year-round use from snow to sunshine
Specifications
Weight:
1.6kg-1.9kg / 3lb 8.4oz-4lb 3oz
Pack Size:
44cm x 12cm x 12cm / 17.3in x 4.72in x 4.72in
Dimensions:
245cm x 112cm / 96.45in x 44in
Max headroom:
95cm / 37.4in
Waterproofing (fly):
40D ripstop nylon, silicone coated 1,500mm
Compatibility :
Four-season all-rounder
Reasons to buy
+
Large vestibule
+
One side of rainfly can be rolled back in good weather
+
Only requires two pegs
The Exped Vela I Extreme is a tent designed to cope in extreme weather conditions. You can pitch this in snow just as easily as on a balmy summer's night. Even more incredible is that it only requires one large pole, two tiny end poles and two pegs. (That is, of course, without any guy ropes but it's still pretty impressive.)
It is a tunnel-style tent, tensioned from either end, with the added bonus that you can roll back the outer layer for more venting in hot weather. It has a generously proportioned and sheltered vestibule, perfect for keeping your pack dry.
Like all Exped tents, it has nifty little stuff sacks attached to the guy lines – no need to get your cords in a tangle. The ground sheet is 70D, tougher than many lightweight tents. This is a versatile tent designed for year-round use.
Best two-person four-season tents
5. MSR Access 2
Sturdy enough to handle most winter conditions, yet light enough to carry on backpacking trips
Specifications
Waterproofing:
1,200mm HH Xtreme Shield polyurethane & silicone fly; 3,000mm HH Xtreme Shield groundsheet
Pack size:
46cm x 15cm / 18in x 5.9in
Compatibility:
Two-person shelter for four-season use, including backpacking and ski touring
Reasons to buy
+
Great headroom
+
Versatile enough for year-round use
+
Lightweight for a four-season tent
Reasons to avoid
-
Expensive
-
Pitches inner first
-
Not sturdy enough for "proper" mountaineering use
There aren't too many genuine four-season, two-person tents that weigh in at under 2kg – or just over 4lbs – which is what makes the MSR Access 2 immediately stand out from the pack. It's primarily designed for ski touring, with an unusual design specification that essentially sits halfway between a traditional "bomber" mountain tent and a lightweight backpacking shelter. But that actually makes it extremely versatile, meaning it works well for a wide range of other adventures all year round.
It's a sturdy freestanding design that makes use of robust Easton Syclone poles, with a double-wall construction for superior condensation control. You also get two entrances and two porches or vestibules, with steep walls and overhead ridge poles to resist snow loading. This results in excellent interior headroom, and decent internal proportions that give good liveability for two people. The porches are big enough to cook in or stash wet gear, while the symmetrical footprint means you can easily "top and tail" two sleeping pads together for more space.
Though the design pitches inner first, which isn't optimal for wet weather, it's quick and easy to set up. Taking it down is just as fast, aided by a clever wide-mouth tent bag. And when packed away, the tent is compact enough to slide easily into a 40L backpack.
6. Terra Nova Laser Compact All-Season 2
A bomber four-season shelter that utilizes a proven design and highly robust fabrics, yet tips the scales at under 2kg
Specifications
Weight:
1.8kg / 3lb 15.5oz
Pack Size:
30cm x 16cm / 11.8in x 6.3in
Dimensions:
230cm x 105cm / 90.5in x 41.3in
Max headroom:
95cm / 37.4in
Waterproofing:
Watershed R/S Nylon, HH 5000mm
Compatibility:
Four-season all-rounder
Reasons to buy
+
Lightweight and packable
+
Very protective
+
Pitches all-in-one
Reasons to avoid
-
Not free-standing
-
Not the roomiest
-
Pricey
Put two iconic tents together and what do you get? The Laser Compact All-Season 2, which Terra Nova claim is the ultimate four-season lightweight two-person tent. It takes the distinctive low-profile design of the Laser, a favorite amongst lightweight mountain marathoners and adventure racers, and adds super-robust fabrics from the Quasar, the brand's classic mountain tent (for which the appellation "bombproof" was surely invented).
The result is a highly resilient and very stable storm-proof shelter that still weighs in at just 1.8kg and packs down to a mere 30cm x 16cm. For a genuine four-season tent that will hold up in the most fearsome winter weather those are impressive specs.
But Terra Nova haven't compromised on features in order to save weight. In fact, they've specced up this version for added toughness. As well as fully taped seams throughout, the twin door zips have vent hoods at the top for additional rain protection. The zip flaps also have magnetic closures, so they snap shut when you zip up the flysheet doors. Three guylines at each end of the tent add extra stability in high winds, and if you really need to batten down the hatches, extra eyelets in the pole feet pull-tabs allow you to double-pole the main central hoop.
Of course, as anyone who is familiar with the Laser design will know, it isn't the roomiest. As such, this tent is a snug fit for two, and though there are twin doors, you only get a porch on one side.
7. Eureka Mountain Pass 2
A quick-pitch wilderness home that can cope with most conditions
Specifications
Pack size:
6in x 20in / 15cm x 51cm
Dimensions:
7ft 4in x 4ft 8in / 223.5cm x 142cm
Waterproofing:
1,800mm coating on the fly; 3,000mm on the floor
Max headroom:
41in / 104cm
Compatibility:
Three to four season
Reasons to buy
+
Multiple pockets
+
Four season usability
+
Footprint included
Reasons to avoid
-
Heavy compared to some comparable models
-
No windows
The 32ft2 / 3m2 floor plan of the Eureka Mountain Pass 2 makes this a comfortable shelter for two adults.
Because it's not the most lightweight two-person tent out there, it is best suited to backpackers who aren't intending to venture too far on any given trail day. However, the Mountain Pass 2 provides a good level of shelter, and it has zippered, removable panels that can extend the tent to four-season use if required.
The pitch is nice and easy too: a hub, three color-coded pole-and-clip system takes the tent from stuff sack to crawl-in comfort in just a few minutes. It is also an easy tent to keep organized and tidy; five pockets and an overhead gear loft swallow sunglasses, smartphones, headlamps, pocket knives and anything else you want to keep handy.
Four-season tents comparison table
Swipe to scroll horizontally
Best four-season tents

| | | | | | | |
| --- | --- | --- | --- | --- | --- | --- |
| Avalanche beacon | List price | Sleeps | Weight | Pack size | Waterproofing | Vestibules |
| Hilleberg Akto | $635 (US) / £679.99 (UK) | 1 / 2 | 1.7kg / 3lb 11oz | 13cm x 43cm / 5in x 17in | HH 5000mm | 1 |
| Robens Starlight 1 | $180 (US) / £256 (UK) | 1 | 2kg / 4lb 6.4oz | 39cm x 15cm / 15in x 6in | 5,000mm fly / 10,000mm floor | 1 |
| Big Sky Chinook 1Plus | $550 (US) / £490 (UK) | 1 / 2 | 1.6kg / 3lb 8.4oz | 44cm x 13cm / 17in x 5.5in | SuperSil (silnylon coated on both sides) 1500mm HH | 2 optional |
| Exped Vela I Extreme | $480 (US) / £450 (UK) | 1 | 1.6kg-1.9kg / 3lb 8.4oz-4lb 3oz | 44cm x 12cm x 12cm / 17.3in x 4.72in x 4.72in | 40D ripstop nylon, silicone coated 1,500mm | 1 |
| MSR Access 2 | $660 (US) / £735 (UK) | 2 | 1.86kg / 4lb 1oz | 46cm x 15cm / 18in x 5.9in | 1,200mm HH Xtreme Shield polyurethane & silicone fly; 3,000mm HH Xtreme Shield groundsheet | 2 |
| Terra Nova Laser Compact All-Season 2 | £550 (UK) | 2 | 1.8kg / 3lb 15.5oz | 30cm x 16cm / 11.8in x 6.3in | Watershed R/S Nylon, HH 5000mm | 1 |
| Eureka Mountain Pass 2 | $320 (US) | 2 | 5lb 8oz / 2.5kg | 6in x 20in / 15cm x 51cm | 1,800mm coating on the fly; 3,000mm on the floor | 2 |
How we tested the best four-season tents
When testing four-season tents we go camping in the harshest, coldest conditions we can find, to put them through their paces in the most challenging circumstances possible. Of course, that doesn't mean you won't face worse at the hands of Mother Nature, but you can be assured that we have genuinely slept out in these shelters in some pretty confronting conditions in order to properly assess their qualities (and drawbacks). Each tent has then been judged against a set of criteria, including weight, packability, waterproofing, structural strength, thermal properties, features, general comfort and affordability.
What to look for in the best four-season tents
When shopping for four-season tents, there are numerous things to pay attention to in order to ensure you're getting the right one for you. Snow skirts, larger vestibules and additional crossing poles are just some of the things you may want on yours, though not all adventures warrant these features. That's why, before you start looking for your next four-season tent, it's always good to be honest with yourself about where and when you're going to be using it – especially if you already have a three-season tent that might be capable of getting you through the winter.
Differences between three- and four-season tents
How much difference can one season make? Well, the answer is, "It depends." Some three-season tents can definitely be used through the winter in some places, and some four-season tents might not be very comfortable when used in the summer. Therefore, it's perhaps better to think of three-season tents as shelters designed for everyday use in gentle weather and four-season tents as shelters designed to be used in "extreme" weather. This includes heavy wind, rain and snow. That's why, if you don't intend to camp in sustained wind with speeds above around 30mph or you don't expect to ever encounter snow, a three-season tent might be all you need, irrespective of the official season in which you'll be using it.
The shape
The first, and perhaps most important, difference between three- and four-season tents is the shape of the structures themselves. Though they come in numerous styles, four-season tents are designed to be stronger and more durable than their counterparts. Generally, this means that there'll be more than one pole supporting the structure itself (with the strongest tents employing as many as six cross poles), and the fly will be made from a more durable, thicker material.
The most reliable four-season tents are thought to be those based on geodesic designs, which are strong in every direction. These tents are built using a combination of five cross poles to form a dome-like shape that resembles something like an igloo. Unlike tunnel tents or ultralight structures, it doesn't matter how or where you pitch these: they stay strong in wind irrespective of its direction, and can easily shake off deluges of driving rain or snow.
Snow skirts
Snow skirts are flaps attached to your fly that allow you to completely seal the tent to the ground. You can bury these in snow or earth to completely shut out any and all wind, and to prevent flurries of snow from being blown up into the inside of your tent. As they serve to fully cocoon you inside your tent, however, they do come with the added downside of restricting ventilation. This can result in more condensation inside your tent.
The inner
While on three-season tents inners tend to be little more than a bug-resistant mesh, four-season tents are manufactured from thicker, weather-resistant nylon or polyester. This serves to prevent as much heat as possible from escaping, and also helps block out wind and snow that might creep under the fly.
To increase ventilation, many four-season inners have built-in flaps / ports that can be opened and closed from inside the tent. This means that if you're using the shelter in warmer temperatures, you can open things up to optimize airflow inside the tent and zip everything tight when you want to keep in all the warmth.
These days, it's also possible to buy four-season inners for many three-season tents. And while this means that you can increase the warmth of tents you might otherwise avoid in the winter, it's important to manage your expectations. As is the case with the ever-popular Lanshan, for example, the tent is still a clear three-season shelter even when you buy the four-season inner. Sure, the tent will be warmer on average, but it still won't be able to contend with the types of conditions real four-season tents are able to shrug off.
Additional crossing poles
Some four-season tents may also come with additional crossing poles to optimize the tent's performance in wind and snow. As is the case with the Tarp Tent Scarp 1, these can be attached to grommets sewn onto the tent fly to level up your protection in the harshest environments. They basically form an exoskeleton of sorts that helps the tent better withstand strong gusts of wind and prevents it from getting crushed when loaded with enormous amounts of snow. The beauty of this approach is how flexible it affords you to be: If you're camping in gentler conditions or you're using your tent in the summer, you can save weight by leaving the additional poles at home.
Weight
Naturally, thanks to the extra protection afforded by four-season tents, they tend to be substantially heavier than their three-season counterparts. It's not uncommon for a solid winter tent to weigh up to 5kg (10lbs), though you can find shelters below the 2kg (4.4lb) mark if you're willing to pay a premium.
That's why, when it comes to four-season tents, it's often a good idea to double up. Consider getting a tent that comfortably sleeps two, and then split the load if you're covering big distances. Not only will this reduce the amount each person has to carry, but the extra body inside the shelter will help raise the temperature inside, even if just by a degree or two.
Vestibules
In order to ensure you can do all of the things you need to do during those long winter nights, four-season tents also tend to come with slightly larger vestibules. Obviously, when blizzards roll in, it's important that you have a space to cook and store gear. So whereas the vestibules on some ultralight three-season tents may barely provide enough space to store your boots, you can often completely sit up in the vestibules of proper four-season tents.
Combine with a good sleep system
Finally, don't forget that a four-season tent only works well as part of an appropriate four-season sleep system. Don't bring a summer sleeping bag and pad and expect your tent to do all of the work for you. For a safe and comfortable night, you'll need to combine your four-season tent with a thick enough sleeping pad with an R-value of at least four or above, as well as an appropriately rated winter sleeping bag.
All the latest inspiration, tips and guides to help you plan your next Advnture!
Growing up just south of the glorious Brecon Beacons National Park, Craig spent his childhood walking uphill. As he got older, the hills got bigger, and his passion for spending quality time in the great outdoors only grew - falling in love with wild camping, long-distance hiking, bikepacking and fastpacking. Having recently returned to the UK after almost a decade in Germany, he now focuses on regular micro-adventures in nearby Snowdonia and the Brecon Beacons, as well as frequent trips to the Alps and beyond. You can follow his adventures over on komoot, or visit www.craigtaylor.co for more info.