How to go winter camping: helpful gear, apparel, cooking and tips as we head into spring
The thrills and challenges of winter camping still remain in early spring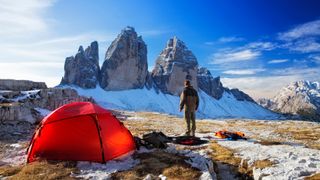 (Image credit: Getty)
Are you eager to get out and get outdoors this spring? After the year we've just experienced, the urge to get out into the wilderness, breathe some fresh air and enjoy a relaxing weekend in the wilds is understandably strong for many people. 
As we head into early spring, it's still important to make many of the considerations you would when winter camping, thinking about the weather, the right gear and how to dress to stay warm and how to stay dry while hiking and around camp.
If you enjoy camping in the milder temperatures of summer or early fall, you'll quickly understand there are some big differences to camping in the early spring. While you'll probably feel the warmth of spring and see the first signs of new foliage that come with the season, there's a good chance you'll have to deal with variable weather and possibly encounter the last remnants of winter snow slowly melting in shaded sections along a trail.
Compared with winter camping, the thrill of sleeping out in the wild in the spring is particularly acute, with the natural world awakening around you. But of course, the weather will be cold – possibly even sub-freezing overnight – and conditions are likely to be damp or wet. But it's the little things that go a long way in making your experience as safe, comfortable and enjoyable as possible.
Essential gear
As with winter camping, the first step in a successful early springtime camping excursion is understanding the gear, apparel and accessories you'll need relative to the weather you might encounter, says Lynn Hall, a sales manager at Leadville Outdoors & Mountain Market in Leadville, Colorado.
"Springtime is a shoulder season and depending on where you're going camping, it could be cold and snowy, or it could be warm in the daytime and still very cold at night," Hall says. "No matter when or where you go camping, you want to have the gear and clothes to be comfortable and warm, especially when you're sleeping at night. Staying warm and dry is as much about your comfort as it is about your safety."
Shelter
A three-season, single-wall tent should suffice if you don't anticipate stormy or excessively cold, snowy conditions. But if it's going to be snowy, then a four-season will do a better job of handling cold temperatures, blowing wind, accumulating snow or heavy rains.
One of the keys to spending a comfortable night in any tent is properly venting it when you're inside, especially if temperatures drop below freezing at night. Opening the vent flaps will reduce the amount of condensation build-up on the interior of the tent caused from your body heat and breathing. (If you don't open the vents, your tent will likely be lined with ice droplets when you wake up and the moment you move inside the tent, it will crumble down on everything.)
Sleeping bags
Next, you need to take a sleeping bag specifically designed for the temperatures you'll encounter. A three-season bag rated between about 20 and 32℉ (or roughly -10 to 0℃) should be more than sufficient for nights when temperatures are in the 35 to 45℉ range (2 to 10℃) or warmer, but you should be aware of what historical and recent forecasts suggest the overnight low temperatures will be. If you take a bag rated at 20℉ (or -10℃) and the temperature drops to 15℉ (about -10℃) or lower, you're going to feel uncomfortably chilly during the night.
If you're not sure your sleeping bag will be warm enough, consider taking a lightweight sleeping bag liner for added warmth or a four-season, winter-oriented sleeping bag that has a lower temperature rating and also has draft collars behind the zippers and around the shoulders and hood to keep heat from escaping.
"There's nothing worse than waking up shivering in your sleeping bag," Hall says, "because then it will be really had to get warm the rest of the night. You need a sleeping bag with a temperature rating that's not just going to keep you alive, but allow to be relatively comfortable or at least keep you from being miserable when you're sleeping in a tent in cold weather."
If you're wondering about selecting the best bag for winter camping, check out our expert guide to choosing the best sleeping bag for you and explainer on different types of sleeping bag.
Cooking and eating
The next piece of gear you need for early spring or winter camping is a camping stove and appropriate supply of fuel. That will be your lifeline in cool to cold temperatures, because it will be your means to boil water for freeze-dried meals, brew morning coffee and possibly even melt snow for drinking water. 
When it comes to choosing a camping stove, there are two choices to consider based on the type of fuel source. A stove that burns liquified petroleum (LP) gas (such as propane or a butane/propane mixture) is ideal for cool to mild to warm evenings, but it won't fare nearly as well on moderately cold or frigid nights. LP gas stoves generate their output from the pressurization of the gas that's built into the canister when you buy it. As the temperature drop, the pressure decreases, the stove flame becomes weak and, unfortunately, there's nothing you can do to offset it – unless it's a high-end, newer model with a built-in pressure regulator.
If you're camping in colder temperatures, it's best to opt for a stove that burns liquid fuel – aka, 'white gas' – because you'll be able to regulate and re-pressurize the fuel bottle with a small, built-in pump as often as necessary. You'll be able to maintain the gas pressure of the stove – and hence maintain a strong, consistent flame – while you're heating up water or cooking, even though liquid fuel stoves are generally slower to bring water to boil than an effective canister stove. However, white gas is more dangerous to transport and handle because it's a flammable, transparent liquid. If you spill it or get it on your skin or clothing, it can become a serious fire hazard when you light up your stove.
What about a campfire? While campfires are always great, it's so much harder to build and maintain one in the typically wet conditions of the spring that you might not want to make it a priority. You might have a hard time finding (or carrying) enough dead, dry wood to serve as kindling and long-burning fire fuel, unless you are car camping. Furthermore, fewer hours of daylight and colder evening temperatures, mean you're going to wind up spending a lot of your evening relaxation time in your tent, where it's warmer and more comfortable. However, if you insist on wanting to build a fire, be sure to take a packet of fire starter compound to assist getting the wood burning and learn how to build a campfire before setting off.
Other must-have gear elements and accessories for winter camping include a spork utensil for eating and stirring, a pot for boiling water, a mug for drinking coffee, tea or hot cocoa, two headlamps (and back-up batteries), paper maps, a smartphone with digital .gpx files of digital maps, a first-aid kit, toilet paper and maybe some playing cards or a book to read to pass the time in your tent.
Food and drink
As far as food goes, carrying lightweight, dehydrated or freeze-dried food is the best way to go if you're backpacking because colder temperatures and early nightfall don't usually afford the time or ability to make more elaborate meals the way you might during summertime camping trips. Not only are the best freeze-dried meals meals lightweight, hearty and nutritious, but you can also pour boiling water into the bowl-like packaging and simply stir and eat. They're simple to prepare, easy to eat and there's very little cleanup or trash when you're done.
Plan your morning and evening meals out in advance and then supplement your daily menu with lightweight snacks that won't freeze. Consider nuts, raisins, soft cheese sticks, nut butter packets and trail mix, but avoid thick chocolate bars, energy bars, fresh fruit or other items that might become tooth-rattling firm when left in your pack in sub-freezing temperatures overnight.
When it comes to staying hydrated, you should carry a modest amount of water in an insulated container, but don't overload your pack with heavy bottles. If you plan to take a hydration reservoir with a drinking tube, make sure both are properly insulated so they don't freeze. It makes sense to drink from your bottle or tube while you're snowshoeing or skiing, but keep in mind that you can easily melt snow into water while you're at your campsite or filter/purify water from a freshwater source. For hot chocolate, milk or fruit punch, it's best to take powdered mixes that are lighter, easier to carry and not susceptible to freezing.
What if you want to raise a toast and have a glass of cheer? Avoid packing beer (which will freeze at approximately 28℉ or -2℃) and opt for liquor like whiskey or vodka, which has a much lower freezing point (-178℉ or -117℃) and can be easily transported in a smaller container. It's possible to take a bottle of wine or champagne, which freezes at a moderately level (22℉ or -5℃), but you'd be wise to carry it in an insulated bottle jacket.
Clothing
This is a crucial area to consider when you're packing for your winter camping trip. When you're hiking, you'll want to dress in synthetic or wool layers that will keep you warm but keep you from overheating or getting sweaty. If your base layers get damp from sweat (avoid cotton and other absorbent materials), you'll run the risk of getting chilled and never get warm, and that can lead to mild to severe hypothermia. Instead, you'll want to dress in layers that wick moisture away from the skin and help it evaporate with the heat of your body or via the open air.
Start with a synthetic or wool base layer t-shirt, underwear, and possibly tights/leggings that hug your skin, followed by insulating layers like a long-sleeve shirt, a fleece jacket/vest and/or a thin, lightweight puffy jacket, Hall says. For your exterior layer, she recommends a waterproof breathable shell jacket and pair of windproof (or possibly waterproof) pants, preferably with zippers for additional venting. Warm gloves, a lightweight warm hat, a neck gaiter and sunglasses are other items to consider.
You'll definitely need to carry extra clothing in your pack, both so you can bundle up at night when the temperature drops and also for the 'just-in-case' moments that occur while hiking. The additional items should include a thickly insulated down puffy jacket, two extra pairs of (wool or synthetic) socks, an extra pair of gloves (possibly thin, 'liner' gloves to wear around the campsite), an extra winter-weight knit hat and possibly slip-on crampon devices sections of iced-over stretches of trail that haven't yet fully melted.
Hall suggests tucking anything you don't want to freeze or get too cold at night into your sleeping bag with you – as well as a water bottle full of hot water for added comfort.
"Your sleeping bag is your go-to place for warmth and if you're not warm in there, you're in trouble," she says. "You'll always want to pack more layers than you'll think you'll need during the night. If you're cold at night, it's important to have another layer to put on."
The adventure begins
The thing about early spring camping trips is that, because of the ever-changing weather, you'll never have the same experience twice. You might show up at your trailhead only to find it snowed about 3 feet (or 1 meter) the night before, making it much slower going than you expected. Or you might find out that portions of the trail is still covered with a slick, iced-over surface caused by a cycle of afternoon thawing and evening freezing. Lastly, a change in the weather once you start your journey – high winds, blowing snow or freezing rain – can wreak havoc on your ability to continue to your destination, not to mention your emotional well-being.
As with winter camping, the key to a successful early spring adventure is having the right gear, appropriate apparel and, perhaps most importantly, the right frame of mind, says Jack Sinclair, an avid camping enthusiast from Gresham, Oregon.
You have to be nimble and open to adapt, Sinclair says. For example, there's a good chance you'll have to add or take off a layer of clothing during your hike to your campsite. You might come across a fallen tree, washed-out bridge or snow drifts that will force you to get off trail, even if temporarily.
"Remember, it's an adventure and anything goes," he says. "Whatever happens, just find a way to get through it or to alter what you're doing and move on. You just have to enjoy it all, no matter what happens."
Staying on top of your fueling and hydrating routine and keeping your body from becoming overheated or chilled are crucially important, Sinclair says. He recommends taking metered breaks will allow for necessary gear and apparel adjustments and eating snacks that will keep your blood sugar at appropriate levels.
"It's the same thing you would do in the summertime, but the risk of becoming dehydrated or disoriented from a lack of fueling are arguably much higher in the spring," Sinclair says. "I always keep an energy bar or a snack in one of my front pockets so I can eat on the go and I always have a water bottle handy."
When settling on a specific location for your campsite, you'll want to make sure you avoid natural hazards. Setting up your tent adjacent to big rocks, a hill or a grove of trees can serve as a natural wind block, but be careful not to place your tent until big trees still loaded with snow. Try to set up your tent so it faces the direction the sun rises in the morning because that will allow your tent to warm up quicker.
Before you set up your camping site, make sure it's suitable for the number of tents in your camping party. You'll want to find an area of level ground that's at least as big as the surface area of your tents, so try to avoid slopes or ridges that drop off.
To optimize your comfort while sleeping, take two different types of portable sleeping pads – one closed-cell foam pad to insulate you from the cold ground below you and also an inflatable sleeping pad to provide comfort against your body. You can get away with just one, but the second layer will go a long way in helping you maintain your warmth.
"Springtime camping should be an enjoyable experience, not an epic battle in which you're on the verge of freezing the entire time you're out there," Hall says. "But if you do a little bit of planning, take the right gear, dress in layers and keep yourself well-nourished, you'll enjoy it just like you enjoy summertime camping."
One last bit of advice: Once you get to your campsite location and get set up, pick a location that will serve as your loo about 200 feet from your campsite and away from bodies of water. When using the bathroom in the wild, be sure to follow Leave No Trace principles for camping and outdoor recreation, which includes packing out or burying human waste and toilet paper.
It's important to make sure everyone in your camping group understands the challenges, variables and risks involved with an early spring camping trip. A planning meeting will help get everyone organized, allow everyone to look at maps, reduce the possibility of forgetting things and get necessary questions and concerns addressed. Will you need camping permits from a land agency? How are you getting to the trailhead? What will your safety plan look like? What will you do if you encounter an unexpected spring snowstorm?
In order to have the best experience, everyone in the group should understand and share common expectations, safety protocols and goals for enjoyment, says Mark Ruscin, an experienced backpacker from Springfield, Illinois.
"Things will go differently than you expect, but that's okay as long as everyone is unified in how to proceed," he says. "The goal is to have fun, enjoy the adventure of it all and live to tell stories about it to your friends and co-workers once you get back."
Brian is an award-winning journalist, photographer and podcaster who has written for Runner's World, The Times, Outside, Men's Journal, Trail Runner, Triathlete and Red Bulletin. He's also the author of several books, including Kicksology: The Hype, Science, Culture and Cool of Running Shoes. He lives in Boulder, Colorado, and loves to run, bike, hike, camp, ski and climb mountains. He has wear-tested more than 1,500 pairs of running shoes, completed four Ironman triathlons, as well as numerous marathons and ultra-distance running races.
All the latest inspiration, tips and guides to help you plan your next Advnture!
Thank you for signing up to Advnture. You will receive a verification email shortly.
There was a problem. Please refresh the page and try again.