What's the difference between four-season and winter outdoor gear?
We delve into whether there's a difference between four-season and winter gear, and look at some of the extreme gear designed for the harshest conditions on Earth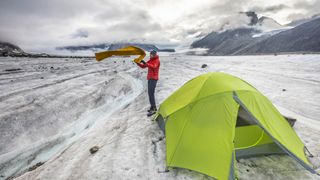 (Image credit: Getty)
What's the difference between 4-season and winter kit? Is there even a difference? Last time we checked, there were only four seasons. So, how come you can get 5-season sleeping bags and tents? What is this magical fifth season and how do we get there? Through a magical wardrobe perhaps, or a tear in the Space-Time Continuum?
Don't worry. As you may be suspecting, unlike with Breaking Bad or The Wire, there is no fifth season. A '5-season' tag on a sleeping bag or a tent is just a way for the manufacturer to stress that they are designed for conditions beyond mere 'winter'. This is a label reserved only for those bits of kit that perform beyond the norm.
If you're the kind of person who takes, or plans to take, their winter adventures to the next level, you need kit that will keep you safe. What do we mean by 'next level'? Here, we're talking about Arctic temperatures and the kind of climate you encounter high on the mountains in the Greater Ranges. Even the best hiking boots and the finest 4-season sleeping bags won't cut the mustard in these conditions. So, you could say this mythical fifth season exists high on the likes of Everest, K2 and Kanchenjunga, et al, or deep into the Arctic or Antarctica.
To delve into the difference between 4-season and winter – or 4+ or 5 season – gear, we take a look at three types of kit that are used on the winter trails but also get even more technical on challenging expeditions, starting with the sleeping bag.
Sleeping bags
The best sleeping bags come in a variety of shapes and sizes, with a season rating depending on how warm they are. You can get sleeping bags rated for 1, 2, 3 and 4 seasons, though 2- and 3-season sleeping bags are the most common for everyday campers.
1-season sleeping bags are very lightweight and are typically only suitable for mild summer nights or for indoor use, such as at hostels and mountain huts. The best 2-season sleeping bags will keep you warm in late spring through to early fall and are a popular choice for car camping trips in the summer months. Lighter and more packable than more insulated bags, they're a good choice for summer wild camping too.
A 3-season sleeping bag is a good all-rounder, usually light enough for backpacking use, yet warm enough to keep you cozy until the mercury starts to hover around the freezing mark. When this happens you need a winter sleeping bag, which is also known as a 4-season sleeping bag. These bags are heftier and much warmer, usually with a comfort rating well into the minuses.
However, there's a class of sleeping bag beyond these and they can go by different names. Expedition sleeping bags, 4+-season bags, 5-season bags, whatever you want to call them, these high performing bags are typically filled with down insulation and are used in the coldest climates. They can be rated to as low as -50 degrees C.
Their high technical specifications and use of expensive down means that an expedition sleeping bag is likely to come at an eye-watering price. To give a few examples, The North Face's Inferno has a temperature rating of -40 degrees C and costs $800 (£810), while Mountain Equipment's expedition range has bags costing between £700 and £800 (€850 and €1,000) and the warmest option has a temperature rating of -45 degrees C.
Slightly cheaper, the Snugpak Softie Expansion 5 is a good value bag that's rated for expedition use. It has a comfort rating of -15oC, yet it'll only set you back a fraction of the cost compared to the options above. However, if we were on the slopes of Everest in a blizzard, we'd probably want something warmer.
Tents
Like sleeping bags, the best camping tents are often given a season rating. Lightweight 1-season tents are quite rare, as they're not very versatile. Next up, 2-season tents don't fare too much better as they're usually unable to stand up to a significant downpour. The most bought type of tent is a 3-season tent, as they give you the versatility to camp pretty much all year round and in most weather conditions.
Of course, if you were heading for a wild camp above the snow line, you'd need a 4-season tent, designed to keep you protected and to stay upright in challenging winter conditions. It's not so much that 4-season tents are much warmer than 3-season tents, as the insulation in a tent is the air between you and the tent's fabric, but they will typically contain fewer mesh panels and have a lower profile in order to maintain their structural integrity.
However, there's a difference between a winter camp above the snow line where you can expect just about sub-zero temperatures and the kind of camping you might experience on a Himalayan expedition. Once again, enter the '5-season' tent!
Often called expedition tents, 5-season tents are built to withstand extreme conditions, often featuring doubled walls to protect against falling snow, virtually indestructible poles and geodesic architecture that helps them stay grounded in storm force winds.
As with sleeping bags, expedition tents are unsurprisingly expensive. Terra Nova Equipment's Expedition Terra Firma will set the buyer back a cool £1,800. Anyone who keeps up to date with the goings on around Everest will have noticed Columbia-owned Mountain Hardwear's logo on many of the tents at base and advanced camps. Models like the ACI 3 Tent and the Trango 4 Tent cost $1,000 and $1,200 respectively, while their huge Space Station basecamp dome tent is priced at a mere $7,500.
Boots
For the uninitiated, winter boots can be a bit of a minefield. Why would you choose a 3-4 season boot over a 4 season boot? What's all this about B1, B2 and B3? Well, just as with sleeping bags and tents, there are winter options and then there are expedition options that are that much warmer, high performing and, ultimately, pricier.
The best winter hiking boots are generally those that have a rigid sole in order to take crampons, allowing you safely negotiate icy terrain. However, many brands also make winter boots that are, in essence, heavily insulated versions of standard hiking boots, without crampon compatibility. These offer warmth for backcountry hikes but are very much designed for walking below the snow line rather than mountaineering above it.
Boots that can take crampons fall into three categories: B1s, B2s and B3s. First, there are B1s, often referred to as 3-4 season boots. These are designed to fit a step-in C1 crampon and are suited to glacier trekking and easy winter hill walking. The advantage of a B1 boot over more technical B2s and B3s is that they are generally more flexible and there comfortable for general hiking. Some of the best B1 boots include the Meindl Air Revolution 4.1 and the Lowa Cevedale Evo GTX.
A B2 boot, often called a 4-season boot, is a standard mountaineering boot, with a stiff sole and a heel welt for taking a semi-automatic C2 crampon. These kinds of boots are great for winter walking, mountaineering and alpine adventures. Some of the most popular B2 boots include the Scarpa Manta Tech GTX, La Sportiva Trango Tower GTX and Aku Tengu GTX. B2 boots will cover most types of mountaineering adventure and are relatively comfortable to hike in.
However, once you enter the realms of ice climbing or high-altitude mountaineering, even the B2 is out of its depth. For these kinds of adventures, a B3 boot is all that will do. They feature a full-length shank, are too rigid for comfortable walking below the white stuff and have welts on both the heel and the toe to take a fully automatic C3 crampon. This creates a very secure attachment between crampon and boots, which is essential when you're hanging off a vertical ice pitch with only your ice axes and front points.
A B3 boot that's designed for high-altitude mountaineering will also be very well insulated to protect your feet from the bitter cold. Once again, the high performance and technology behind these kinds of products means hefty price tags. La Sportiva's Olympus Mons Cube S will put a €980 hole in your wallet, while Scarpa's Phantom 8000 HDs cost £880.
All the latest inspiration, tips and guides to help you plan your next Advnture!
Alex is a freelance adventure writer and mountain leader with an insatiable passion for the mountains. A Cumbrian born and bred, his native English Lake District has a special place in his heart, though he is at least equally happy in North Wales, the Scottish Highlands or the European Alps. Through his hiking, mountaineering, climbing and trail running adventures, Alex aims to inspire others to get outdoors. He is currently President of the London Mountaineering Club, training to become a winter mountain leader, looking to finally finish bagging all the Wainwright fells of the Lake District and hoping to scale more Alpine 4000ers when circumstances allow. Find out more at www.alexfoxfield.com