Best women's running shorts and skorts: for tackling trails and singletrack paths
Whether you're doing parkrun or training for an ultra, a good pair of shorts is essential – we've picked out the best women's running shorts available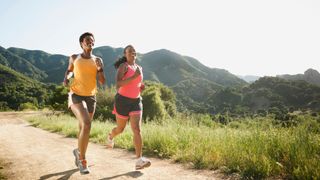 (Image credit: Getty)
The warmer weather of spring and summer means runners can peel off a few layers and swap tights and leggings for shorts. Every sports brand sells what they claim to be the best women's running shorts, however, so where to start when the choice is vast?
The first decision is whether you prefer short shorts or longer shorts. It might be that you like greater coverage on your legs, or perhaps you enjoy the feeling of freedom and movement when wearing shorter shorts.
A new trend in recent years is for skorts. These are female shorts that have an overlay of a skirt. Many women like the more flattering look thanks to the extra coverage over their butts and thighs.
In a similar way, double layer shorts are on the increase for both men and women. These comprise a tight under-short with a looser fit short on top.
After putting them through their paces on many miles of singletracks and off-road trails, we have picked out the best women's trail running shorts and skorts available today. (If you need help deciding, check out our feature on running shorts versus running skorts.) Combined with the best sports bra for running, the best women's trail running shoes, and the best trail running socks, any of the options below has the capacity to seriously enhance the comfort of your time on the trails.
The best women's running shorts and skorts: our top picks
The best women's running shorts overall: Salomon Women's Sense shorts
Salomon Sense shorts
Lightweight shorts for regular runners with a useful waistband for carrying kit
Specifications
Length:
Short (Inseam 9cm/3.5in)
Sizes available:
XS to XL
Weight (of test shorts):
87g / 3oz
Colors:
Black / Clematis blue / Wine tasting / Autumn blaze
Reasons to buy
+
Lightweight
+
Breathable
+
Good range of pockets
The lightweight Salomon Sense shorts provide comfort thanks to a four-way stretch outer with engineered Aerotech mesh that is breathable. A soft liner short expels moisture, dries quickly and naturally reduces odor. The in-seam is 3.5 inches (9cm), which is fairly short. The shorts have reflective details and plenty of features, including a zipped back pocket and a 360° elastic waistband with four mesh pockets for stashing snacks, keys, hydration or even emergency kit. Salomon say these have been tested and approved with a 250ml soft flask, lightweight wind jacket, smartphone and two gels, but you'd need to make sure the shorts are quite tight fitting to carry all that – on test, anything more than a couple of gels and a phone made the shorts jiggle around a lot. The Sense shorts seem expensive, but we found these shorts easy to like and easy to wear, which means regular runners should get their money's worth.
The bottom line? They ain't cheap, but the Salomon Sense's well-thought-out design and outstanding comfort makes them the best women's running shorts out there by some margin.
Best women's running shorts for eco-credentials
Adidas Terrex Parley Agravic All-Around Shorts
Lightweight shorts with eco-friendly credentials
Specifications
Sizes available:
XS to XL
Weight (of test shorts):
102g / 3.6oz
Colors:
Black / White / Acid mint & black / Black and solar gold
Reasons to buy
+
Lightweight
+
Eco-friendly
+
Nice features
Reasons to avoid
-
Potential for chafing
-
Relatively expensive
These shorts – made with 100% recycled polyester plain weave fabric sourced from reclaimed plastic waste in collaboration with Parley for the Oceans – have a relaxed cut to allow for unrestricted movement. The lightweight 'Aeroready' fabric absorbs moisture and there is an inner brief made of a mesh fabric.
This is a well-featured pair of shorts, and other details include a zippered pocket on back waist and side mesh pockets, as well as waistband loops at the rear for holding running poles or stashing a lightweight jacket. On test we found these shorts really easy to wear, thanks to the lovely lightweight fabric. There is a potential for chafing if you are prone to this because the inners are briefs and not longer shorts – in this way, this product is more like a traditional athletics short.
On the downside, these shorts are rather baggy and this isn't too flattering - if looks matter then you might want to consider going down a size or choosing a less voluminous short. The price is middle of the road for the products on test and it seems a little high for what you get. Sometimes you pay extra for certain brands. However, there are a good range of features and sometimes it is better to pay more for a product with good eco-credentials.
Best trail running skort
CimAlp Aiguines F trail running skirt
A running skirt that offers technical fabrics and a feminine look
Specifications
Weight (of test shorts):
132g / 4.6oz
Reasons to buy
+
Lightweight
+
Breathable
+
Feminine look
Reasons to avoid
-
Sizes are small
-
Overly short skirt
-
Pocket sizing not very useful
Running skirts are increasingly popular and this one combines a technical fabric with flattering looks. The Aiguines skirt has built-in shorts and is made from a lightweight fabric, called Cimaflex technology, which is stretchy, breathable and wicks moisture. It also features flatlock seams for comfort. There are two small open-topped pockets at the side of the legs of the shorts, as well as three more open-topped pockets in the waistband, plus a rear pocket, which is zipped. The sizing is small and the brand suggests you go up one size (which begs the question, why don't they just sort out their sizing?). The mesh inner shorts are highly breathable and comfortable, and the outer skirt is made of a light and floaty fabric that is both easy to run in and offers a flattering look. The only issue with the skirt is that it is very short at the back – even if you have a neat bottom, the skirt hardly covers it, so you might need to go up yet another size. The sizing of the skort is definitely smaller than you would expect.
Most comfortable women's running shorts
Rockay Hybrid 2-in-1 shorts
A lightweight short that looks good and is part of an eco-friendly program
Specifications
Sizes available:
XS to XL
Weight (of test shorts):
114g / 4oz
Reasons to buy
+
Nice colorway
+
Lightweight
+
Eco-friendly
Reasons to avoid
-
Pricey
-
No color choice
-
No zipped pocket
Rockay has partnered with ReSea Project, and a percentage of all apparel purchased goes towards cleaning up the ocean. This means that every pair of these shorts purchased amounts to the removal of 357g (38 bottles) of plastic rubbish from the world's waterways. The shorts are also made from 100% recycled polyester (outer short) and 80% recycled polyester, 20% elastane (inner short) – so their eco creds are excellent. They're relatively short, with the in-seam on the women's Rockay Hybrids measuring 12.7cm. Features include breathable perforated fabric with polygiene anti-odor technology, a drawcord waistband and reflective logos. There is a side thigh pocket on the inner brief for carrying a phone or keys – but it has no zip, which is a shame. On test we found them comfortable and easy to move in. The waistband is quite wide and therefore very comfortable against the skin. The price tag is pretty high, but these are well-designed and thoughtful shorts, and they are planet friendly. They also have a highly reassuring two-year guarantee.
Best budget women's running shorts
Kalenji Kiprun Women's Athletic Shorts
Brightly colored and lightweight shorts at a budget price
Specifications
Sizes available:
14–16 (UK)
Weight (of test shorts):
113g / 4oz
Colors:
Fluo blood orange / Navy blue
Reasons to buy
+
Good price
+
Lightweight
+
Bright
These budget-friendly lightweight women's shorts have built-in briefs to offer good freedom of movement as well as decent support. The design includes high-cut sides so you can easily stride out while running. The fabric wicks away perspiration so the shorts are quick drying in hot conditions. There are two pockets at the front and a drawcord at the waist. The bright orange fabric and contrasting navy waistband makes these an attractive pair of shorts, and the unmissable color also offers good visibility when you're out running on lanes or roads. There are extra reflective details at the front of the shorts, too, although not at the rear. While there are open-top pockets in the front waistband, which are great for carrying gels, there is no zippered pocket storage.
Kalenji Kiprun 2-in-1 running shorts with build-in tight shorts
Two-in-one shorts for comfortable running, available at a value price
Specifications
Weight (of test shorts):
197g / 7oz
Colors:
Navy blue/ Lavender blue / Black / Navy blue & fuchsia / navy blue & whale grey
Reasons to buy
+
Simple
+
Comfortable
+
Price
+
Size range
Reasons to avoid
-
Non-standard sizes
-
Heavier fabric
A very reasonably priced pair of running shorts, with built-in longer-leg under-shorts for greater thigh coverage, the Kiprun 2-in-1s give good freedom of movement and they are easy to wear. The lighter fabric of the outer shorts makes them a good choice for warmer weather.
The 2-in-1 design of the Kiprun is popular for runners because the inner shorts reduce potential thigh chafing and also give support. The inner shorts are longer, for those who want more coverage on the legs, while the outer short is looser and offers good cover if you are not keen on wearing stretch shorts on their own.
These are heavier than the other shorts on test, however, and so this could be a consideration, depending on the weather/conditions, and whether you are training or taking part in a race. These shorts have one back zip pocket (for phone), and one front pocket for keys. In short - excuse the pun - the Kiprun have a few minor failings but are still among the best women's running shorts out there for buyers on a budget.
Most stylish women's running skort
Flanci running skort and ultra shorts
A funky alternative to run-of-the-mill running shorts and skorts
Specifications
Length/Style:
38cm / 15.5in Skort
Sizes available:
XXS to XXL
Weight (of test shorts):
238g / 8.4oz
Colors:
A multitude of colors and designs
Reasons to buy
+
Amazing colors
+
Flattering designs
+
Good price
Reasons to avoid
-
Not everyone like a high waist
Skorts are becoming very popular with female runners – and Flanci offer a range of bright and fun options. These fantastic skorts are made of 75% polyester and 25% spandex, a combination fabric that makes them squat-proof and sweat-wicking, and bestows them with 360-degree stretch and a rating of UPF50+ for sun protection. From a base in the UK, they are sold in a wide variety of bright and attractive colors and designs (from squiggles and tartan to unicorns and purple flames) that will see you really standing out from the running crowd. The inside leg of the in-built under short is 19cm/7.5in, while the skirt length is 38cm/15.5in.
The skirts typically have a high waistband, with a rear zipped pocket large enough to take a standard-size iPhone and keys. There is also a thigh pocket on the leg of the shorts that is big enough for larger phones. A removable internal tie string on the waistband is useful if you find the skort slips down a bit, and the design includes flat-lock seams for maximum comfort and to limit chafing.
These skorts give great coverage of the thighs and the double layer also offers good support form the under short, complimented by a flattering over-layer. The skorts and shorts stay in place well when running. Many women prefer a higher waist for better tummy coverage, but if you don't like a high waist, you might find the skorts a bit annoying. There's nothing on the market that looks like Flanci skorts and shorts, and you will either love or hate them, but we think they're full of character, excellent value and very good quality.
Tips for buying the best women's trail-running shorts and skorts
There's a multitude of options out there when it comes to picking the best women's running shorts. For women there are certain specific considerations we would suggest taking into account before making a purchase.
Long or short of it
Check the in-seam measurement to make sure you buy shorts that offer more or less thigh coverage, depending on your preference. If you prefer to have less flesh on view, a longer short will be a better choice. In addition, longer under-shorts will help to prevent inner thigh chafing.
Remember, though, that leg length needs to be taken into account, too. People with longer legs will find the shorts finish higher up their leg.
Inside story
These days, most of the best women's running shorts are designed with an inner pant or short. When buying, think about whether you want the inner short to be like pants or briefs, or to be a longer short supplying more coverage, and potentially more support (depending on the design).
Freedom to move
For extra comfort when running, look out for stretch fabrics and side split seams. You really don't want to feel like your stride is inhibited, nor for the shorts to be rubbing against your skin.
What's a skort?
Skorts are a shorts-and-skirt combination, and they are becoming increasingly popular with women. They provide the comfort and support of a tight-fitting under short, with the added benefit of a more flattering outer skirt. Skorts are also a more feminine alternative to shorts, if this is something you prefer.
The small details
It can be useful to have pockets for carrying items such as keys, phone and gels. Check the size of the pockets before buying and if you need a secure pocket, choose one that is zipped to rule out the risk of losing your keys or phone mid run.
Other features to look for are reflective logos for greater visibility on dark morning and evenings.
Green dream
Some brands are now partnering with eco programs or using recycled fabrics, including material made from reclaimed plastic waste. These provide a great choice for runners who care about the environment.
It's just a name
As with the best women's trail running shoes and other running kit, just because the brand is well known, it doesn't mean the shorts will be your best choice. Some brands that are less iconic can be a lot cheaper, and the quality of the garment can be as good or even better. The bottom line? When looking for the best women's running shorts for you, prioritize comfort, fit and features over a big brand name.
All the latest inspiration, tips and guides to help you plan your next Advnture!
Fiona Russell is a widely published adventure journalist and blogger, who is better known as Fiona Outdoors. She is based in Scotland and is an all-round outdoors enthusiast with favourite activities including trail running, mountain walking, mountain biking, road cycling, triathlon and skiing, both downhill and back country. Her target for 2021 is to finish the final nine summits in her first round of all 282 Munros, the Scottish mountains of more than 3,000ft high. Aside from being outdoors, Fiona's biggest aim is to inspire others to enjoy the great outdoors, especially through her writing. She is also rarely seen without a running skort! Find out more at Fiona Outdoors.