Running shorts vs tights: what to wear?
We weigh in on running shorts vs tights for comfort and performance in all conditions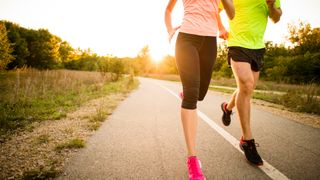 (Image credit: Martin Novak / Gerry Images)
Runners certainly aren't known for shying away from cold and rain, and they've developed somewhat of a reputation for tearing down trail in all weather flaunting bare legs in skimpy running shorts. That was until, however, the advent of pretty good running leggings, also known as tights, which provide far more coverage for those days when it's more hail than trail. So which is best for you? We tackle the question of running shorts vs tights to help you choose the best option for your bottom half.
Though it might seem like a simple matter of personal preference, you'll be surprised by how much your choice of run wear for your bottom half impact your run, for better or worse.
Running shorts vs tights: what's the difference?
Running shorts are the smallest piece of clothing you can wear on your bottom half (without violating any decency laws). They come in a variety of styles and lengths, from snug-fitting booty and compression shorts to looser-fitting v-notch shorts, to super-airy split shorts. A good pair of running shorts will have storage, support and protection where it's required.
The warmest and most conservative choice, leggings cover the leg from hip to ankle, and range from barely-there to compression tights. The best ones will have some storage secreted away within that sleek look.
Running shorts vs tights: weight
Depending on materials and design, running shorts can be extremely lightweight, especially if they're of the skimpier variety. Longer shorts have more material, so they'll weight a little more, especially when wet.
Tights have more material still, so even an ultralight pair is likely to add a couple of ounces, but without zips, they still tend to err on the light side. Certain fabrics used for tights, however, such as bamboo viscose, do get heavy when wet.
Running shorts vs tights: temperature regulation
Running is all about not overheating, but of course, sometimes we run in really cold temperatures.
Shorts allow lots of air to circulate freely around your legs, keeping you far cooler than leggings. Overheating can ruin a workout or run, so even on a cold day, it can sometimes be a good gamble to choose shorts, especially if the day's workout is bound to get your heart-rate up and keep it there. You can always add a long pair of compression socks for a bit of extra warmth.
Overheating in full-length leggings halfway through a run can feel suffocating, so you might save them for cooler days, or seek a pair with breathable mesh panels to help you cool off.
Running shorts vs tights: weather protection
Needless to say, running shorts don't offer any protection against windchill, rain, hail and snow when running in winter. When temperatures dip down into the arctic range, or there is frost or snow in the forecast, it's a wise time to reach for leggings.
Cold weather isn't the only reason why you might opt for tights, however. Also consider protection from the sun – if our nearest star is beaming ultraviolet rays at the part of the planet where you're going running, and there's no clouds in the sky or tree cover on the route, you might need to shield those milky white legs, and light leggings will offer the best SPF (UV protection).
Running shorts vs tights: breathability
Because shorts barely cover anything up, they honestly provide maximum breathability, though of course you want to seek a pair made using moisture wicking fabric with mesh panels.
While a lot of exertion in full-length tights can lead to you getting overly warm, depending on the weather and workout, you can play with coverage and ventilation by purchasing leggings in moisture-wicking materials, and with zippered ankles or shorter in-seams that allow some skin to peek through. For more ventilation, look for airy mesh inserted in strategic spots to allow some welcome air flow.
Running shorts vs tights: chafing
Chafing is to the runner as blisters are to the hiker, and it's something you want to avoid at all costs. In truth, a good pair of running shorts should be loose enough that they won't chafe, however if your thighs naturally rub together, as most thighs do, then you'll want to take care wearing shorts for long runs or rainy runs.
Tights, so long as they're made from a soft, smooth fabric, will provide a good barrier between the skin of your thighs, however you'll want to find a pair with flat seams or even a seamless construction to make sure they don't rub elsewhere.
Running shorts vs tights: range of motion
If you're tackling tough terrain and leaping over boulders, running shorts allow maximum range of motion, making them a great race-day choice.
Tights made with lots of stretch shouldn't impact your range of motion either, but take care with compression tights or a any that run a little on the small side.
Running shorts vs tights: versatility
A good pair of running shorts also work for hot weather hiking, gym workouts and lounging at camp, though you might not wear them around town owing to their skimpiness.
Tights also work for hiking and gym workouts, and you might even wear them for yoga, pilates, or heading out for coffee.
Swipe to scroll horizontally
Running shorts vs tights

| Header Cell - Column 0 | Running shorts | Running tights |
| --- | --- | --- |
| Weight | Super lightweight, especially the skimpier you go | Pretty lightweight |
| Temperature regulation | Keep you plenty cool on hot days, but no warmth in cold weather | Provide some warmth on cold runs, but can cause you to overheat |
| Weather protection | No real protection from wind, rain, hail or strong sun | Some protection from the cold as well as the sun |
| Breathability | Maximum breathability | Less breathable than shorts, so look for ones made with moisture-wicking materials and mesh panels |
| Chafing | You might find more thigh chafing in wet weather wearing shorts | Less thigh chafing, but look for seamless tights or flat seams |
| Range of motion | Maximum range of motion | Compression tights can be a little prohibitive |
| Versatility | Good for running, hiking, lounging at camp and gym workouts | Good for running, hiking, gym workouts, yoga, pilates and hanging out around town |
Running shorts vs tights: the verdict
Regardless of length, all good running bottoms should be comfortable, moisture-wicking and non-chafing, designed to allow – and certainly not impede – good running motion.
Unless you live somewhere with a consistently warm or cold temperature year-round, it's ideal to have both available in your running kit drawer. Then have the luxury (or the conundrum) of making a choice each time you go for a run.
Looking for an in-between? Try capris! Longer than shorts but shorter than leggings, capris are tights that hit somewhere between your knee and mid-calf. They offer more coverage and warmth than shorts, without a full-on commitment to full-length, making them a good choice for running between seasons. And while your calves may not be the sweatiest part of your body, having the lower leg open to the air goes a surprisingly long way toward keeping you cool when your workout – or the day – heats up. Capris are a less suffocating option than full-length tights if you tend to 'run hot' (meaning you quickly overheat even on cold days). Available in a variety of weights, materials, and more or less compression, capris are probably the most versatile choice in your drawer.
All the latest inspiration, tips and guides to help you plan your next Advnture!
A seasoned writer and editor in the endurance sport space, Casey has worked with top athletes and coaches on training books and memoirs. A regular contributor to Women's Running, she especially loves writing about running and hiking adventures, which have taken her on trails around the world – including to the Indian Himalaya, the DMZ in Korea and the Tibetan Plateau. She lives in Colorado, where she's slowly chipping away at hiking all the state's '14er' mountains.