The best dry bag: for keeping your critical kit dry during expeditions on land and water
Protect your key kit from the elements with the best dry bags out there, including backpack liners, kitbags, map cases and swim floats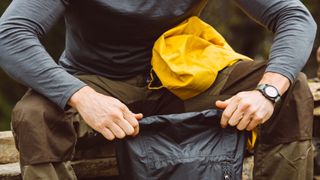 (Image credit: Matador)
The best dry bag or, indeed, multiple drybags will keep water off your crucial kit, whether you're backpacking, camping, canoeing, cycling or just heading to your local co-working space. After all, no one likes wet gear. So just as your best waterproof jacket keeps you dry in challenging conditions, make sure you've got dry bags for your essential kit and tech too.
Put simply, dry bags keep your gear dry in wet environments. Unlike most hiking backpacks, dry bags are completely water-impermeable, so they keep moisture out. Because the inside is sealed from the elements, they also keep out dust.
The best dry bags come in many shapes and sizes. Some are backpacks with comfortable carry harnesses, some look like plastic bags sized for a phone or passport, and some pack like a duffel and are tough enough to be lashed to a raft, a yak, or the roof of your vehicle.
The best dry bags have so many uses, they are high among our hiking essentials. Choose a tough and tear-resistant dry bag if it will be exposed to abrasion, like on the deck of a boat or the roof of a jeep. Lightweight dry bags are ideal for keeping sleeping bags and clothing compressed and dry inside a backpack.
Some dry bags are designed to compress contents with the help of a purge panel or valve. Use compression dry bags for gear like down jackets. By compressing gear, you can save a significant amount of space.
And, don't forget, the best dry bags can also be packed with wet gear to keep moisture inside, and equipment, clothing, and other gear outside the bag from getting wet. Many experienced campers use older dry bags to stow away their trash and carry it out, ensuring that they leave no trace.
How we test the best dry bags
Why you can trust Advnture Our expert reviewers spend hours testing and comparing products and services so you can choose the best for you. Find out more about how we test.
Our reviewers test dry bags in wet environments ranging from rainy day walks to kayaking and canoe trips, and wild swimming escapades. Features (including size, closure methods, material thickness, reliability) are tested against claims made by the brand, and we assess factors such as value for money, durability and functionality.
The best large dry bags you can buy
Mustang Highwater 60L Gear Hauler
A double-chambered waterproof kit carrier that allows you to transport both and dry gear
Specifications
Size/Volume:
60L / 3661 cu in
Material:
PVC-free ripstop fabric
Closure method:
Roll-top and clip + drawstring and straps
Reasons to buy
+
Good harness
+
Split chamber for wet/dry gear
+
Rugged construction
With 40 liters of roll-top secured dry storage and another 20 liters of overflow space held closed with a drawstring and straps, Mustang Survival's Highwater 60L lets you divide wet and dirty kit from clean and dry gear, which is super handy in so many scenarios, whether you're camping, canoeing or just hanging out at the beach or riverside.
The bag is surprisingly light, considering its PVC-free ripstop body is rugged enough to be tossed and chucked around. It's particularly good for portaging, with shoulder straps meaning you can cart it hands-free, while also carrying a canoe/kayak. Four grab handles make it easy to swing on-board or overhead into a roof box. The harness isn't removable, but while empty the bag is still low profile.
Matador Freerain Waterproof 24L Backpack
A super nifty, collapsible dry bag with a harness
Specifications
Size/Volume:
24L / 1465 cu in
Material:
Waterproof 30D Cordura ripstop nylon
Colors:
Charcoal Grey and Coyote
Closure method:
Roll-top and clip
other available sizes:
32L ($90/£85; 290g/10.2oz)
Reasons to buy
+
Packs down into tiny roll-top storage bag
+
Easy to carry when not in use
+
Lightweight
+
Harness keeps hands free
Reasons to avoid
-
Harness not as robust as some others
-
Only capable of holding limited weight
The magic of this fully featured waterproof backpack is that it packs down to the size of a soda can. Its packability makes it a superb dry bag for travel, or backpacking / bikepacking, or even just for keeping in the car for a quick run into the grocery store anytime. Made from 30D Cordura ripstop nylon, the seam-sealed bag has a silky-feeling silicone waterproof coating, so it's easy to stuff into a small space when empty. A Hypalon rolltop closure on the 24-liter main compartment keeps rain and river water at bay, whether you're walking or canoeing.

You can also use this clever little dry bag as a summit pack or daypack for a side trip from the main trail, or during a little peak-bagging mission. The side pockets hold 1L water bottles. Contoured, mesh shoulder straps make this waterproof pack comfortable to carry, so long as you don't over pack it. The dry bag backpack comes in a detachable rolltop storage bag, which you can use to safely stash other stuff (phone, wallet, keys) when it's not storing the pack.
Sea to Summit Ultra-Sil Dry Bag 35L
A lightweight dry bag that can weatherproof your favourite backpack
Specifications
Other available sizes:
20L ($29/£16), 13L ($25/£14), 8L ($23/£13), 4L ($20/£11), 2L ($17/£10), 1L (£9) Material:** Siliconised Cordura nylon
Colours:
Orange/Charcoal/Blue/Green
Closure method:
Roll-top and clip
Reasons to buy
+
Slippery fabric makes it easy to fill and slide into backpacks
+
Buckle replaceable via removable stainless steel pin
+
Waterproof to 2,000mm waterhead
Reasons to avoid
-
No bottom tab or loop to hold when emptying the bag out
At only 65g/2.2oz, this fully waterproof 35L dry bag can swallow up most of the gear you'd want to keep dry even on a multi-day trip for almost no weight penalty, and there's a lot to be said for using this dry bag as a liner in those packs you already own, rather than buying a heavier, less versatile waterproof backpack. The wide mouth and super-slippery fabric makes it simple to fill, even with bulky clothing, and easy to slide in and out of a backpack, and if you're a lightweight bivvy or hammock camper the Ultra-Sil bag can take day clothing and other items to double your weatherproof storage at night. The light fabric is almost translucent, allowing you to see the rough outlines and basic colours of the contents, which is often enough to locate gear inside. Sea to Summit also offer this bag in multiple other sizes, including 20L, 13L, 8L, 4L and 2L, all of which come in very handy for separating the overall contents of your backpack (which you can colour code if you're so minded, so you can quickly and easily locate items).
The best small dry bags you can buy
Aquapac Trailproof Waterproof Waist Pack
A two-compartment waistpack that keeps items dry and to hand
Specifications
Colours:
Acid green/cool blue/matt black
Closure method:
Roll-over and clip, plus Velcro, splashproof zip pocket, padded waistbelt
Reasons to buy
+
Comfortable and adjustable padded waist-belt
+
Water-resistant zipped front pocket
+
Interior key clip and zipped change pocket
Reasons to avoid
-
Closure needs exact rolling and clipping down to be reliable
A generous 3L pack on a comfortable padded waistbelt keeps essentials to hand when on the water, making this good for SUPers, sailors, kayakers and canoeists. On land, it's ideal for day walks and wet-weather cycling – where I found it really useful. The belt clip is easy to slacken off, even with gloved or cold fingers, allowing the Aquapac Trailproof to be worn at the back and swivelled round to the front when its contents are needed. Kayakers might find it awkward worn as a waistpack in a tight cockpit, but the snap-buckle belt can be used to fasten the Aquapac Trailproof to tie-ons. The colours are bright but make it hard to lose or forget the waistpack if you've taken it off at a beach or trailside stop. As always if full immersion seems likely double-bagging any vulnerable items is still advised – especially as the zip is not rated for underwater/submersible use, but rather for spray, splashing and water jets (official rating IPX6), so it could fail if you took a heavy tumble from a SUP board, or went for a dramatic swim while kayaking or canoeing. Aquapac's long manufacturing experience shows in small details – a key clip, inner zipped pouch and the heft of the fabric and fittings.
Osprey Ultralight Dry Sack 6L
Feather light dry sacks in a range of colours and sizes
Specifications
Other available sizes:
1.5L ($9.50/£8), 3L ($13/£10), 12L ($20/£14), 20L ($22.50/£16), 30L ($25/£18)
Material:
40D Nylon Ripstop
Colours:
Poppy orange/electric lime/tropic teal
Closure method:
Roll-over and clip
Reasons to buy
+
Very light, adding almost no weight to kit carried
+
D-ring and bottom loop tab
Reasons to avoid
-
Clip-buckle closure is small and slippery for wet or gloved hands
A system of light dry bags in a variety of sizes and colours are key to protecting and organising kit inside larger bags. Osprey's Ultralights range from 1.5L through 3L, 6L, 12L, 20L and 30L sizes, and come in three different – and bright – colours. This makes it easy to select a handful of different sizes for varied storage needs and colour code them for easy identification of their contents. The 6L, which we have been testing, is an optimum-sized general-purpose bag, small enough to keep in a pocket but big enough to take several small items at one time. A D-ring at the mouth and a tab at the base are useful design features, the fabric is thin enough to make out the bag's contents without opening or emptying it, and the rectangular block shape makes for efficient packing.
The best medium-sized dry bags you can buy
Lomo 20L Dry Bag Rucksack
A rugged bag with simple shoulder straps that's a good pick as a bombproof daypack
Specifications
Size/Volume:
25 x 50cm/10 x 20ins; 20L
Closure/straps/tie-downs:
Roll-top and clip, shoulder straps, D-rings
Reasons to buy
+
Simple design
+
Sturdy construction
+
Adjustable shoulder straps with reflective strips
+
Four tie-down D-rings
Reasons to avoid
-
Lack of a chest strap means the shoulder straps sit awkwardly on some physiques
-
Not quite as comfortable on your back as a good quality standard backpack
This tough waterproof bag keeps things commendably simple with its basic cylindrical shape, roll-over closure and easily adjustable, padded shoulder straps. It's the kind of sling-on day sack that comes into its own for a multi-activity thrown-together day, that might see you cycling a few miles, hiking and scrambling a stretch of coastline, sea swimming and – invariably – getting rained on. Twenty litres is a useful volume for keeping a day's needs protected, and it's a pretty handy size for filling with week's worth of vegetables from a street market. Though not a replacement backpack it's still comfortable enough for long carries (especially if you slip an oblong of old sleeping mat in as padding against the spine). The Lomo's shape, D-rings for tie-downs and tough construction makes it ideal for on-water activities like sailing, kayaking or canoeing, as long as enough room is left when packing to roll the closure over the necessary three times to keep water out (and, obviously, don't wear it like a backpack while you're on the water – either over or under a PFD – just treat it as a standard dry bag).
Guy Cotten Waterproof Bag No 1
A rugged waterproof kitbag for on-water adventuring
Specifications
Material:
Ferrasac polyester and PVC coating
Colours:
Black/yellow/orange/anis
Closure method:
Roll-top and clip, kit-bag strap/handle
Reasons to buy
+
Rugged fabric and heavy welded seams
+
Adjustable kitbag strap/handle
Reasons to avoid
-
Deep cylinder shape makes it awkward to get to items packed at the bottom
-
Shoulder strap might be short for some people and for bandolier style carrying
French company Guy Cotten make heavyduty wet-weather gear used by trawlermen, forestry workers and other outdoor professionals who appreciate simplicity and dependability. The No 1 bag, second smallest in a range of six kit bag sizes, is practical as a tough grab-bag that can be filled quickly, slung over a shoulder and taken into the wettest conditions. Though, like all manufacturers, the company counsels against full immersion of their dry bags, I used a larger sized Guy Cotten bag exposed on the rear deck of a sea kayak for three months without leaks. The adjustable strap can be shortened into a carry handle, used to hang the bag clear of the ground or deck, or for the stylish, lengthened for the on-the-shoulder look of a clipper sailor heading for shore leave.
Mountain Warehouse PVC Dry Bag 10L
Medium weight dry bag in a useful size for carrying essentials
Specifications
Other sizes available:
5L
Closure method:
Roll-over and clip
Reasons to buy
+
Transparent panel down full length of bag so contents visible
+
Tough medium weight fabric
Reasons to avoid
-
Lack of a D-ring or other tie-on point
A tough, practical bag ideally sized for carrying essential kit when on the move in wet conditions. Used in the cockpit of a kayak or as a waterproof 'extras' bag tucked under the straps of a backpack this dry bag's volume can swallow up warm layers, snacks and other sundries. Fold a map right and hold it against the clear window with a fleece or something bulky and you've waterproofed your OS Explorer. That full length transparent panel and the generous width of the bag's cylinder shape make it easy to locate a pair of gloves, say, and extract them without having to empty out all the bag's contents – a real plus out on the water or while scrambling around in the rain or snow. The lack of a tie-down D-ring or two is a disadvantage in water sports but there's a slot in the roll-over buckle fastening which is just wide enough to take a lanyard. Also available in 5L size.
The best map case dry bag
Weatherproofing for paper maps when orienteering, on-water navigating or compass wayfinding
Specifications
Size/Volume:
43.2 x 29.7cm/17 x 11.7in ** Also available:** medium map case (UK only £12), small tablet case (US$46/£27) and large tablet case (US$55/£32)
Material:
TPU (thermoplastic polyurethane)
Colours:
Transparent, black binding and straps
Closure method:
Roll-top and clip, adjustable shoulder-strap and 4 D-rings
Reasons to buy
+
A3 size allows for a large area of a map to be read without refolding
+
Freeze and UV damage proof
+
Adjustable shoulder strap and 4 tie-down D-rings
Reasons to avoid
-
Zip lock can be hard to open/close fully with cold or wet fingers
Designed for easy map and chart reading in the outdoors in all weathers, this transparent, flat waterproof case is made from flexible TPU but still has weight and enough stiffness to ease map handling when out in the highest winds. Whether orienteering, routefinding, navigating on water or backing up a GPS unit, the map case's A3 size means that a 1:25 000 map can be folded to show an area some 4km by 6km on each side, giving a lot of walking, sailing or paddling representation before having to refold the map or chart. Chinagraph pencils (grease pens) can be used to write route notes directly onto the plastic and wiped off later. It's critical to fully close the ziplock for full weatherproofing, though I used a map case tied across the front deck of a seakayak for many weeks in big seas without any leaks. I kept biscuits in it, too, as paddle snacks. For those who no longer use paper maps, also available from Overboard are tablet cases, in small and large sizes, which are protected by a '100% Waterproof Slide Seal System' rated at IP68, which means they can be submerged to depths of 6 metres (19ft) for an hour without water coming in.
The best dry bag for wild swimming
Swim Secure Window Dry Bag 28L
A wild-swimming tow float with usefully sized dry bag capacity
Specifications
RRP:
£30 (UK) / with see-through window £32 (UK)
Other available sizes:
20L (£28), 35L (£33), 50L (£37)
Colours:
Orange / Pink with black straps
Closure method:
Roll-over and clip
Reasons to buy
+
Enough volume to carry a useful amount of kit.
+
High vis colour to increase visibility to water traffic
+
Acts as back-up flotation device
+
Phone pocket with transparent window
Reasons to avoid
-
Needs careful attention to closure system to avoid any chance of water leaking in
A multi-function swimming tow float that gives high visibility when in the water, the Swim Secure provides 18kg of positive buoyancy for 'hugging'n'resting' and is a 28-litre dry bag to boot. That's big enough to take a micro-fleece towel, warm layers, light shoes and any other kit that might be needed when swimming and walking down and up a river or heading point to point on a coastal dip. A pocket with a touchscreen-usable transparent window in the bag's outer skin can take a large phone or GPS unit, though I'd double-bag anything precious or hydrophobic stored here. Avoiding user error when closing any dry bag is key, and you need to pay extra attention with a swim bag; don't overfill the bag, roll the mouth down to the marked area before clipping it closed and, finally, inflate the front and back air chambers. The short leash attached to a clip-on waistband positions the bag where it doesn't interfere with freestyle or breaststroke leg action while swimming, and even when filled, there's negligible drag.
What to look for when buying the best dry bags
The best dry bag for you depends on your intended use. Some of the best dry bags take on the function of a daypack, while others are smaller, designed for individual items. A dry bag's applications are many and varied. Which one – or ones – you choose will depend on whether you're off thru-hiking, canoeing, ghyll scrambling (that's climbing up waterfalls for the uninitiated) in the English Lake District, camping or bikepacking.
Of course, if you're heading out on a canoe or kayak, dry bags are indispensable. You will probably want a large pack that you can just shove everything in for peace of mind.
When considering how to plan a backpacking adventure, think ahead to when and how dry bags will come in handy. Think about the climate your planned adventures are going to take place in. For example, if you're off to bag Scotland's Munros, the odds are that at some point you're going to experience driech (that's Scottish for 'a bit wet') conditions. You may want to get small dry bags for items like your phone, your spare hat and gloves and your spare socks. If you're wild camping, the last thing you want is a wet sleeping bag. Compression dry bags are your friend.
Dry bags are also an essential item on any camping checklist. As well as giving you peace of mind when it comes to your crucial items, old dry bags are great for sealing away your trash and carrying it out.
Size
The bigger the better holds true for choosing the best dry bags as performance can be compromised and waterproof closures rendered useless if bags are overfilled. This is where knowing exactly how to use a dry bag is so useful. Remember, too, that a proportion of a bag's length is taken up by the minimum of three folds needed for roll-over and clip systems.
Overfilled bags, especially if they hold hard items, can abrade and hole just with the movement and rubbing of a day's walking. Ideally carry a range of sizes in lightweight bags, as this also helps with sorting and ordering contents whether in a backpack, cycle panniers or a kayak's compartments.
Materials
As always there's a trade off between lightweight and heavy-tough. Sea to Summit's Ultra-Sil and Ospreys Ultralight bags are almost weightless but need to be protected inside other bags, whilst heavier materials like the PVC/PES in Guy Cotton's kit bag, and Aquapac's heavy vinyl are stand-alone rugged – though they still need to be kept from the kind of concentrated abrasive rubbing in one spot (bike racks, kayak tie-down points and even backpack straps can all do the damage) that can erode a hole through the toughest fabrics in a very short time.
I used a range of dry bags over a thousand miles of seakayaking on a circumnavigation of Ireland; waterproofing failures were few but where they occurred were either holes worn between bags and hard surfaces, or – too often – user error. Coated fabrics will ultimately delaminate (although it usually it takes years if bags are looked after properly), which will compromise their waterproofing; those bags can be down-cycled into less critical but still useful roles like carrying sooty cooking pots or as rubbish carry-out bags.
Features
Simplicity is key to functionality in the best dry bags. The simpler a bag is the more reliable it will prove in the field. Nonetheless, well thought out design features meeting real needs can be welcome. The shape or proportions of a bag can make it easier to pack, more efficient to fit in with other storage items or useful for holding particular items.
Any dry bag that might be stored loose will benefit from D-rings to tie it on with, especially if you're on water, (in an allied point; if you're putting heavy items – phones, GPSs and other electrics, particularly – in dry bags for canoeing or other water activities, add something light and bulky to give positive buoyancy; your smartphone waterproofed but at the bottom of a river is always a 'D'oh!' moment). Handles and shoulder harnesses for dry bags should be basic; if you need more carry comfort for longer hikes then you're really in the market for a fully purposed waterproof backpack.
Versatility
Somewhat counter intuitively, the more basic a dry bag's design the greater its versatility. The main function of keeping out water can be re-imagined to meet numerous other situations. So, waterproof also means snow-proof and protection from sand and dirt.
Keeping water out also means keeping water in; sometimes its easier to put your wet gear – rather than your dry gear – into a dry bag to separate the two, and many a backpacker has used a medium sized dry bag as a bucket to collect water – it works fine but doesn't do the seams much good on lightweight bags. In extremis adventurers have used air-filled dry bags to get themselves and kit across rivers – though the Swim Secure bag is so much the safer and better option – and the largest bags can be sacrificed and turned into a basic waterproof jacket with a neck and two arm holes if that's your only option in a survival scenario.
A 10L bag filled with soft clothing makes a good pillow. Chose a rucksack liner in bright orange and you've got a large inflatable signal which stands out against snow, vegetation, sand and water. A dry bag with some cushioning inside can become an insulated sit-mat, though you'll wear them out quickly if you make a habit of it. Thinking up uses for dry bags is one of those games that can keep you occupied around a campfire at night, and so is a use for dry bags in itself.
Price/value
If a dry bag ensures you have a cosy sleeping bag at the end of a day's hiking in cascading rain or saves your phone from an end-of-life dunking, then it would be cheap at nearly any price, right? But the best dry bags are some of the best value kit when it comes to results for costs. Such good value that most experienced adventurers collect tens of them in all sizes and take their benefits for granted.
With a background in seakayaking, sailing, long bike rides and multiday hikes in wet weather and winter conditions, I've just counted up 23 different sizes, brands and designs of dry bag scattered and stored around my small live-aboard sailing boat, and I'm sure I could do with a few more. When it comes down to essential kit, dry bags aren't sexy or full of technical wizardry. Instead they're just good at protecting the more expensive, fragile and technical stuff that gets taken into the outdoors, and that's enough to make them close to indispensible.
All the latest inspiration, tips and guides to help you plan your next Advnture!
Vermont-based writer, photographer and adventurer, Berne reports on hiking, biking, skiing, overlanding, travel, climbing and kayaking for category-leading publications in the U.S., Europe and beyond. In the field, she's been asked to deliver a herd of llamas to a Bolivian mountaintop corral, had first fat-biking descents in Alaska, helped establish East Greenland's first sport climbing and biked the length of Jordan. She's worked to help brands clean up their materials and manufacturing, and has had guns pulled on her in at least three continents.
All the latest inspiration, tips and guides to help you plan your next Advnture!
Thank you for signing up to Advnture. You will receive a verification email shortly.
There was a problem. Please refresh the page and try again.