Women in trail running: why do far fewer women take part in races than men?
There is a big gender disparity out there in trail running races, at least in terms of participation in organised events. But is the gap closing?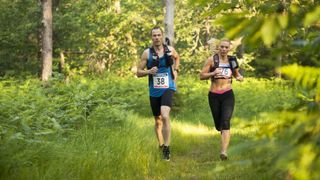 (Image credit: Getty)
Take a quick look around at the starting line of a typical road-running race and you will notice that women make up more than half the participants – around 60 percent in the United States, as a matter of fact, according to research conducted by and reports released by Running USA.
But flip your focus to the start line at a trail-running race and the number of women competitors takes a dramatic nosedive: right down to 35 percent, according to stats gathered by Ultrarunning.
This disparity in participation can be easily traced to a history of equity problems in the trail racing space. There is an upside, however – things are beginning to change for women in trail running.
Origins and trailblazers
Back in the early 2000s, it wasn't all that unusual to see two distances in ultra races: one for men, and a shorter version for women. The World Mountain Running Association's World Mountain Running Trophy Race, for instance, didn't afford women the chance to compete at the same distance as men until as late as 2017. Up until that year, the same race fielded teams of six men, but only four women.
Prize money has also lagged behind for women, as has sponsorship, making it difficult for women to justify the expenses involved in training for these big events.
Top female trail runners, however, weren't having it. Elite athletes such as Stephanie Case and Nikki Kimball became vocal advocates for change, using their hard-earned status in the running press and across social media to help push the needle.
Today on the trails
While there are still far fewer female trail runners out there than males (at least in terms of participation in events), women are beginning to catch up and level the playing field. A look around the starting lines now shows a deep field of elite women, any one of whom could take the top prize on a given day.
In addition, race directors are paying attention and making meaningful changes for a more inclusive sport.
The Western States 100-Mile Endurance Run in California, for example, now has a female president on the board in Diana Fitzpatrick. A highly experienced trail runner herself, with a string of stellar results to her name, Fitzpatrick has been instrumental in passing a pregnancy deferral policy at the race, and has also helped clear the path for transgender athletes to compete.
And other races are following suit. The Antelope Island 50k now pays female podium finishers more than their male counterparts to help close the gender pay gap. The Ouray 100-Mile Run has done similar. There are now entire trail races dedicated to women runners too, such as the Title Nine Mermaid Trail Run series and Spokane's Happy Girls Run.
Results do the talking
If you ever start to question whether the efforts are paying off, look no farther than a few of the recent overall winners at the longest of ultra races – women like Maggie Guterl (who won Big's Backyard Ultra outright in 2019, as the last competitor still standing in the race with no end, after 250 miles and 60 hours of running) and Courtney Dauwalter (who won the Moab 240 race outright in 2017, beating the first man by more than 10 hours, and who outlasted all the men in the American section of Big's Backyard Ultra in 2020) have served notice, besting the entire field in the most grueling of events.
In the UK too, runners such as Jasmin Paris – who won the epically challenging 268-mile (429km) Spine Race along the Pennine Way outright in the winter of 2019, setting a new course record, while expressing milk for her baby at aid stations along the way – are proving that women are more than a match for the men on the toughest trails.
All the latest inspiration, tips and guides to help you plan your next Advnture!
A US-based freelancer with a penchant for dirt, when she's not writing about the outdoors, Amanda is in it, running trails with two-legged and four-legged friends alike. You can find her work in the Washington Post, Outside magazine, REI's Co-op blog and many other outlets. Visit Amanda's website to read some of her latest pieces.