3 reasons not to download beta updates to your Garmin watch (and 3 reasons why you should)
Garmin's beta program gives you the opportunity to try new features first, but it's not for everyone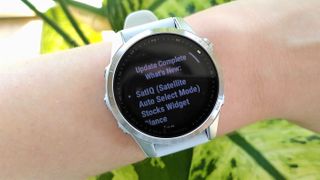 (Image credit: Future)
Garmin has a public beta testing program that lets you receive software updates early, so you can try them out ahead of their general release and report back on any bugs or problems you discover. The opportunity to get new tools first is a tempting one, but should you do it? There are arguments both for and against joining any testing program, so it's worth taking your time and weighing up the pros and cons before deciding whether to sign up.
If you decide that you'd like to take part, there are two different programs to be aware of. The public beta program is for software that's nearly ready for general release, and it's easy to join (see our instructions for details). Once you've signed up, beta updates will be sent to your watch automatically when it syncs with Garmin Connect on your phone.
If you're feeling adventurous, the alpha testing program lets you try software at an earlier stage of development. But should you do it? Here are three reasons why you might want to wait for the finished software instead...
There will be bugs!
The purpose of any public testing program is to identify bugs so they can be fixed before the software rolls out to all users, so not everything is going to work perfectly. Garmin's beta software releases are very close to being finished, and you're less likely to encounter any significant issues than if you install alpha releases, but you'll still come across quirks now and then.
For example, several owners have noticed a problem with their predictions since installing a recent beta update, with predicted race paces slowing down to a gentle stroll. One active Reddit user shared a screengrab of the Garmin Connect app showing a predicted marathon time of over 10 hours, which would be the expected walking page for a person aged 70 or older according to a 2011 joint study between the University of Cambridge and the Human Motion Institute in Munich. Oops.
You might lose stats
I've not come across any instances of important data being lost, or workouts going walkabout, but there's a chance that some stats may become inaccessible if you're unlucky. For example, after installing the latest beta update on my Garmin Fenix 7, I found that I'd lost the HRV and training readiness baselines collected by the Garmin Forerunner 955 over the previous few weeks. It's not a big deal, but may be mildly annoying if you've been waiting for that data to be come available.
With a previous update, some watch owners found that their race time predictions had vanished from their devices. The stats were still there; they just weren't displayed. Thanks to these users' reports, Garmin was able to fix the glitch in good time.
It takes time
Following the introduction of Garmin's new beta testing program earlier this year, all you have to do is sign up once online, and all future beta releases will be sent to your phone automatically when it syncs with Garmin Connect. That's great, but it's worth bearing in mind that if you come across any bugs, you'll need to spend a little time reporting them on Garmin's beta program forums so they can be investigated and fixed.
If you decide you want to try out Garmin's alpha updates, you'll need to download them in ZIP format and install them manually, which is even more time consuming. You're more likely to come across problems too, so you'll likely spend longer reporting bugs too.
For a lot of people, however, those drawbacks won't be dealbreakers, and there are plenty of good reasons to take part in Garmin's testing programs. Here are our top three:
You'll get new features first
One of the main reasons to join any public beta program is the opportunity to try new features early. Right now Garmin is bringing many new features and tools introduced with devices like the Forerunner 955 (such as training readiness and HRV status) to older watches, and by joining the testing program you can get a head start tinkering with them.
You can make the software better
The second big reason to sign up for the beta program is to help make Garmin's software better for the benefit of other users. You might come across a bug that nobody else found, and if you report it, Garmin's developers can work on a fix so it doesn't affect other people further down the road.
You can share your thoughts
Garmin's beta testing forums don't just give you a space to report issues you've encountered, they also let you share your experiences with other users, and vote on their posts if you've experienced the same thing.
Best GPS watch: find your ideal training tool for hiking, running, and more
All the latest inspiration, tips and guides to help you plan your next Advnture!
Cat is the editor of Advnture, She's been a journalist for 13 years, and was fitness and wellbeing editor on TechRadar before joining the Advnture team in 2022. She's a UK Athletics qualified run leader, and in her spare time enjoys nothing more than lacing up her shoes and hitting the roads and trails (the muddier, the better).