After 20 years of skiing, I finally learned how to ski
I finally bit the bullet and took a ski lesson after 20 years on the slopes, and I only wish I'd done it sooner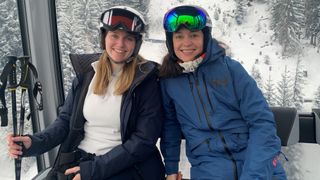 (Image credit: Julia Clarke)
I'm on a snowy piste in Verbier, Switzerland and I look like a pro. I've got brand new ski goggles on, the latest women's ski jacket and ski pants courtesy of Helly Hansen, and a nice big fat pair of women's specific all-mountain skis underfoot. But it's all an illusion. My ski instructor and Helly Hansen ambassador Warren Smith is about to see that, despite nearly 20 years of skiing, I'm pretty mediocre at it.
I'm at the top of a blue run, which is nothing crazy compared to other slopes I've skied over the years, even in today's high of -7°C and strong winds. Warren has me ski down towards him so I do what I've always done – brace myself and make the best turns I can without trashing myself.
I know my downhill technique is nowhere near the expert level you might expect for someone who lived in Vail for 12 years, but it's got me through some super fun trees, backcountry chutes and loads of black diamond runs. I started at the practically geriatric age of 23 (for comparison, Lindsey Vonn started aged two) so I figure this is as good as I'm going to get. While I'm hoping to come out of this trip a better skier, I'd be lying if I said I wasn't also hoping Warren would say I'm actually a much better skier than I think I am. Then we'd link arms and off we'd go into the powder stash, giggling all the way. No such luck.
Warren, like me, is from the UK, but he's now a resident of Verbier where he owns the Warren Smith Ski Academy. I'd looked him up before this trip and, upon seeing that he's known as a celebrity ski instructor, I might have rolled my eyes a little.
I'll admit, I tend to carry some presumptions about great skiers because it's such an expensive sport and therefore you have to be pretty privileged to get into it in the first place. That doesn't mean you can't also be an amazing skier and make a difference in the world, mind you, but I tend to be more drawn towards stories of athletes who break the mold, defy expectations, who went from rags to riches. You know what I'm talking about, like Maradona or LeBron.
Well it turns out that I need to check my assumptions at the lift ticket office, because no sooner are we on the first gondola ride of the day than Warren tells us how he got into skiing. He grew up in the south of England, but there was no popping off over the Channel for ski holidays in France during his childhood. Instead, he grew up on a council estate and whiled away his youth riding his BMX at the local skate park. Someone made the decision to sell off the land and the park was demolished to make way for a dry ski slope. Warren and his friends were affronted, so they retaliated the only way they knew how – by vandalizing the dry ski slope. Six months later, they got caught, and for their community service, they were tasked with cleaning up the mess they'd made. One thing led to another, and Warren started skiing on the slope, aged 13, which he notes is still considered kind of a late start in the world of skiing. Today, 40 years later, he's considered one of Britain's leading professional free skiers and an Internationally Qualified Performance Coach and Instructor.
Straight away after watching me fumbling my way through a few turns, he clocks three things that I've always known deep down I'm not very good at, but haven't been able to articulate – my left turn is super weak, my skis end up too far apart on my turns, and my pole plant is terrible. I've had one ski lesson in my entire life up until now – at Mad River Glen in 2004 – and I've had a lot of time to build up some bad habits since then, so I doubt that there's much that we can really accomplish in just four days.
However, he has me stop at the top of a run, stand parallel to the slope with my skis practically touching, and plant my pole downhill and a little behind me, where I ultimately want to end my turn. Next he tells me to lean almost all of my weight into my pole and shift my downhill hip all the way over my feet which makes me think I'm going to fall, but as soon as I started to turn my uphill shoulder downhill, my skis complete the small, tight turn that I've never been able to master. After a couple more, I finish with my skis still together and not in a wedge shape. I gasp and also kind of want to cry with happiness. I keep practicing these turns, and within about 20 minutes, I'm basically a completely different skier.
Up until now, I've been doing it all wrong. Making my turns from my feet and knees, my skis would come really far apart during and just after the turn, and honestly I had no idea what my poles are for so I just sort of vaguely mimicked what other skiers look like they're doing with theirs. Over the years, I was surrounded by some pretty good skiers, so I basically figured out a scrappy technique where I could just about hang in most situations, and get myself down most slopes, but it wasn't ever pretty. If I had to name it I'd call it "survival skiing."
I won't lie and say that today's skiing was pretty, because that would be an overstatement. In fact, after all these years of skiing I felt a bit foolish stopping before each turn, planting my pole, executing the slow lean, finishing the turn at a full stop. But it's already looking better.
And how it looks isn't really the point, is it? Almost instantly I could feel like I was putting about 80% less physical effort into making turns. I skied for five hours today, having not touched a slope in nine months, my quads weren't shredded. That's going to reduce my injury risk (which is ideal, since I tore my ACL skiing seven years ago) and let me ski for longer, and more often.
We quickly progress to examining not just my skiing technique, but the tactics of skiing. How you know where to initiate a turn has always been a total mystery to me, so I just try to make sure I get it done before a plunge over the edge of the run. But one powdery mogul run with Warren and I'm starting to get a feel for when to turn.
Oh, and I forgot to mention this, but soon, we're skiing in near whiteout conditions. The last time I attempted these conditions, I got about half way down the first section of the run, then side stepped my way back up the hill, hopped on the chairlift and downloaded. To be fair, my skiing partner had frostbite on his cheek, but it's fair to say that I've never been confident in low visibility conditions. But that's because I was a crappy skier dressed up to look like an intermediate skier. Today, feeling more confident in my technique and understanding tactics, I'm actually not bothered that I'm on a completely unfamiliar mountain and can't see anything. Because I can ski now.
Skiing for me has always just been a bit of fun, like something I love but could live without. But I finally realized today that the better you are at it, the more fun it is. So if you've been getting by on just the techniques you learned a thousand years ago or spend a lot of time (and money) at the lodge waiting for your quads to stop screaming, get yourself a lesson or two. It all came together for me in a single morning, by the time we stopped for lunch – after 20 years of skiing, I finally learned how to ski.
All the latest inspiration, tips and guides to help you plan your next Advnture!
Julia Clarke is a staff writer for Advnture.com and the author of the book Restorative Yoga for Beginners. She loves to explore mountains on foot, bike, skis and belay and then recover on the the yoga mat. Julia graduated with a degree in journalism in 2004 and spent eight years working as a radio presenter in Kansas City, Vermont, Boston and New York City before discovering the joys of the Rocky Mountains. She then detoured west to Colorado and enjoyed 11 years teaching yoga in Vail before returning to her hometown of Glasgow, Scotland in 2020 to focus on family and writing.