Does bear spray work on mountain lions?
Does bear spray work on mountain lions? We answer this common wildlife question plus how to choose the right deterrent for big cats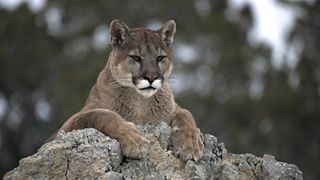 (Image credit: Kevin Schafer)
If you're planning on hiking in cougar country – that's the western US, Florida and Canada if you're in North America – you might have found yourself at your local outdoors store perusing shelves of wildlife deterrent products looking for something specific to big cats and coming up empty handed. Every spray available seems to be specific to bears, but will it work against a hissing, shrieking mama mountain lion that's protecting her cubs, or do you need some feline-specific product to repel these fearsome predators? We take a look at the ins and outs of using bear spray to protect yourself against mountain lions, including choosing the right spray, so you can hike confidently in cougar country.
Does bear spray work on mountain lions?
Though you're highly unlikely to meet a mountain lion on the trail, the mere thought of doing so is probably enough to send shivers down your spine and you'll want to be as prepared as possible. The good news is that, despite its very specific name, a 2008 study on human-wildlife conflicts found bear spray – which contains the irritant capsaicin, an active component of chili peppers – to be effective against all carnivore species, including mountain lions. To be fair, a clinical study might not bestow a whole lot of peace of mind, but there are real-life examples of this tactic working too – in 2015, an Edmonton man successfully warded off two cougars using bear spray.
Why it's called bear spray and not mountain lion spray or wildlife spray isn't entirely clear, although statistically speaking you're more likely to have to deploy it against a bear than you would a mountain lion, since as we already mentioned, mountain lion encounters are extremely rare. However, if you were to come face-to-face with a mountain lion, spraying bear spray at it would probably keep it at a distance until you could get to safety, due to its highly sensitive nose.
So, it's not a bad idea to carry a can of bear spray with you in case you do encounter a cougar on the trail, but obviously if you do have to use it, you want it to be as effective as possible, so it's important to look for the following when choosing a bear spray:
Highest concentration of capsaicin (currently 2%).
Longest range available – more than 25 feet means more distance between you and madam lioness.
Large volume – even though it means a heavier can.
At least four seconds of spray duration.
How to use bear spray on a mountain lion
Bear spray can be an effective tool against advancing mountain lions, but it's certainly not a preventative tool. You can't spray it on your hiking boots and backpack and think that will keep the lions at bay as you venture down the trail; it won't deter a lion unlesr you're spraying it at the lion, and you'll essentially just be pepper spraying yourself before you set off. Using bear spray against a mountain lion would be an emergency measure only, deterring them from coming any closer if they've decided to approach you.
What makes this tricky is that mountain lions generally exhibit stalking behavior, meaning you don't typically know they're nearby, so just carrying bear spray might not make much difference if they're sneaking down the trail behind you. You'd obviously want to keep your eyes and ears open on the trail for starters. That means no headphones, but it doesn't mean no noise. In fact, hiking with friends and chatting is a great deterrent for mountain lions, since upon hearing you coming they'll most likely slink off into the woods and you'll never even know they were there.
You've also got the fact that, if an extremely athletic and agile large mammal was sprinting towards you, even head on, you'd need nerves of steel, lightning speed reflexes and pretty good aim to deploy the bear spray on time and in the right direction.
However, setting all of that aside for now, let's say that you've come upon a mountain lion on the trail and there's a bit of distance between you and the beast. Obviously you want to start with all the usual cougar deterrent techniques, such as making yourself big, waving your trekking poles around, and not running way, but if it comes down to an aerosol situation, deploying bear spray towards the mountain lion when it's within the requisite range can help deter it. Just remember these tips:
Practice using bear spray somewhere outside before you go hiking.
Always carry a full can of bear spray so that you have maximum amount of protection.
Never carry expired bear spray and always store it somewhere cool and dry when you're not hiking.
Carry your bear spray somewhere you can easily grab hold of it, such as a holster or front pocket.
If you have to use it (and let's hope you never do) use both hands and point it slightly downward in the direction of the mountain lion, spraying the full can.
All the latest inspiration, tips and guides to help you plan your next Advnture!
Julia Clarke is a staff writer for Advnture.com and the author of the book Restorative Yoga for Beginners. She loves to explore mountains on foot, bike, skis and belay and then recover on the the yoga mat. Julia graduated with a degree in journalism in 2004 and spent eight years working as a radio presenter in Kansas City, Vermont, Boston and New York City before discovering the joys of the Rocky Mountains. She then detoured west to Colorado and enjoyed 11 years teaching yoga in Vail before returning to her hometown of Glasgow, Scotland in 2020 to focus on family and writing.