The benefits of hiking with friends
We argue the case for hiking with friends – from problem solving to better picnics – and provide some helpful hints for hiking in groups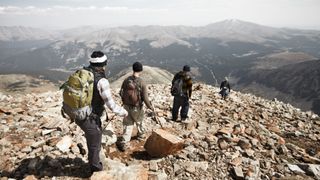 (Image credit: Daniel Milchev)
Is it best to go hiking with friends, or set off alone? For many of us, getting our hiking boots on the trail is all about unplugging and getting away from it all to enjoy some much-needed peace and quiet. Some of hiking's best-known pioneers, from Alfred Wainwright to John Muir, were famous for extolling the merits of hiking alone but on the other hand, hiking safety advice is generally to go out with someone else and hiking can be a fun and healthy way to connect with friends. So do you still get all the benefits of hiking when you go out with friends, or is it better to stay brooding and silent on the trail?
Of course, you trade solitude for socialization when you're hiking with friends, but it can be a terrific adventure to share with others. We've already discussed the advantages of solo backpacking, but in this article, we argue the case for sharing the trail and present six great benefits of hiking with friends, plus tips for hiking with friends and in groups.
6 benefits of hiking with friends
1. It can build stronger friendships
Hiking requires planning and problem solving, which according to the British Journal of Education Psychology is a characteristic of quality relationships. Working together to navigate your route, fix a broken hiking pole or make a game time weather decision is both good for your brain and your friendships.
2. You might get more benefit from hiking with friends
We already know there are myriad benefits to hiking, from the fresh air to the cardiovascular exercise, but according to the CDC, the benefits of exercise might actually increase when you do it with a partner. Hiking with friends is likely to keep you more motivated, make you more adventurous and be more consistent. So not only will you get out there, you'll do so more often and perhaps get further into the wild.
3. Many hands make light work
When you hike alone, you have to carry everything you need, but when you hike with others, you can share some of that load. For example, you only need one of each when it comes to items like a first aid kit, map and compass so you can divide those up between you. With a little extra space in your backpack, you might be able to bring a more exciting picnic to enjoy together too.
4. You'll have more resources at your disposal
Obviously you want to set off on any hike carrying everything you need, but sometimes things don't go as planned. If you run out of water or roll an ankle, it can be life saving to have a friend with an extra water bottle you can share, or a hiking pole you can use as a temporary crutch.
5. It's safer
We've previously written about the potential dangers of hiking and while an ounce of prevention is always worth a pound of cure, things can go wrong. Having a companion that can help you get back on your feet or call for help can save crucial time in dangerous situations, plus if you're chatting and making more noise than a solo hiker, any nearby wildlife is more likely to hear you coming and scarper before you have an unwelcome encounter with a mountain lion or a bear.
6. You'll get better photos
If you don't take pictures, did it even happen? We're kidding, of course, but it can be really nice to get a shot of a spectacular view with you actually in it. Of course, asking a stranger to take a photo of you can be a great way to meet people on the trail, but it is handy when your friends can double as your personal photographer. Plus, if you don't love the idea of carrying a phone or camera on a hike, you can have your friend email you the photos later.
Tips for hiking with friends
If you're convinced of the benefits of hiking with friends, call them up and get out there. However, all this doesn't mean you should clog up the trails in large, noisy groups. You'll still want to observe hiking etiquette on all trails and in particular, follow these guidelines:
Take care of beginners: if your friend is new to hiking, you are responsible for their safety. Communicate and plan with them in advance and make sure they know what to expect and are properly dressed for hiking.
No hiker left behind: If your friend needs to turn back early, for any reason, go with them. Don't ever leave a hiker to return to the trailhead alone while you continue on to the summit.
Don't hike in large groups: some places, like National Parks, will have limits on group sizes that should be observed. In the wilderness, you can often technically hike in any size of group but in the interests of respecting nature and other hikers, try to keep your group size to less than 10 unless it's a very special occasion.
Don't make too much noise: chatting is more than okay on the hiking trail, but try not to make so much noise as to distress local wildlife and disturb other hikers out looking for an escape from the crowds.
Assign a leader: if you are hiking in a small group, assign a leader to stay at the front of the group and set the pace, and someone else to take up the rear. The person at the rear should not be the slowest person in the group, and together you should move at a pace comfortable for the slowest hiker.
In big groups, divide and conquer: if you are hiking in a large group, divide into a fast, slow and perhaps even a medium group, and agree on waypoints along the way where you'll meet back up.
Plan a post hike celebration: if you're going to go hiking with friends, you might as well celebrate your success afterwards. Make a plan to enjoy a post-hike drink or meal to recover and toast your adventure together.
All the latest inspiration, tips and guides to help you plan your next Advnture!
Julia Clarke is a staff writer for Advnture.com and the author of the book Restorative Yoga for Beginners. She loves to explore mountains on foot, bike, skis and belay and then recover on the the yoga mat. Julia graduated with a degree in journalism in 2004 and spent eight years working as a radio presenter in Kansas City, Vermont, Boston and New York City before discovering the joys of the Rocky Mountains. She then detoured west to Colorado and enjoyed 11 years teaching yoga in Vail before returning to her hometown of Glasgow, Scotland in 2020 to focus on family and writing.