Do you need a canicross lead? We explain the canicross basics
A guide to canicross leads, harnesses and belts to ensure you and your dog have fun while doing the trail running activity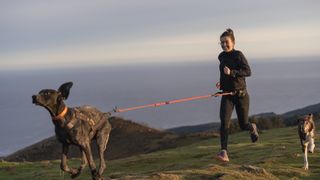 (Image credit: Getty Images)
Canicross is a great sport for runners. It is an extension of trail running for many people and has the benefit of including your dog, or dogs.
The basis are that you go trail running run with your dog or dogs, while attached to them – and the best way to safely run with a dog is to use a specialist canicross lead.
The essential kit for canicross includes a harness for your dog, a belt for you to wear and a bungee line to safely connect you both together.
The aim of the bungee, which is an elasticated line, is to act as a kind of shock absorber between you and your dog.
To start doing canicross, the recommendation is that your dog is fully grown and at least 12 months old. There is no upper age limit as long as your pet is fit and healthy.
Make sure your dog has fun when doing canicross runs and races and build up to participating in the activity. Canicross is great for owner and pet bonding, as well as helping to socialise your dog. It also has fitness benefits for both of you.
Canicross leads and other essential kit
To get started with canicross you need the basic kit, as well as your favourite running clothes and the best trail running shoes. Begin with the harness and check you have the right size. The harness needs to be comfortable for your dog.
There are many different canicross harnesses and leads and different brands might fit different dogs. The best way is to try on different styles to get the right fit.
To ensure the harness fits comfortably, you should be able to fit two fingers around the neck, chest and waist. The wrong harness is one that restricts your dog's breathing, or presses on the chest or digs into the rib cage.
Once you have the right harness, the next step is to buy a canicross belt for you. A strong and secure waist or hip belt allows you to run hands-free and also takes the pull of the dog. It should fit neatly round your waist and have room to expand if you need to wear more clothing layers.
A hip belt with leg straps is recommended for faster runners with dogs that pull with strength This allows the runner's body to stay upright and the pull to work from underneath the butt.
The aim of the elasticated bungee lead is to prevent dog and human being injured or in pain if one of you suddenly stops. The canicross lead with a bungee is meant to absorb shock for both human and the dog. If there is a sudden jolt or a strong pull, the elasticity will absorb this.
The length of the canicross lead is important, too. If it is too long, you may end up tripping over or else your dog might run off or wander too far from you. If it is too short, it could pull on the dog's back and end up with you running into your dog. Experts advise that the ideal length for a canicross lead is two metres at full stretch.
To find out more about the sport or to give it a go, search on-line for your nearest classes or canicross associations, such as Canicross UK.
All the latest inspiration, tips and guides to help you plan your next Advnture!
Fiona Russell is a widely published adventure journalist and blogger, who is better known as Fiona Outdoors. She is based in Scotland and is an all-round outdoors enthusiast with favourite activities including trail running, mountain walking, mountain biking, road cycling, triathlon and skiing, both downhill and back country. Her target for 2021 is to finish the final nine summits in her first round of all 282 Munros, the Scottish mountains of more than 3,000ft high. Aside from being outdoors, Fiona's biggest aim is to inspire others to enjoy the great outdoors, especially through her writing. She is also rarely seen without a running skort! Find out more at Fiona Outdoors.