23 easy Garmin badges to grab this weekend
Want to boost your Garmin Connect profile? Here's a bundle of badges you can earn right now, with very little effort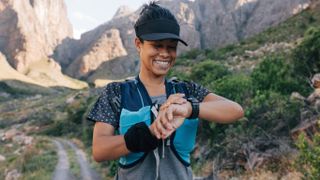 (Image credit: Getty)
Earning Garmin badges can be very satisfying. These virtual awards are just little graphics attached to your profile, but amassing them can be weirdly addictive – particularly once you start comparing them with your connections.
Some badges are a lot easier to earn than others, so I've put together a guide to ones that you can earn in a weekend. You probably already have some of these – perhaps most – but there are probably a couple of low-hanging fruit that you didn't know about too. Some badges can be earned by recording an activity on a certain day, such as Finish Strong and Strong Start (for New Year's Eve and New Year's Day respectively), but here I'm focusing on badges that you can get right now.
Ideally you'll earn badges the honest way, but since they don't actually have any value, I'll also share a few sneaky cheats that'll save you time and effort. Let your conscience (or lack thereof) be your guide.
Garmin Connect badges to grab now
Getting Started - record an activity with your Garmin device
You probably earned this particular badge the day you unpacked your Garmin Watch, and it's much like the 'achievements' some computer games give you for successfully completing the tutorial.
Heating Up - record an activity two days in a row
This badge is exactly what it sounds like, and the activities don't have to be different. Two walks or breath exercises will be fine.
Personal World Record - set a personal record
The easiest way to do this would be to run 5k or go for a bike ride. However long the ride is, it will set the benchmark for your longest ride to date. If you hop on your bike, you'll also get the Saddle Up badge.
Weigh In - record your weight
If you have a Garmin Index smart scale connected to your account then you'll earn this badge the first time you step aboard, but you can also get it by entering your weight manually in Garmin Connect. Open the main menu, expand Health Stats, tap Weight, and tap Add a Weigh-In. Entering your weight also allows the app to calculate your Fitness Age, so there's another reason for doing it.
Well Rested - get eight hours of sleep
It's a tough sacrifice, but getting to bed early or having a little lie-in while wearing your Garmin watch will net you an extra badge. Can't do it? Okay, you can cheat. Open the main menu in Garmin Connect, tap Health Stats and select Sleep. Tap the menu icon at the top right of your previous night's sleep summary and select Edit. Enter how many hours you wish you'd slept and tap save to get the badge. Now change it back, you naughty person.
Photogenic - add a profile photo
Don't stick with that default avatar! Open Garmin Connect and tap your profile icon at the top (just to the right of the menu button). Tap Edit, then tap Change on the profile picture to choose something from your phone, or take a selfie using its camera. It'll earn you a badge, and make it easier for your friends to find you in the future.
Networking - link your account with a social account
Fire up Garmin Connect, open the main menu and tap Connections. Tap Find Friends, then select Facebook (the only social network that's actually available) and tap Connect. Even if you don't have any Garmin-using friends, you'll get the badge for trying.
Beat Yesterday - beat yesterday's step count while hitting your goal
This one will probably be pretty easy, but you can tweak it if you're struggling. Open the main menu in Garmin Connect, expand Activities, tap Steps and tap Edit Goal. You can turn off Auto Goal if you don't want it to change in future.
Milestone - run one mile in a single activity
Speed doesn't matter, so if you're a new runner you can mix running and walking. Just take it at your own pace.
Thanks For Sharing - share an activity
If you're the modest type, you might not have this one yet. Open the summary of your most recent activity on your phone, then tap the share button (which looks like three dots joined together in a < shape). You can now send the details of your workout to a friend or rival via Facebook, WhatsApp, or your social network of choice, earning yourself a nice badge in the process.
Saddle Up - go for a ride
If you've got a bicycle or access to an indoor exercise bike, hop on with your Garmin watch and record an activity. It doesn't have to be long.
Planning Ahead - schedule a training plan on connect.garmin.com
Scheduling a plan is easy, and you don't need to complete it in order to earn this badge. Visit connect.garmin.com in your web browser, click the blue Sign In button at the top right, and enter your username and password. Expand the Training and Planning menu on the left hand side and click Training Plans. Choose one of the options available, click Set Up Plan and follow the on-screen instructions.
Let's Get Physical - create a workout on connect.garmin.com
If you're just trying to get badges as fast as possible, you don't have to actually complete the workout. Go to connect.garmin.com, expand Training and Planning, and select Workouts. Choose a workout type from the drop-down menu, click the Create a Workout button. Save the default options and enjoy your (somewhat ill-gotten) badge.
Garmin Fan - add more than one Garmin device to your account
Got a friend with a Garmin and a kind heart? If they reset their watch and let you pair it with your account, you'll get this badge. Then you can reset it, they can reconnect it to their account, and all their data will sync again via Garmin Connect. Then you can return the favor.
Deep Breathing - record one breathwork activity
You can stop a breathwork activity after a few seconds and it'll still count, though the shortest one doesn't take very long to do properly. If you're feeling really sneaky, you can do it five times and earn the Deep Breathing 2 badge. Feeling bored? Doing it 25 times, 50 times, or 100 times will net you Deep Breathing badges 3, 4, and 5 respectively.
First Gear and Goodbye Old Friend
You can complete this in a few seconds if you don't mind bending the rules. Open the main menu in Garmin Connect, select Gear and tap Add. Leave all the defaults and enter a brand and model, then tap Save. That's your first badge. Now tap Edit next to your newly added piece of gear, scroll down to the bottom and tap Retire. That's your second.
Pathfinder - create a course
Fire up the Garmin Connect app, open the main menu and select Training & Planning. Tap Courses, then Create Course. Choose any type you like, select Automatic, then tap Next. Wait a moment for the app to calculate a route, then tap Done, give it a name, and save it. Enjoy your badge!
I Am the Night - record an activity between 10pm and 4am
Exercising just before bed can disturb your sleep, which isn't good if you're trying to earn the Well Rested badge, Thankfully, the activity recorded for I Am The Night can be a relaxing breathwork exercise, which will also net you the Deep Breathing badge.
Early riser - record an activity between 4am and 7am
This badge is earned in exactly the same way as I Am The Night, and can also be completed using a quick breathwork activity if you don't want to lace up your best road running shoes in the wee hours of the morning.
Commentator - comment on an activity or a challenge
Once you've made a connection or two, tap 'Feed' in Garmin Connect and leave a nice, encouraging comment on one of their recent activities. They get a nice warm glow inside, and you get a shiny badge.
Weekend 5k
You can earn this badge once a month by running 5km between Friday and Sunday. Parkrun is a nice easy way to achieve it on a Saturday morning, and speed doesn't matter.
Double Duty - record two activities in one day
These don't have to be long, and you can combine them with I Am the Night or Early Riser by doing one of them in the wee hours of the morning. A walk and a breathing exercise will do.
All the latest inspiration, tips and guides to help you plan your next Advnture!
Cat is the editor of Advnture, She's been a journalist for 13 years, and was fitness and wellbeing editor on TechRadar before joining the Advnture team in 2022. She's a UK Athletics qualified run leader, and in her spare time enjoys nothing more than lacing up her shoes and hitting the roads and trails (the muddier, the better).