Friday 5: Munro bagging record breaker Donnie Campbell
By Fiona Russell published
The fastest person to complete a non-stop round of Scotland's highest mountains answers our five quick-fire questions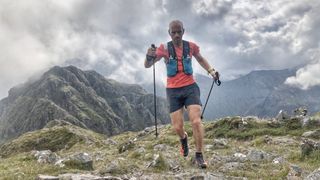 (Image credit: Donnie Campbell)
Donnie Campbell, from Inverness in the Scottish Highlands, completed a record-breaking non-stop Munro round in 31 days, 23 hours last summer. His time was eight days faster than the previous record
He ran and hiked a total of 1422km, as well as cycling and kayaking in between the 282 Scottish mountains with a summit of more than 3000ft
Donnie has a string of other running successes, too. He was the winner of the British Trail Championships in 2016 when he ran a record-breaking time for the 53-mile Highland Fling in 6:51:06.
He has also crossed the Namib desert on foot and run from Glasgow to Skye.
In 2015, Donnie was sixth in the Mont Blanc 80k Skyrunner World Series Race and the winner of the Iznik Ultra Race. In 2018, he took third place in the Mont Blanc 80k.
He is founder of Get Active Running (opens in new tab) and sponsored by Salomon Running, Run4It, Active Root, Suunto, Red Bull and Teko Socks.
If you could only keep one item out of all your outdoor gear, which would you keep and why?
A good pair if trail running shoes, so I could continue to run up and down hills.
What's your pet peeve in the outdoors/adventure space?
The people that seem to do adventures just to post it on social media for likes.
If you could be instantly transported to the start of any adventure, what would it be, where and why?
The Himalayas or Patagonia because they are both at the top of my bucket list of places I want to go to explore.
We're sitting round a campfire. Tell us a funny or entertaining story about one of your adventures
I was meant to be helping with some guiding in Mongolia in January 2018 and I was also due to run 100 miles across Lake Khuvsgul, which is frozen at that time of year.
However, the expedition organiser had booked the wrong flights. We agreed I would fly out on the 19th but he ended up book the flights for the 18th and I did not realise this mistake until he phoned me on the 18th from Schiphol airport in Amsterdam. By this point I'd missed my flights.
So, the moral of the story is if someone else has booked your flights double and triple check the date and time on the ticket!
It was not all bad because I was able to spend the week ski touring the Scottish Munros instead.
Is there any gear that's on your shopping list at the moment?
Not really because I'm sponsored by Salomon so I have all the gear I need at the moment. The next bit of gear I will get will be more running shoes as I go through about a pair every four to six weeks but thankfully Salomon supply me with them.
Fiona Russell is a widely published adventure journalist and blogger, who is better known as Fiona Outdoors. She is based in Scotland and is an all-round outdoors enthusiast with favourite activities including trail running, mountain walking, mountain biking, road cycling, triathlon and skiing, both downhill and back country. Her target for 2021 is to finish the final nine summits in her first round of all 282 Munros, the Scottish mountains of more than 3,000ft high. Aside from being outdoors, Fiona's biggest aim is to inspire others to enjoy the great outdoors, especially through her writing. She is also rarely seen without a running skort! Find out more at Fiona Outdoors (opens in new tab).
All the latest inspiration, tips and guides to help you plan your next Advnture!
Thank you for signing up to Advnture. You will receive a verification email shortly.
There was a problem. Please refresh the page and try again.