Hazard trees: what's your risk of a falling tree as a hiker?
How big of a risk are hazard trees for hikers, and what can you do to avoid falling trees and tree limbs on the trail?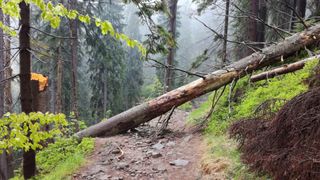 (Image credit: Dominik Staniek / EyeEm)
Hiking alone through a quiet forest pierced only by the muffled thud of your hiking boots hitting the soft trail and the occasional call of a songbird is more often than not a truly peaceful experience. But the sound of a creaking dead tree can instill a bit of trepidation in even the hardiest of hikers. When it comes to hiking hazards, you're probably more often preoccupied with wildlife safety such as what to do if you meet a bear on the trail, or making sure you're dressed in hiking layers to prevent frostbite in cold weather than you are with falling trees. Though it's rare, hikers do occasionally fall foul to hazard trees – trees that are structurally defective making them like to fall. So what's your risk of a falling tree as a hiker? And how can you minimize the risk?
What's your risk of a falling tree as a hiker?
Let's start with the good news – the risk of being hit by a falling tree when you're out on a hike is very small. Like any hiking statistic, we can't say exactly how small since there's no reliable way to know how many people go hiking and how often, and deaths by falling trees aren't categorized by those which happen to hikers versus those which happen to drivers or people at home. But there are instances of hikers being killed by hazard trees.
In 2019, a 28-year-old hiker was killed by a falling redwood in Muir Woods National Monument outside of San Francisco, while in August of 2022, a falling tree limb in Huntsville, AL struck and killed a 22-year-old hiker. There are documented deaths from hazard trees on several major hiking trails across the country including the Pacific Crest Trail, the Colorado trail and the Appalachian Trail. Hazard trees, it seems, are everywhere, and it should come as no surprise that they're very often in the places where you like to hike.
What makes a tree structurally unsound?
Both the California and Alabama hiker deaths occurred as the result of stormy weather, but while it's true that high winds and heavy rain can play a role in felling trees and downing limbs, that doesn't mean that a calm day means you're entirely safe either.
There are other reasons why a tree might become structurally unsound, and not all of them are easy to spot with the naked eye. Diseases and rot can plague trees that appear healthy on the outside – a rotting base was responsible for a tree that killed a German hiker on the PCT back in 2019. A dead tree often falls onto another tree which can compromise the roots of that healthy tree, while heavy rains can make the roots of a healthy tree unsound enough to fell it.
In Colorado you've got the famous pine beetle infestation which devastated 3.3 million acres of forest over 15 years, though is finally in decline. Just as those pests are on the way out, however, the University of Colorado Boulder reports in a rise in trees dying due to increasingly hot and dry weather, which means we'll see more hazard trees in the Rockies as climate change continues. In 2017, the Denver Post reported 1 in 14 trees in the state was dead.
Then of course, you've got the frequent wildfires in places like Colorado and California, the latter of which leads the nation in wildfire tree deaths with 147 million trees lost to fire between 2010 and 2019, according to The Californian.
Fire crews and forest service workers perform routine and emergency work to help clear fallen trees, but they're often stretched thin clearing trees that are blocking pathways after a significant event like a mudslide or wildfire and don't have the resources to remove trees that are dead and standing, or even leaning on another tree. So even a trail that's recently been cleared may be home to a few hazard trees.
How can you protect yourself from hazard trees?
The existence of hazard trees definitely shouldn't keep you off the hiking trail, but it is something to be aware of. Despite the numerous examples of hikers being killed or injured by falling trees, because you're moving when you're hiking, you're already minimizing your risk. In fact, people are more commonly struck by falling trees and branches when they're not moving, such as campers lying in their tent at night. When you're walking, you're more likely to be able to move out of the way of a falling hazard, so know that being alert and on the go already reduces your risk. Awareness is the first line of defense, according to the US Forest Service, who recommend looking up while you are hiking through trees, as well as the following prevention techniques:
Don't stop for a break or a picnic under a leaning tree – find a clearing or wait until you get out of the woods before you stop.
Don't wear headphones when you're hiking so you'll be able to hear any creaking of an unsound tree.
Check the weather forecast and avoid hiking in forested areas during or immediately following stormy weather – that includes high winds, heavy rain, snow and ice.
Avoid hiking in areas with dense patches of dead trees such as burn scars and beetle kill areas – pick a different trail or detour around these areas.
Take note of your GPS coordinates when you encounter hazard trees and report them to local authorities.
All the latest inspiration, tips and guides to help you plan your next Advnture!
Julia Clarke is a staff writer for Advnture.com and the author of the book Restorative Yoga for Beginners. She loves to explore mountains on foot, bike, skis and belay and then recover on the the yoga mat. Julia graduated with a degree in journalism in 2004 and spent eight years working as a radio presenter in Kansas City, Vermont, Boston and New York City before discovering the joys of the Rocky Mountains. She then detoured west to Colorado and enjoyed 11 years teaching yoga in Vail before returning to her hometown of Glasgow, Scotland in 2020 to focus on family and writing.