Wildfire safety: how to prevent – and stay safe from – fires
Our guide to wildfire safety details how to ensure you don't accidentally start a wildfire – and how to keep safe should one occur in your region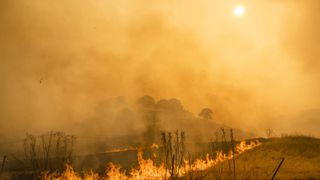 (Image credit: Getty)
Unfortunately, extreme weather events are becoming more and more common. The changes wrought by global warming are having an affect right across the globe, on every continent. Sadly, these events can lead to the destruction of peoples' homes, the obliteration of natural habitats and the deaths of local wildlife and even people.
The outdoor regions we love to explore with our best hiking boots are just as under threat as anywhere. In fact, the more extreme the environment, the more extreme the weather tends to be. In recent years, flooding has reared its head in some of our most cherished national parks, in places like the English Lake District and Italy's Cinque Terre (to name just two).
However, wildfires have been making the news time and time again in recent years. Tree-covered wilderness areas provide almost endless fuel supplies to a burgeoning blaze. Incredibly, every year there are 75,000 wildfires the US alone, destroying in excess of 7 million acres of land (that's 10 times the size of Yosemite National Park). As users of the outdoors, it is important to know how to ensure we don't accidentally seed what could become a devastating wildfire with our actions. It's also wise to be armed with a few basic survival tips, should you find yourself in an affected region.
Wildfire safety: what causes a wildfire?
Most wildfires are naturally occurring, though it's not an overwhelming majority; sadly, humans cause a large percentage of the world's wildfires too. Most naturally occurring fires are ignited by a lightning strike. Much rarer are those started due to rockfalls, volcanic activity or meteorite strikes.
The key difference between a naturally occurring wildfire and one caused by human activity is that the latter are totally preventable. Open fires, camping stoves, cigarettes and vehicle use are some of the main causes, though there are myriad ways that a wildfire can be started by humans. So, here's how you can prevent them…
Wildfire safety: prevention
Firstly, if you ever see an unattended campfire, or a fire that seems to be burning out of control, call the fire service straight away.
Open fires are common causes of wildfires, with trash burning the culprit more often than not. If you burn your trash, you need to do so in line with local regulations. Do not burn trash when its windy and always have a fire extinguisher handy.
If you're a keen camper, you've probably made your fair share of open campfires. Sitting by a roaring fire on your camping chair, telling ghost stories, enjoying a sing song or just kicking back with a beverage or three is all part of the quintessential camping experience. However, it is crucial to put your fire out properly once you are finished with it.
You should have a bucket of water with you for any campfire session. Pour the water over the flames, stir the fire area with a shovel to soak the remaining embers and pour water on it once again. Finally, feel the campfire area with the back of your hand to ensure nothing is still smouldering.
Other wildfires caused by human activity are mostly down to lapses in common sense. This is stating the plainly obvious, but if you're using a camping stove, remember to turn it off. If you're a smoker, dispose of your cigarette responsibly. Never throw cigarette butts or matches on the ground, as both contain the heat potential to create a spark. Used cigarettes launched from a car are often the cause of wildfires. If you see anyone you know do this, it's a good opportunity for you to step up as an educator.
How to stay safe in the case of a wildfire
Firstly, make yourself aware of the chances of a fire during the planning stage of your adventure. Regions that are prone to wildfires post the risk in their daily forecast, so always check ahead before setting out on a camping or hiking trip. If you live in a region where wildfires are a serious possibility, you should formulate an evacuation plan so that you and your family know exactly what you'll do, should the alert be raised. The American Red Cross has created digital resources and videos on wildfires and other common hazards at an age-appropriate level for children.
Further, in a direct response to these increasingly dangerous conditions of excessive heat and drought, the Western Fire Chiefs Association (WFCA) this summer introduced a new Fire Map to provide near real-time information about active wildfires. The WFCA Fire Map is the first of its kind to be mobile friendly, allowing people and community leaders to quickly access the map and track the path of the wildfire.
If you find yourself in a region affected by a wildfire, don't wait for the authorities to advise you to evacuate, make that decision yourself straight away. It is then worth staying informed about of the situation on the internet or by listening to the local radio. You should be able to gather useful information about the extent of the fire, evacuation orders, air quality and escape routes.
Covering up to shield yourself from heat and flying debris and embers is crucial if you find yourself in the vicinity of the blaze. Wear your most protective gear, such as your waterproof jacket, best hiking pants, best hiking gloves and a hat. If you're carrying sunglasses, they are a barrier for your eyes, both in terms of smoke and debris.
Wildfires can spread very quickly, especially when whipped up by a strong gust of wind. If you're on foot, never try to outrun the spread of a wildfire. After all, you won't win a race with the wind. Instead, seek the sanctity of lakes, rivers or streams until the blaze passes.
By following these tips, hopefully you will be able to avoid the worst of a wildfire and remember to educate others should you see anyone doing something that might cause a wildfire.
All the latest inspiration, tips and guides to help you plan your next Advnture!
Alex is a freelance adventure writer and mountain leader with an insatiable passion for the mountains. A Cumbrian born and bred, his native English Lake District has a special place in his heart, though he is at least equally happy in North Wales, the Scottish Highlands or the European Alps. Through his hiking, mountaineering, climbing and trail running adventures, Alex aims to inspire others to get outdoors. He is currently President of the London Mountaineering Club, training to become a winter mountain leader, looking to finally finish bagging all the Wainwright fells of the Lake District and hoping to scale more Alpine 4000ers when circumstances allow. Find out more at www.alexfoxfield.com