How to tell when you need new running shoes
Tips and advice on wear and tear of footwear, plus a guide to maintaining shoes for better longevity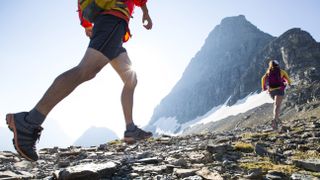 (Image credit: Getty)
Isn't it always the way that just as your best running shoes reach their comfiest, they start to fall apart? Well, this is how it seems to me. Then again, how do you know when your trail or road running shoes truly past their best – and is it a bad idea to keep on running in them when they are?
The average high-quality running shoe – whether it is men's footwear or the best women's trail running shoes – should last between four to six months or 300 to 500 miles, but there are many factors to take into account.
Every runner will cause shoes to wear in different ways – and this will depend on:
Your weight: The heavier you are, the more likely you are to wear through your shoes quickly, especially the sole and cushioning
What's the surface?: It's said that tarmac causes more wear than trails, but trails also cause damage to trainers if they are particularly rocky. Trails vary a great deal, from dry paths to muddy trods and from stony tracks to slopes of scree. These will all change the level of wear on the soles and uppers of running shoes.
Running gait: If you under-pronate or over-pronate (basically you run more on the outside or inside of your foot), this will cause wear to sections of the sole of the running shoe.
Wet and dry: It's also claimed that when running in cold or wet conditions, the materials in the shoes are put under more stress when compared to warmer, drier weather. However, the same might be said of running in very hot and dry conditions because high temperatures and humidity can also affect the fabric and materials.
Wear and tear of running shoes
It stands to reasons that wearing comfortable and well-fitting shoes will ensure runners maintain good form when running. This means there is a reduced chance of injury through poor posture or bad gait. 
Do a twist test: Hold a running shoe at both ends and twist the shoe horizontally. It should feel fairly firm if it is new. It could be a good idea to remember to do this test when you first get a shoe. An old shoe or one that doesn't have good support will twist more easily than one straight out of the box.
Be cautious about this test with lightweight, race-specific or barefoot running shoes, however, because these are sometimes meant to be flexible. Shoes that hill runners wear for races are also often more flexible.
However, in general a good quality road or trail running shoe with adequate cushioning for harder surfaces will not flex or twist too much until it starts to wear out.
Signs to look out for
When assessing your running footwear for wear and tear, try to gauge whether:
The outer sole has worn through to the midsole (this section of the sole is often white)
The tread of the sole is worn to the point of offering much less or very little grip
There is noticeably less cushioning in the sole when running on hard surfaces
You can feel uneven ground, such as stones, on the underside of the foot
The midsole looks very creased and there is little spring left in the foam
There is uneven and excessive wear on the sole, for example the outer edge
The uppers have holes or are coming away from stitching or the soles
The uppers are not offering good support for your foot anymore
The lacing system has gone beyond repair
The runner: signs to be aware of
Many runners find they they start to get small injuries and niggles, such as shin splints or knee pain, when running shoes start to wear out or deteriorate
Blisters or sores on the skin, perhaps around the ankle area or the ball of the foot, can also indicate that your shoes need to be renewed.
Maybe you should think about your choice of socks, too. Have your best trail running socks worn a bit threadbare and started causing you issues, rather than just the footwear?
If you feel you are generally not enjoying your sessions in the shoes as much as you did – or you can't even remember when you last bought a pair – it might be time to renew.
Tips for looking after running shoes
Looking after your running shoes will help with longevity. This is increasingly important when considering the impact of manufacture and consumer purchases on the environment.
Buy good quality: You will know the brands that you have tried and tested and whether they are durable or not. Don't be swayed by looks and colours over quality, too. Some footwear companies claim their shoes include elements that are harder wearing, such as graphene-infused soles.
Clean and dry: If you return from a run with wet or muddy running shoes, it is important to dry them out. It is not a good idea to leave them by – or on top of – the direct heat of a radiator because this can cause the materials of the shoes to deteriorate.
Instead, loosen the laces, stuff newspaper inside the shoe to absorb some moisture and leave to dry in an airy but not too hot location.
Make sure you remove mud and debris from the shoes, too. You can shake off the mud or gently loosen it with a sponge before washing with clean water.
Better storage: When storing your running shoes between uses, make sure you leave them with loose laces. If the uppers are stretched or bunched out of shape due to the lacing this can cause undue stress on the fabric of the uppers.
Shoes on rotation: Have a few pairs of running shoes for different types of running or terrain and rotate them each time you go for a run. Owning two pairs of one type of shoe can allow you to efficiently rotate each run, for example. This means you will not wear shoes that are damp or still muddy because you haven't had time to dry or clean them.
Another reason for owning two pairs of similar shoes is that you will be more likely to notice the differences between the shoes if one pair wears out more than the other.
For running only: Try to use your running shoes for running only and not for other sports, such as ball games or circuit training. Most sports shoes are made to suit a specific sport and will last longer if you use them for this only.
All the latest inspiration, tips and guides to help you plan your next Advnture!
Fiona Russell is a widely published adventure journalist and blogger, who is better known as Fiona Outdoors. She is based in Scotland and is an all-round outdoors enthusiast with favourite activities including trail running, mountain walking, mountain biking, road cycling, triathlon and skiing, both downhill and back country. Her target for 2021 is to finish the final nine summits in her first round of all 282 Munros, the Scottish mountains of more than 3,000ft high. Aside from being outdoors, Fiona's biggest aim is to inspire others to enjoy the great outdoors, especially through her writing. She is also rarely seen without a running skort! Find out more at Fiona Outdoors (opens in new tab).