If hillwalkers were football clubs: from the spendthrift "gear junkies" of Manchester to the casual peakbaggers of Madrid
Imagining types of hillwalkers as football clubs: a field guide to the behaviours we'd expect supporters of clubs from across the continent to exhibit on the trails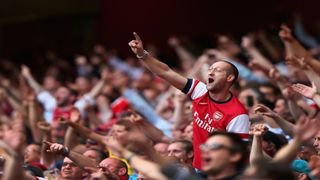 (Image credit: Clive Mason/Stagg (Getty))
One of the greatest beauties and blessings of the great outdoors is how democratic, inclusive and free of tribal affiliations the activities we do there are. Every weekend, scores of people from all backgrounds and walks of life temporarily discard their various workaday tags and labels – teacher, hairdresser, lefty, righty, mother, father, and what have you – and unite under the joyfully unified banner of "walker."
However, turning a closer eye to hikers' behaviour in the hills might just reveal a little more about certain inclinations than you'd expect, particularly as regards the football teams they follow…
If hillwalkers were football clubs…
Ajax Use technically brilliant kit that nobody's ever heard of. Within a year, everyone else will be using it.
Arsenal For some reason avoid summits and prefer to linger just below, munching on prawn sandwiches. Developed great style and enviable flair under the stewardship of a masterful French guide, now just a bit rubbish.
If "great style" is your thing, check out our guide to the best hiking shoes and best fleece jackets.
Atletico Madrid Have been doing things their own stubborn way for years but still getting results.
Barcelona and Real Madrid Have conquered all the world's biggest peaks so many times they appear to be getting bored of it.
Bayern Munich Always first to the top in their native land, and similarly efficient on the continent.
Borussia Dortmund Usually seen snapping at the heels of Bayern Munich fans but seemed destined to never quite catch them.
Chelsea Pick up all the best gear but have been through 12 guides by the time they get halfway up the hill.
Everton Fans of contouring (see how to read a map) who seem content just go round and round the middle of the hill and get a nosebleed anywhere near the summit. Did you know the term "mediocre" derives from Ancient Greek term medokros, meaning "halfway up the mountain"?
Juventus Conquer Italian peaks regularly, flatter to deceive elsewhere.
Leeds United Big in the Yorkshire Dales but no one else really cares about them. Earned an (alleged) reputation for getting up the biggest hills by cheating and playing dirty, but now best known for taking on more stylish and innovative methods – on a budget.
Leicester City Spent a lifetime strolling around the low hills, then randomly got themselves up Everest with the help of an Italian guide. Can now relax in the knowledge that nobody expects them to do it again.
Liverpool One-time conquerors of all who now appear to be back on the right track after a lengthy period in the wilderness. Language suggests potential Sherpa ancestry. Crucially, they never walk alone.
Manchester City Having made do with low-level gear for years, now at pains to show that only the best is good enough for them. Have climbed every peak in the UK but failed repeatedly in Europe. Once accused of being noisy.
Manchester United Have sponsorship logos emblazoned on every available square inch of their kit. Mostly alone (everyone hates them…they claim not to care). Still struggling to find a replacement for their greatest guide ever.
AC Milan and Inter Milan Set out from the same base camp, but very different approaches.
Norwich and West Bromwich Albion Never sure if they should be going up or down.
Nottingham Forest Constantly tell you they reached Europe's highest peak – twice! – but they haven't been close for 40 years. Unlikely to do so again in our lifetimes.
Paris St Germain Splash the cash but more worried about appearances than solid, hard-working kit. Just don't ask too many questions about where the money came from.
Looking for "hard-working kit"? Our guides to the best hiking boots and best hiking backpacks are a great place to start!
Rangers and Celtic Usually seen kicking the sh*t out of each other at the trailhead.
Tottenham Trip and break things just short of the summit.
West Ham Would enjoy far more success if they managed to disburden themselves of the massive chip they carry on their shoulder about regional competitors. Always blowing bubbles, apparently.
All the latest inspiration, tips and guides to help you plan your next Advnture!
Former Advnture editor Kieran is a climber, mountaineer, and author who divides his time between the Italian Alps, the US, and his native Scotland.
He has climbed a handful of 6000ers in the Himalayas, 4000ers in the Alps, 14ers in the US, and loves nothing more than a good long-distance wander in the wilderness. He climbs when he should be writing, writes when he should be sleeping, has fun always.
Kieran is the author of 'Climbing the Walls', an exploration of the mental health benefits of climbing, mountaineering, and the great outdoors.