Best bivy sacks 2023: for every kind of lightweight wild camping adventure
Our pick of the best bivy sacks – lightweight sleeping systems for summer nights under the stars, emergency backup or multi-day, all-weather trips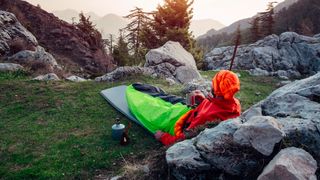 (Image credit: Dmytro Gilitukha / Getty Images)
The best bivy sacks provide shelter from the elements for the absolute minimum weight and time penalty. The term "bivy sack" derives from the source word, bivouac – meaning a temporary shelter – and brands and people abbreviate this in different ways; in the UK you are likely to see "bivvy bag" used, for example, but bivi is also quite common.
However you want to spell it, using a bivy sack is simplicity itself; just put it on the ground and climb in. Good bushcraft skills, though, will improve the performance of any sack. For example, if you choose your campsite carefully, and maybe add a small tarp or construct a lean-to over the head end of your bivy to allow more room, then you're likely to have a more comfortable sleep, plus you can read before you turn in for the night (you might find using one of the best head lamps handy for that, too) .
Stealth campers will love the low-impact, stay-hidden and leave-no-trace virtues of bivy sacks, while the lightest and most compact (for example the RAB Trailhead) will fit into the smallest hiking backpack to provide the foundation of a grab'n'go sleeping system. Any bivy sack will improve the warmth rating of an unprotected sleeping bag, but the best use fabrics that combine good breathability with total waterproofing, to ensure a dry night even in hard rain (remember, however, that in persistently damp weather, some interior condensation inside the bag is inevitable).
Sizing can make a big difference to comfort. Roomier bags like the Hunka XL allow sleeping bags the space needed to loft properly, while longer bivy sacks allow you to burrow down inside for greater protection and you can also store more precious kit inside the hood.
Features, including zipped access (like the Snugpak Special Forces bags), bug nets and ventilation (the Sierra Backcountry 3,000), and hooped head space (Alpkit Elan) can all make a big difference to comfort, depending on your trip and the conditions you face.
Whether you are trying bivy camping for the first time, or you're a hardened, lightweight, multi-day bivouac expert, the best bivy sack will give you a rewarding night under the stars, without all the sticks and strings of tent camping.
Best bivy sacks for lightweight backpacking
A roomy bivy sack for fast and lightweight sleeping on the move
Specifications
Width - shoulder & foot:
98cm & 72cm / 38.5in & 28.5in
Materials:
2.5 layer ripstop breathable and waterproof nylon
Mouth closure:
Dual drawcords
Features:
Integral stuff sack
Colors:
Kelp Green / Chilli Red / Lego Blue
Reasons to buy
+
Light
+
Roomy
+
Simple design
Reasons to avoid
-
Drawcords won't keep out heavy rain
The spacious Alpkit Hunka has been a classic of "lay it down, climb in, go to sleep" simplicity since it came on the market (I used one on a 750 mile walk in Japan a few years ago).
The Hunka XL isn't just for taller and larger folk, though, as its increased size has many benefits for cold or wet weather camping in return for a relatively modest weight increase. It embodies all the 'bigger is better' arguments, offering more room to accommodate the best sleeping bags that are bulkier and warmer, and with the space for them to loft properly. It's less claustrophobic, and has space for you to keep clothes inside (in the dry). And the greater length allows the drawstring mouth to fold over and shed rain better.
2. Sierra Designs Backcountry Bivy 3000
A well-thought-out bag with great features
Specifications
Width - shoulder & foot:
91cm & 79cm / 36in & 31in
Materials:
Top 20D nylon ripstop; bottom 30D nylon ripstop
Mouth closure:
Long access zip and short ventilation panel zip
Features:
Integral mosquito net; head and foot suspension loops; separate stuff pouch
Colors:
Green, Gray & Yellow / Blue, Gray & Yellow
Reasons to buy
+
Lightweight
+
Roomy enough for a winter-weight sleeping bag to loft
+
Comfort enhancing features
Reasons to avoid
-
Light fabrics require care in use
A bag with solid American thru-hiking credentials that show through in its practical design and useful features, the Bivy 3000 is roomy enough to comfortably take a mat inside, as well as a big sleeping bag. This is partly thanks to panels that give it 3D volume.
Two zips at the mouth work well. A long, sickle-shaped one opens up the bag for easy access, while the other is for a combined vent-and-bug-net panel. A small-but-neat feature are the loops at the head and shoulder; these allow you to use two guy lines tied to, say, a couple of branches above the sack to suspend its top skin and give you more room inside.
The Bivy 3000 also comes in a 'longer' size.
Best bivy sacks for emergency shelter
3. Lifesystems Heatshield Thermal Bivi Bag
A reusable emergency bag small enough to fit into a pocket
Specifications
Width - shoulder & foot:
90cm & 90cm / 35.5in & 35.5in
Materials:
Metallized polyethylene with taped seams
Features:
Metallized coating reflects up to 90% of radiated body heat; comes with storage sack
Reasons to buy
+
Light enough to carry in daypack or pocket
+
Fully waterproof and wind proof
+
Reusable
Intended as an emergency carry rather than a regular bivy sack, Lifesystem's bag is nevertheless reusable, thanks to its thin-but-tough metallized plastic. So while it arrives tightly folded and packed in a storage sack and you're never going to roll it up that neatly again, the storage sack expands to accommodate the bag once used.
Barely the size of a tangerine, it is the kind of emergency kit that, if kept in a daysack, might make an unexpected night out infinitely more comfortable – or even save a life.
Its two primary features are the silver inner surface, which reflects heat back from the body, and a bright orange hi-viz exterior that means it can be used to attract attention (with or without someone in it). But for bushcrafters it can be a useful backup if weather turns worse than expected, or if a hastily constructed natural shelter doesn't provide enough actual shelter.
Best bivy sacks for wet weather
A lightweight bivy with popper closure and rain gutter
Specifications
Width - shoulder & foot:
85cm & 61cm / 33.5in & 24in
Materials:
Top 40D-coated nylon ripstop; bottom 40D-coated nylon ripstop
Mouth closure:
Press studs
Features:
Rain gutter protecting head opening; separate stuff sack
Colors:
Chlorite Green / Ascent Red
Reasons to buy
+
Stiffened rain gutter over mouth closure
+
Good length for some gear storage inside hood
Reasons to avoid
-
Narrower than some other bivy sacks
The Rab Trailhead Bivi is a lightweight bag that offers good length and has a capacious hood, which is closed by poppers along the mouth's edges. Unlike drawstring closures this allows for a stiffened and folded "rain gutter", which, if deployed properly (propping the hood up with gear inside to give some pitch would help) funnels water away to the sides.
The Trailhead is an open-face style bivy, and the zipped mesh vent cuts down on condensation. Made with 40D ripstop nylon, the high-tech fabrics use fluorocarbon-free durable water repellent coating for effective rain proofing with less adverse effect on the environment.
Best bivy sacks for stealth camping
5. Snugpak Special Forces Bivvy Bag
An action bag for bushcrafters and stealth sleepers
Specifications
Width - shoulder & foot:
88cm & 65cm / 35in & 26in
Mouth closure:
Drawstring hood
Features:
Center-line quick-open zip; separate stuff sack
Colors:
Black / Olive / Coyote Tan
Reasons to buy
+
Light and compact
+
Comes in standard and extra long
+
Center-line zip entry
Reasons to avoid
-
Hood's drawstring is fiddly
Bivy sacks are a regular piece of kit for military personnel, for whom lightweight shelter and the ability to get into (and, more importantly, out of) their sleeping setup quickly can be hyper critical.
The Snugpak Special Forces Bivvy Bag's half-length and non-locking zip has applications in camping life too; time saved hopping into your bag in the rain keeps sleeping gear drier.
Bivy sacks in general can work well as weather-proof hides for use when you're wildlife watching, and the Special Forces' muted colors and soft, non-rustling Paratex fabric make it absolutely ideal for this aspect of bushcraft.
Best bivy sacks for space and comfort
6. Alpkit Elan Free-Standing Hooped Bivvy Bag
Combines the simplicity of a bag with the comforts of a tent
Specifications
Width - shoulder & foot:
77cm & 74cm / 30.5in & 29in (plus 45cm / 18in height)
Materials:
Top 70D-coated nylon ripstop; bottom 70D-coated nylon ripstop
Mouth closure:
Single side and head zip
Features:
Free-standing hoops; peg points; side access zip; mosquito mesh
Reasons to buy
+
Free-standing or pegged-down hoop modes
+
Side zip access
+
Zip-closure insect and ventilation panel
Reasons to avoid
-
Extra features add weight
Although it's a feature that adds weight, the Elan's crossed-hooped poles – which create a small "tent" at the head of the bag – add a large level of comfort to this bivy sack without the complexity of an actual tent.
It is quick to erect and free-standing (though there are peg-out points at all four corners), and for extended trips the Elan allows you to prop yourself up on an elbow, without pushing your face against the fabric – a real luxury in the world of bivy sacks.
A mosquito net at face level and a mesh panel give good ventilation and help disperse condensation, though they can be closed off in bad weather. A two-thirds-length side zip is a huge advantage when it comes to getting into the bag.
Best budget bivy sacks
7. Decathlon Forclaz Waterproof Trekking Bag Cover
A roomy bag that's ideal for first bivy adventures
Specifications
Width - shoulder & foot:
89cm & 79cm / 33in & 31in
Materials:
85% polyamide, 15% polyurethane
Mouth closure:
Full-length access zip and drawstring at mouth
Features:
Integral stuff pouch; "mummy" profile foot
Reasons to buy
+
Good budget option
+
Generous length
+
Mummy shape
Reasons to avoid
-
Not designed for extreme weather
A "mummy"-shaped bag, with a defined foot box that gives it a more roomy feel than its actual dimensions would suggest. The three-quarter-length zip might leak in sustained rain, but for summer showers this bivy sack will provide very adequate protection.
It is easy to use, with drawstrings for pulling the generous hood into a tight pucker that can be orientated away from incoming wind or rain, and will keep the weather out, while still allowing you to breathe.
The bag folds back into an integral pocket and packs down well. It's a good value bag for occasional use, or to try out bivouac camping for the first time.
Swipe to scroll horizontally
Best bivy sacks

| | | | | |
| --- | --- | --- | --- | --- |
| Bivy sack | RRP | Weight | Length | Width (shoulder & foot) |
| Alpkit Hunka XL | $95 / £70 | 490g / 17oz | 235cm / 92.5in | 98cm & 72cm / 38.5in & 28.5in |
| Sierra Designs Backcountry Bivy 3000 | $160 / £150 | 370g / 13oz | 203cm / 80in | 91cm & 79cm / 36in & 31in |
| Lifesystems Heatshield Thermal Bivi Bag | £13.99 | 110g / 3.8oz | 210cm / 82.5in | 90cm & 90cm / 35.5in & 35.5in |
| RAB Trailhead Bivi | $110 / £90 | 406g / 14.3oz | 250cm / 98.5in | 85cm & 61cm / 33.5in & 24in |
| Snugpak Special Forces Bivvy Bag | $179 / £85.00 | 340g / 12oz | 230cm / 91in | 88cm & 65cm / 35in & 26in |
| Alpkit Elan Free-Standing Hooped Bivvy Bag | $150 / £110 | 900g / 31.5oz | 225cm / 88.5in | 77cm & 74cm / 30.5in & 29in |
| Decathlon Forclaz Waterproof Trekking Bag Cover | $70 / £40 | 420g / 14.5oz | 225cm / 88.5in | 89cm & 79cm / 33in & 31in |
How we test
How we tested the best bivy sacks
All the bivy sacks featured in this guide have been tried, tested and slept in out in the wilds, in a range of different conditions and terrain types. They have also been carried on bikes, taken on hikes and been transported on boats for overnight adventures.
For more details, see how Advnture tests products.
What to look for when buying the best bivy sack
Although they are arguably the most simple form of overnight outdoor shelter available, bivy sacks do vary considerably in their design and the features they offer. The best bivy sack for you is the one that most closely meets your needs. Following are some of the important considerations you need to take into account.
Design
Though essentially a simple waterproof sack, bivy sack designs vary from brand to brand. Most are "mummy" shaped – narrower at the foot and wide across the shoulders – with some having gussets to give added room for the feet. Shaped cowl hoods with zip, popper or drawstring closures give added weather protection and if roomy enough provide storage space, while others have longer side zips for ease of entry. Hooped bivies, with cross-over poles keeping the bag fabric tensioned into a small dome over the head end, provide room enough to do simple inside tasks – eating or reading – in bad weather without becoming actual tents.
Size
A bag's size in relation to the user adds hugely to its comfort and practicality. Within reason, the bigger the better. Having enough length and width gives you more shelter, allows sleeping bags to loft properly so they provide the full warmth of optimum insulation and allow you to fit in kit that you want to keep warm and dry (because you really don't want soggy hiking socks).
Big enough also means you can read inside, or even (just about) write notes or eat basic foods whilst "couched" – rather like slightly cramped and damp Roman emperor. If you're over six foot or beefy, look for brands that have dimensions that suit your physique or which, like the Hunka, come in standard and XL sizes. Too small is, basically, a body bag.
Closure
After roominess the bag's closure system can be the most critical element in getting a good night's sleep in bad weather. Lightweight bivy sacks will usually have drawstrings in a shaped hood; a bivy sack always needs an air hole by the face to avoid suffocation, and if the hood is correctly shaped it can be arranged to keep rain from running in.
The RAB Trailhead has a popper-and-rain-gutter arrangement across the bag's mouth and hood, while the other bags have zips either across the mouth or down the side. Half or two-thirds length zips can make getting into a bag far easier than having to caterpillar down through the mouth, but they add weight and can compromise waterproofing if not high spec.
Weather resistance
Whatever the closure system, staying dry in bad weather is going to rely on good siting and general bushcraft principles. The light fabrics used as the bottom of the bags, even if fully waterproof, can become clammy and cold if you're sleeping on wet surfaces, so you'll need to find well-drained spots. And though a bivy sack will block the worst of a cold wind, it's better to find a well-sheltered spot to stop your heat leaching away, as well as the bag flapping and keeping you awake.
Further caution is needed given the light materials used to make sure you don't puncture your bivy sack with thorns, sharp twigs or stones. Though holes can be fixed relatively easily with repair tape, laying your insulating mat under the bag for protection makes sense in all but the softest grass or finest sand.
Price and value
Most bivy sack designers are looking to save weight while retaining a bag's waterproof credentials and assuring good levels of breathability. The best will achieve all three, but at a price. One of the attractions of an entry-level bivy sack is that, by starting out in milder seasons, with better weather and a forgiving terrain (think – a dewy summer's night on a beach) a very basic bag will give you the full experience of being right under the sky, and provide enough protection if it rains.
If you find that you enjoy that, then you can upgrade to a bag where the bigger price tag buys better fabrics, more design features (though don't pay for those you don't need, especially if they add weight) and the ability to sleep out in all weathers with the ease of a wild animal curling up in its own waterproof, warm coat.
All the latest inspiration, tips and guides to help you plan your next Advnture!
After a wild childhood in west Cork, Jasper Winn began embarking on long cycles, walks, horse journeys and kayak trips across five continents – adventures he's decanted into books, magazine articles, radio and television documentaries. Keen on low-tech but good gear, Jasper is an advocate of slow adventures by paddle, pedal, saddle, boot and sail. He has circumnavigated Ireland by kayak and cycled across the Sahara. Twice. Having ridden north-to-south across Algeria he discovered the only way to get back was to turn round and pedal north again.