What is a javelina? And what should you do if you meet one on a hike?
Find out everything you need to know about these snout-nosed desert dwellers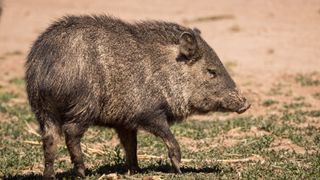 (Image credit: Teresa Kopec)
Javelinas are having a moment. If you've seen the news, you may have read about the squadrons of these piglike animals which have been tearing up golf courses in Arizona, much to the dismay of golfers and the enjoyment of environmentalists.
If you live and hike in the southwest, you may be familiar with packs of these hooven beasts scurrying through the prickly pear and also have some questions – what is a javelina anyway? Are they dangerous? And what should you do if you meet a javelina on a hike?
Read on to find out everything you need to know about these snout-nosed desert dwellers.
What is a javelina?
Also known as peccary, javelina (pronounced "ha-vu-lee-nuh") look similar to wild boar but are considered a close New World relative to swine rather than an actual pig, with small skeletal and dental differences between the two. Javelina are ungulates, broadly meaning they are hooven animals, and are found in the southern deserts of the United States as well as Central and South America and even on the island of Trinidad.
Javelina have coarse, dark hair, a large head, a snout and a barely visible tail. Their sharp, spear-like canine teeth earn them their name. They also possess a scent gland on their rump which emits a musky odour and is used to mark territory.
Javelina are omnivores and generally feed on plants such as cacti, insects and will definitely snack on garbage if given the opportunity. When they need to raise the alarm, they bark or make a rattling sound with their teeth.
Javelina are social animals, living in herds in desert washes and areas of dense vegetation, and tend to be more active at night when the weather is hot.
How to distinguish a javelina from a wild boar
A javelina sighting in the desert can definitely be cause for alarm – if you think it's a wild boar that is. Before you start screaming, however, check the differences. Javelina are smaller than feral hogs – they usually measure between three and four feet in length, and a fully-grown adult typically weighs about 44 to 88 lb (20 to 40 kg). Though wild boar can vary in size and weight depending on ecological factors, the larger males can grow up to about five feet long and stand about 30 inches tall at shoulder height, weighing between 165 and 220 lbs (75 to 100 kg).
In addition to their more diminutive stature, javelina have no noticeable tail compared to wild boar, and perhaps most noticeably possess a white band of hair around their shoulder, like a collar.
Can javelina be dangerous?
Unless you're a golf course, you're not usually in too much danger if you encounter a javelina, though they are wild animals and should be treated as such. Though they are occasionally known to bite humans, these incidents are typically caused by humans trying to feed javelina, according to the Arizona Department of Game and Fish, which also notes that they have poor eyesight and may appear to be charging when they're actually just trying to escape a threat.
One other factor that can increase your risk around javelinas is if you are hiking with a dog. Javelina won't know the difference between your dog and a coyote, which is a predator to them, and attacks have occurred on both dogs and dog owners, such as two in a single weekend in Tucson last year. Javelina also may carry diseases such as rabies and distemper which can be transmitted to you and your pets.
What to do if you meet a javelina on a hike
Depending on the time of year, you may not see javelina at all when you're hiking, even in Arizona where they are quite widespread. However, when the weather cools off in the winter, they are generally active in the early morning and late afternoon and you may run into a crowd of them near the trail if you're hiking in the desert.
If you encounter a herd of javelina on a hike, the most important thing to remember is not to feed them (or any wildlife). This can cause them to lose their fear of humans which can ultimately result in their death. Don't leave food lying unattended when hiking and camping, which will attract them.
If you're hiking with a dog and see javelina, secure it on a leash and immediately exit the area.
If the javelina are approaching you, barking, rattling or otherwise appearing aggressive, make noise by shouting or banging your trekking poles together, and throw small objects like rocks to get them to retreat.
All the latest inspiration, tips and guides to help you plan your next Advnture!
Julia Clarke is a staff writer for Advnture.com and the author of the book Restorative Yoga for Beginners. She loves to explore mountains on foot, bike, skis and belay and then recover on the the yoga mat. Julia graduated with a degree in journalism in 2004 and spent eight years working as a radio presenter in Kansas City, Vermont, Boston and New York City before discovering the joys of the Rocky Mountains. She then detoured west to Colorado and enjoyed 11 years teaching yoga in Vail before returning to her hometown of Glasgow, Scotland in 2020 to focus on family and writing.