Hiking with a dog: how your hound can enhance your outdoor adventures
There are so many positives to hiking with a dog: we consider the benefits, as well as dos, don'ts and other handy tips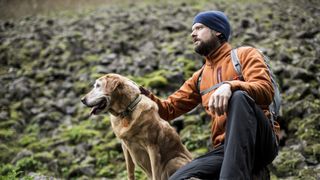 (Image credit: Getty)
Hiking with a dog is an awesome way to experience the great outdoors, both for you and your faithful companion. It's only natural for your hound to want to bound around in the wild. As far as it's concerned it's still a wolf. It's only the effect of around 30,000 years of human selection that has made it appear any different. It wants to get out there and practise hunting, range about the landscape and mark its territory.
And your dog wants to do all of this with the leader of the pack: you. It's good for you too. The physical and mental health benefits of grabbing a hiking backpack and heading off onto the trails are undoubted. Throw in the wellbeing benefits of sharing the experience with your furry companion and you've got the recipe for a truly rewarding experience.
However, hiking with a dog is not as straightforward as heading out with your best friend (let's call them Sam). Sam isn't going to bolt after sheep the first chance they get or roll around in a fox's business. Your dog will be stumped by obstacles Sam doesn't think twice about, like fences, scrambles (particularly down-climbs) and cattlegrids. When Sam gets a bit warm, they can stash their waterproof jacket away and remove a few layers, whereas your dog's coat ain't going anywhere. Finally, you're never going to get to the start of a trail to find a sign saying: "No Sams allowed."
Hiking with a dog: do your research
Part of your preparation will be to check online for information about dog access. The places we most want to hike are environments of great natural beauty, with abundant wildlife and great trails. These are often either in national parks or other protected landscapes, such as nature reserves. The good news is that these places are usually well managed and will clearly indicate what is and what is not allowed when it comes to your faithful companion, including whether or not they're permitted in the first place.
When it comes to access, the same rules apply to dogs as they do to us. With this in mind, it's worth finding a trail that explores access land, rather than one that ventures onto permissive paths, where everything apart from the path is out of bounds. You should also be able to find out when ground nesting birds are present, during which times dogs should always be kept on a leash.
It's worth finding out what to expect from the trail in terms of terrain and difficulty. Search for hikes that are already recommended as good dog walks; internet forums are a great source of information. Just as you wouldn't take an inexperienced friend on a technically challenging trail, you don't want to leap in at the deep end with your dog either. Be mindful of trails that stray along coastal and clifftop paths and make a mental note that your dog will need to be on a leash during those sections. It's also worth planning in a dog-friendly pub or café for that all-important post-hike refuel.
Hiking with a dog: respect your surroundings
So, you've done your research and by now you know where you are going to take your dog. When you set out, it's important to respect your surroundings. As an example, in England and Wales the Countryside Code has these words of advice on how to do this:
When you take your dog into the outdoors always ensure it does not disturb wildlife, farm animals, horses or other people by keeping it under effective control … It is always good practice to keep your dog on a lead around farm animals … Keep your dog in sight at all times, be aware of what it's doing and be confident it will return to you promptly on command … Ensure it does not stray off the path or area where you have a right of access.
The Countryside Code, England & Wales
As a general rule, never let your dog off the lead around sheep. Every year, farmers' livelihoods are severely affected by the loss of livestock due to sheep worrying. This is when your dog's overzealous behaviour causes injury or distress to the flock. If your dog worries sheep on agricultural land, you could be committing an offence.
Strong leash management is also important. Many people have extending leashes these days, which allow your hound to frolic relatively freely but also allow you to haul them back onto a short lead at a moment's notice. Just bear in mind that on busy mountain trails, your extended leash can become a dangerous trip hazard to both yourself and other trail users.
Be mindful of other people too. Just because you absolutely adore anything furry and on four legs, doesn't mean everyone does. Absolutely keep your dog on a tight leash around small children.
Hiking with a dog: scoop that poop
At some point, usually very early in a hike, your dog is going to need to go for a number two. It is absolutely your responsibility to scoop that poop, carry it out and dispose of it. Get yourself some biodegradable poop bags and think about where you're going to store them for the rest of the hike.
You might wonder what all the fuss is about, as its typical on a walk in the country to amble on past literally tonnes of sheep and cow dirt. Well, for a start, dog poop can take up to 12 months to fully break down. While it sits there on the mountainside, rainwater will run over it, carrying parts of it into mountain streams and lakes (see: how to purify water in the wild). Contamination is a real issue. Dog poop is home to disease-causing bacteria that can affect other dogs, as well as those of us who want to go wild swimming or take the kids for a scramble-swim in a stream. Also, unlike cow or sheep waste, dog poop is also an extremely poor fertilizer due to its high nitrogen and phosphorus content.
Hiking with a dog: consider their needs and know their limits
Just as you're going to get hungry, hot, thirsty and tired during a hike, so too will your dog. If not, more so; they generally charge about like lunatics if you let them. Bring plenty of snacks, after all they're also a great reward for good doggie behaviour.
Put an extra hydration bladder in your day pack and get yourself a lightweight, collapsible dog bowl, so that you can hydrate your hound on the trial. If they're doing a lot of panting – which they do to try and regulate their body heat – the odds are that they're over hot. We can remove our fleece jacket when we get hot, a dog doesn't have this luxury. Let them go for a joyous dunk in a stream or a mountain lake. It's great fun just watching them.
Dogs are decent climbers and will scramble up a mildly challenging rock step with few problems. Coming down is more difficult for them. Try to avoid any down-scrambles when route planning and if you do come across one, try to find an alternative way around.
Another factor to give you paws for thought (please excuse) is that your dog isn't wearing a pair of the best hiking shoes; it's basically going barefoot. If you know from experience that your dog's paw pads can handle a big mountain day, that's fine, but don't jump straight from three-hour hikes to an eight-hour hike. Build them up gradually and remember that they don't have trekking poles to take the strain off their limbs. A long, strenuous hike can do damage to delicate paws and lead to heartache and serious vet bills.
Hiking with a dog: post-walk inspection
It is worth giving your dog a thorough post-walk inspection to remove any foreign objects like burrs or twigs that could cause discomfort. Also, you will want to carefully remove any ticks or mites that might have latched on. Your dog should have been vaccinated and protected against diseases caused by the little nasties but it's worth checking that they're up to date with your vet.
Hiking with a dog: essential kit list
The following essential items will make you and your dog's experience of the trail much more enjoyable:
Snacks and treats: Your dog needs their calories replenished just as much as you do and treats are a great way to reward good behaviour.
Leash and harness: Essential for keeping your dog under control and respecting the environment.
Medication: Should your dog require any medication, don't forget to bring it along.
Biodegradable poop bags: It's your responsibility to clean up after your hound.
Collapsible dog bowl: Your dog needs to stay hydrated. Water from lakes and rivers can be harmful, so while they're great for cooling down, try to make sure your dog doesn't drink from them.
All the latest inspiration, tips and guides to help you plan your next Advnture!
Alex is a freelance adventure writer and mountain leader with an insatiable passion for the mountains. A Cumbrian born and bred, his native English Lake District has a special place in his heart, though he is at least equally happy in North Wales, the Scottish Highlands or the European Alps. Through his hiking, mountaineering, climbing and trail running adventures, Alex aims to inspire others to get outdoors. He is currently President of the London Mountaineering Club, training to become a winter mountain leader, looking to finally finish bagging all the Wainwright fells of the Lake District and hoping to scale more Alpine 4000ers when circumstances allow. Find out more at www.alexfoxfield.com