How long does it take to learn to ski?
How long does it take to learn to ski? We explain how factors like type of skiing, age and fitness level determine how long it takes you to get from curious to confident on skis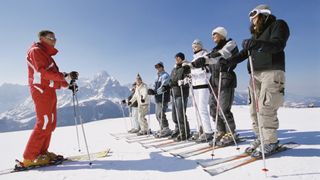 (Image credit: Michelangelo Gratton)
How long does it take to learn to ski? If you're thinking of taking up skiing this winter, this question might be at the forefront of your mind. If you're getting into hiking, after all, you can expect to be walking uphill on day one. But no matter what type of skiing you're getting into, it's going to involve a lot of gear, a certain amount of skill and possibly even operating machinery in the case of alpine skiing, so you might rightly be wondering how long all of this is going to take you to pick it up?
We're here to explain the different skills you're going to have to master before you can start getting out on the snow comfortably and safely, and help you estimate how much time you need to get from curious to confident on skis.
How long does it take to learn to ski?
The answer, of course, is it depends. There are a few variables that you can count on to influence how long it will take you to learn to ski:
Type of skiing
Age
Fitness level
Proprioception
In addition to these four factors, there's the harder to define factor or how gung ho you are. If you're naturally pretty adventurous, you might find you pick up skiing a little faster than if you're more timid. While this is a pretty subjective field and harder to examine, we can take a closer look at the other four to help you gauge how much time you might need.
Type of skiing
Let's start by saying that no matter what type of skiing you're planning to do, you're going to have to learn how to use your equipment. All skiing requires skis, bindings, boots and poles at a minimum and you'll need to know how to use them, so the first hour or two of your first day will be spent on that.
If you're planning on alpine skiing, you'll also need to learn how to safely load, ride and unload from a chairlift as well as some basic downhill etiquette and things like what the different trail symbols mean. Again, plan on that taking up another hour or two of your first day on the hill. Then you'll start learning basic techniques, which means staying upright, learning how to stop on skis and how to start turning. By the end of day one, you will probably be slowly skiing down a beginner's slope.
After that, how long it takes you to get comfortable depends on how often you're able to ski. If you're on a week-long ski trip and skiing every day, you'll probably want a couple of days of lessons and be comfortable on beginner level terrain without an instructor by midweek. If you're skiing regularly all season, you can plan to be comfortable on intermediate terrain by the end of the ski season.
If you're planning on telemark skiing and you already know how to alpine ski, plan on feeling comfortable with the basics after a few days. If you've never skied and are planning on getting straight tinto telemarking, you will have a steeper learning curve ahead of you, but it's not impossible.
Planning on cross country skiing? Great, there's no chairlift involved so you can start working on your technique straight away. That said, cross country skiing technique is likely to take a few days to pick up.
First, you need to decide you're going to do classic cross country or skate skiing. Classic is not unlike walking or running while wearing skis, and generally going to be easier to learn than skate skiing which requires more finesse, balance and fitness. Either way, while you're not learning to control your speed on steep slopes or turn as much as in alpine skiing, both techniques will likely take several days or lessons to start to feel comfortable with the basics.
Once you're confident in your basic technique, it won't take long for you to be able to start to refine your stride and pick up the pace, so you'll get to intermediate level faster than in alpine or telemark skiing.
Age
Your age does seem to have quite a strong influence on how long it takes you to learn to ski. Little kids have a lower center of gravity and often less fear, so even toddler aged children can pick up skiing quickly and those who do start young are often better at skiing as adults. Adults can also learn to ski quickly, but it is a little harder to balance the taller you get, and we often have more fear around falling so it's often the case that the older you are in learning to ski, the longer it takes.
That said, many older adults take up cross country skiing later in life and find that it doesn't take them long to learn.
Fitness level
Skiing, and especially cross country skiing, requires a certain level of fitness. You need a lot of leg strength, whether that's using your glutes to power you forward in cross country skiing, or your quads to help control your speed in alpine skiing. You tend to use muscles in ways that you don't in any other activity, so it's bound to be tiring at first and it helps if you're already in good shape. Cross country skiing and skate skiing are also extremely aerobic, so you'll want to be in good cardiovascular shape for those.
If you're not already in good shape, you can still learn to ski but it might take you longer as you're not likely going to be able to stay out for as long. It's a good idea to start doing regular exercise six weeks before you want to start skiing to help you improve your strength and stamina and reduce your risk of injury.
Proprioception
Standing on two narrow planks on a slippery surface requires you to have decent balance, and being able to move, turn and stop effortlessly involves some coordination. We can collectively term these skills as proprioception, which describes your ability to sense movement, action and the location of your body in space. Some of us have a more developed sense of proprioception than others, and if you tend to have a harder time balancing or controlling your movements, it might take you a bit longer to learn to ski. However, there are exercises to improve proprioception you can do to help with this.
Is it difficult to learn to ski?
Though skiing is certainly more difficult to learn than activities like hiking and running, as you've no doubt figured out, how difficult it is depends a bit on the type of skiing you're doing, and a bit on you. Some people take to it like a duck to water and others need a bit more patience. It's always helpful to start with lessons from a professional and if you fall into the latter category, definitely consider getting more lessons.
Not only do you have to learn how to use your gear, but you want to make sure that you choose the right gear to begin with, so knowing things like how to choose the right ski length and which type of cross country bindings you need will help speed up the learning process.
Finally, of course there's the added discomfort of being outside in the cold which presents a whole new challenge for many of usl Make sure you're well kitted out with the best ski gloves, base layer and hardshell jacket so that you don't make the process of learning to ski even more difficult than it needs to be.
All the latest inspiration, tips and guides to help you plan your next Advnture!
Julia Clarke is a staff writer for Advnture.com and the author of the book Restorative Yoga for Beginners. She loves to explore mountains on foot, bike, skis and belay and then recover on the the yoga mat. Julia graduated with a degree in journalism in 2004 and spent eight years working as a radio presenter in Kansas City, Vermont, Boston and New York City before discovering the joys of the Rocky Mountains. She then detoured west to Colorado and enjoyed 11 years teaching yoga in Vail before returning to her hometown of Glasgow, Scotland in 2020 to focus on family and writing.